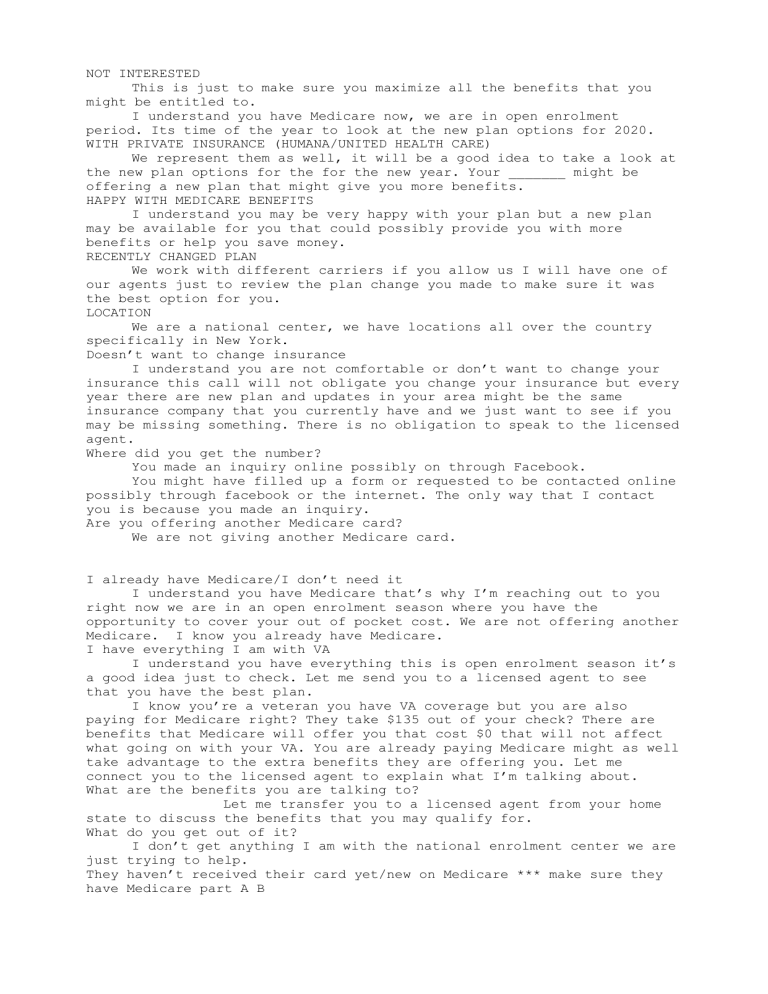 NOT INTERESTED This is just to make sure you maximize all the benefits that you might be entitled to.
I understand you have Medicare now, we are in open enrolment period. Its time of the year to look at the new plan options for 2020.
WITH PRIVATE INSURANCE (HUMANA/UNITED HEALTH CARE)
We represent them as well, it will be a good idea to take a look at the new plan options for the for the new year. Your _______ might be offering a new plan that might give you more benefits.
HAPPY WITH MEDICARE BENEFITS
I understand you may be very happy with your plan but a new plan may be available for you that could possibly provide you with more benefits or help you save money. RECENTLY CHANGED PLAN
We work with different carriers if you allow us I will have one of our agents just to review the plan change you made to make sure it was the best option for you.
LOCATION
We are a national center, we have locations all over the country specifically in New York.
Doesn't want to change insurance
I understand you are not comfortable or don't want to change your insurance this call will not obligate you change your insurance but every year there are new plan and updates in your area might be the same insurance company that you currently have and we just want to see if you may be missing something. There is no obligation to speak to the licensed agent.
Where did you get the number?
You made an inquiry online possibly on through Facebook.
You might have filled up a form or requested to be contacted online possibly through facebook or the internet. The only way that I contact you is because you made an inquiry.
Are you offering another Medicare card?
We are not giving another Medicare card.
I already have Medicare/I don't need it
I understand you have Medicare that's why I'm reaching out to you right now we are in an open enrolment season where you have the opportunity to cover your out of pocket cost. We are not offering another Medicare. I know you already have Medicare.
I have everything I am with VA
I understand you have everything this is open enrolment season it's a good idea just to check. Let me send you to a licensed agent to see that you have the best plan.
I know you're a veteran you have VA coverage but you are also paying for Medicare right? They take $135 out of your check? There are benefits that Medicare will offer you that cost $0 that will not affect what going on with your VA. You are already paying Medicare might as well take advantage to the extra benefits they are offering you. Let me connect you to the licensed agent to explain what I'm talking about.
What are the benefits you are talking to?
Let me transfer you to a licensed agent from your home state to discuss the benefits that you may qualify for.
What do you get out of it?
I don't get anything I am with the national enrolment center we are just trying to help.
They haven't received their card yet/new on Medicare *** make sure they have Medicare part A B
No problem the licensed agent will guide you in the direction that you need to go. We don't need that card to have the conversation with the licensed agent.
client is not paying anything with their medicare
i understand you pay $0 most plans are designed that way, what we are looking to do is possibly lower your copays at the doctor and hospital as well as get you more additional benefits at no additional cost.
if they say i dont have copays now
great that means you possibly have a special qualification which will allow you to increase benefits like dental vision hearing transportation and OTC card at no additional cost
How much will it cost me?
Some plan may cost as a little as $0.
You can't lower my cost because I don't have any
Is it because you have Medicaid which is the special qualification that needed in order you get the extra benefits like dental vision hearing and transportation that you might be entitled to.
I already got it
Ok no problem. It is a good idea to check and make sure you have the best plan in the area. If we can get you a higher amount towards those benefits like dental and vision for your eye glasses I am sure you would like to know about that right?
we specialized in increasing those benefits like dental vision hearing transportation.