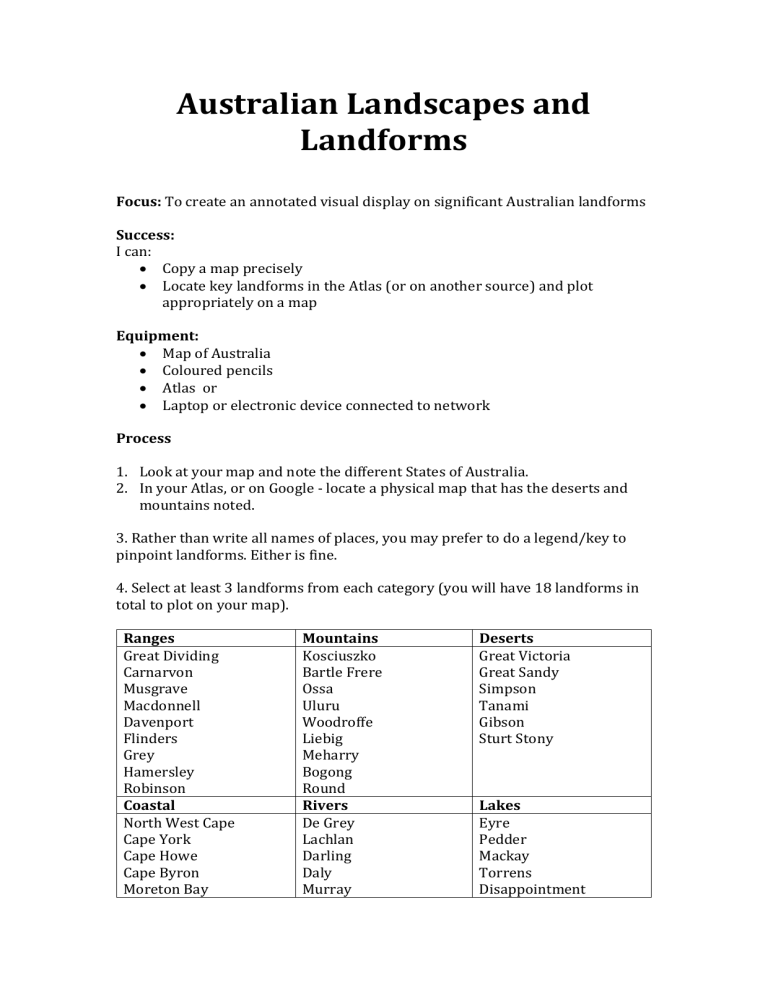 Australian Landscapes and
Landforms
Focus: To create an annotated visual display on significant Australian landforms
Success:
I can:
 Copy a map precisely
 Locate key landforms in the Atlas (or on another source) and plot
appropriately on a map
Equipment:
 Map of Australia
 Coloured pencils
 Atlas or
 Laptop or electronic device connected to network
Process
1. Look at your map and note the different States of Australia.
2. In your Atlas, or on Google - locate a physical map that has the deserts and
mountains noted.
3. Rather than write all names of places, you may prefer to do a legend/key to
pinpoint landforms. Either is fine.
4. Select at least 3 landforms from each category (you will have 18 landforms in
total to plot on your map).
Ranges
Great Dividing
Carnarvon
Musgrave
Macdonnell
Davenport
Flinders
Grey
Hamersley
Robinson
Coastal
North West Cape
Cape York
Cape Howe
Cape Byron
Moreton Bay
Mountains
Kosciuszko
Bartle Frere
Ossa
Uluru
Woodroffe
Liebig
Meharry
Bogong
Round
Rivers
De Grey
Lachlan
Darling
Daly
Murray
Deserts
Great Victoria
Great Sandy
Simpson
Tanami
Gibson
Sturt Stony
Lakes
Eyre
Pedder
Mackay
Torrens
Disappointment
Esperance Bay
Kangaroo Island
Point D'Entrecasteaux
Exmouth Gulf
Spencer Gulf
Limmen Bight
Great Australian Bight
Gove Peninsula
Bass Strait
Condamine
Leichhardt
Murchison
Diamantina
Cooper Creek
Carey
Gardiner
Austin
Amadeus
Frome Barlee
5. Plot these 18 landforms on your map.
6. Update your legend and double check your final submission.
You will be assessed on:
 Neatness and precision
 Presentation of your work
Review (write this on the back of the map or underneath it):
What are three landforms you did not know about?
What are 2 that you would like to visit and explain why?
What is one of these landforms that you have already visited?