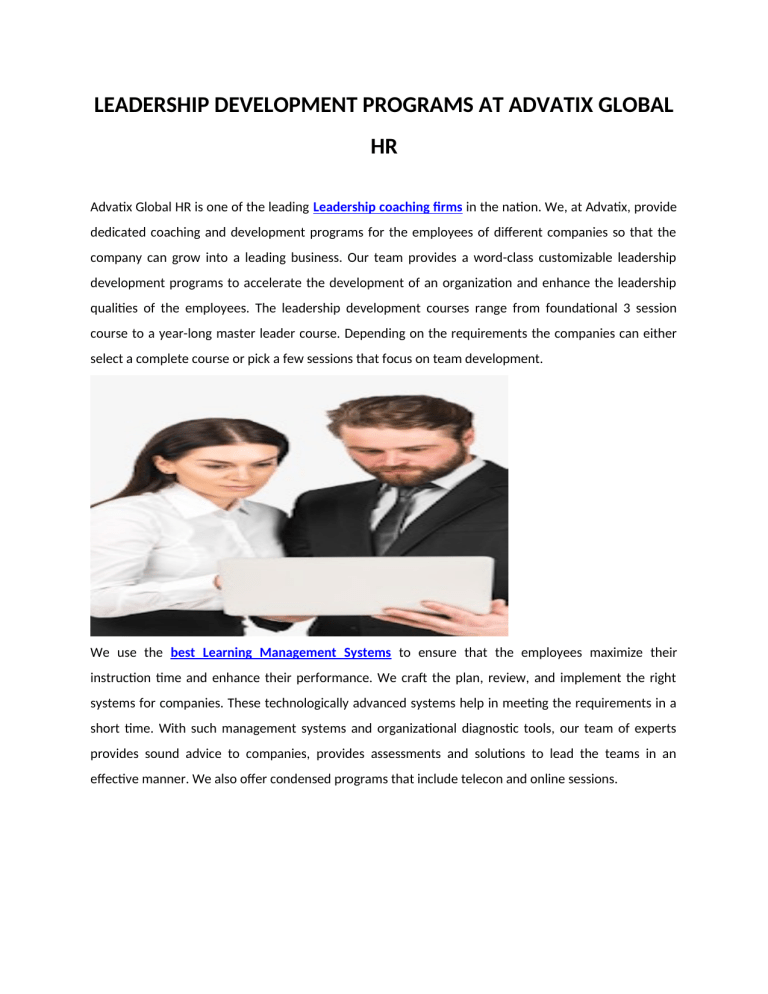 LEADERSHIP DEVELOPMENT PROGRAMS AT ADVATIX GLOBAL
HR
Advatix Global HR is one of the leading Leadership coaching firms in the nation. We, at Advatix, provide
dedicated coaching and development programs for the employees of different companies so that the
company can grow into a leading business. Our team provides a word-class customizable leadership
development programs to accelerate the development of an organization and enhance the leadership
qualities of the employees. The leadership development courses range from foundational 3 session
course to a year-long master leader course. Depending on the requirements the companies can either
select a complete course or pick a few sessions that focus on team development.
We use the best Learning Management Systems to ensure that the employees maximize their
instruction time and enhance their performance. We craft the plan, review, and implement the right
systems for companies. These technologically advanced systems help in meeting the requirements in a
short time. With such management systems and organizational diagnostic tools, our team of experts
provides sound advice to companies, provides assessments and solutions to lead the teams in an
effective manner. We also offer condensed programs that include telecon and online sessions.
We provide organizational development services like developing organizational structures, drafting job
descriptions, designing benefit strategies, compensation programs, developing performance evaluation
drives. Depending upon the organization's excellence, opportunities, and requirements, we design and
implement organizational structures like the matrix, horizontal, hierarchy, and other custom structures.
The structures ensure improved performance, effective operations, and an opportunity to excel in the
field. Engage with us today to get the best leadership programs and organizational development
services.