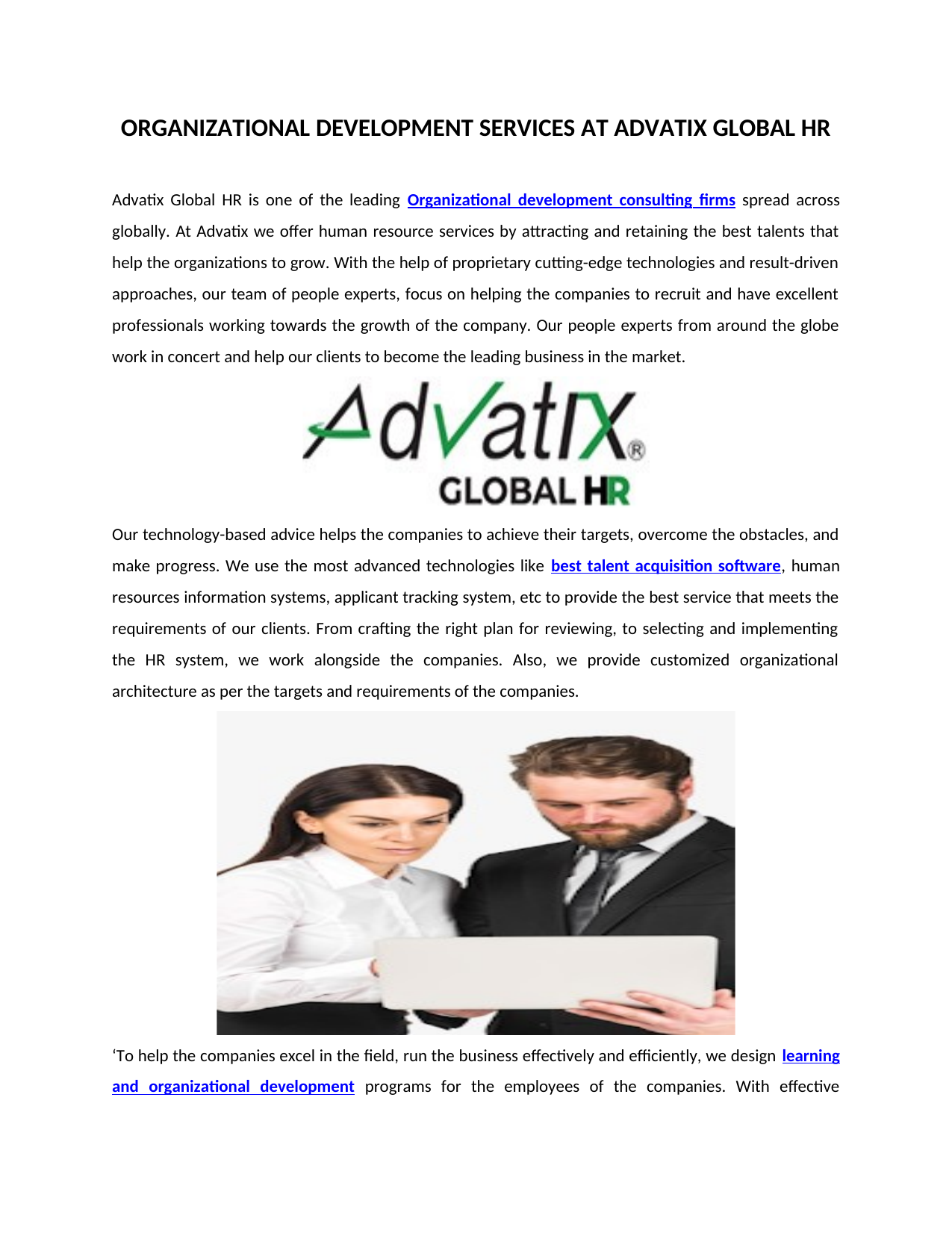 ORGANIZATIONAL DEVELOPMENT SERVICES AT ADVATIX GLOBAL HR
Advatix Global HR is one of the leading Organizational development consulting firms spread across
globally. At Advatix we offer human resource services by attracting and retaining the best talents that
help the organizations to grow. With the help of proprietary cutting-edge technologies and result-driven
approaches, our team of people experts, focus on helping the companies to recruit and have excellent
professionals working towards the growth of the company. Our people experts from around the globe
work in concert and help our clients to become the leading business in the market.
Our technology-based advice helps the companies to achieve their targets, overcome the obstacles, and
make progress. We use the most advanced technologies like best talent acquisition software, human
resources information systems, applicant tracking system, etc to provide the best service that meets the
requirements of our clients. From crafting the right plan for reviewing, to selecting and implementing
the HR system, we work alongside the companies. Also, we provide customized organizational
architecture as per the targets and requirements of the companies.
'To help the companies excel in the field, run the business effectively and efficiently, we design learning
and organizational development programs for the employees of the companies. With effective
performance evaluations of the employees, we provide a detailed analysis of the drive to the
companies. This will help the companies evaluate the capability of their employees and operate in a
better way. With the right combination of benefits, right eligibility guidelines, and employer contribution
strategies, we turn the companies into an "Employer of Choice" such that candidates clamor for a spot
in their organization.