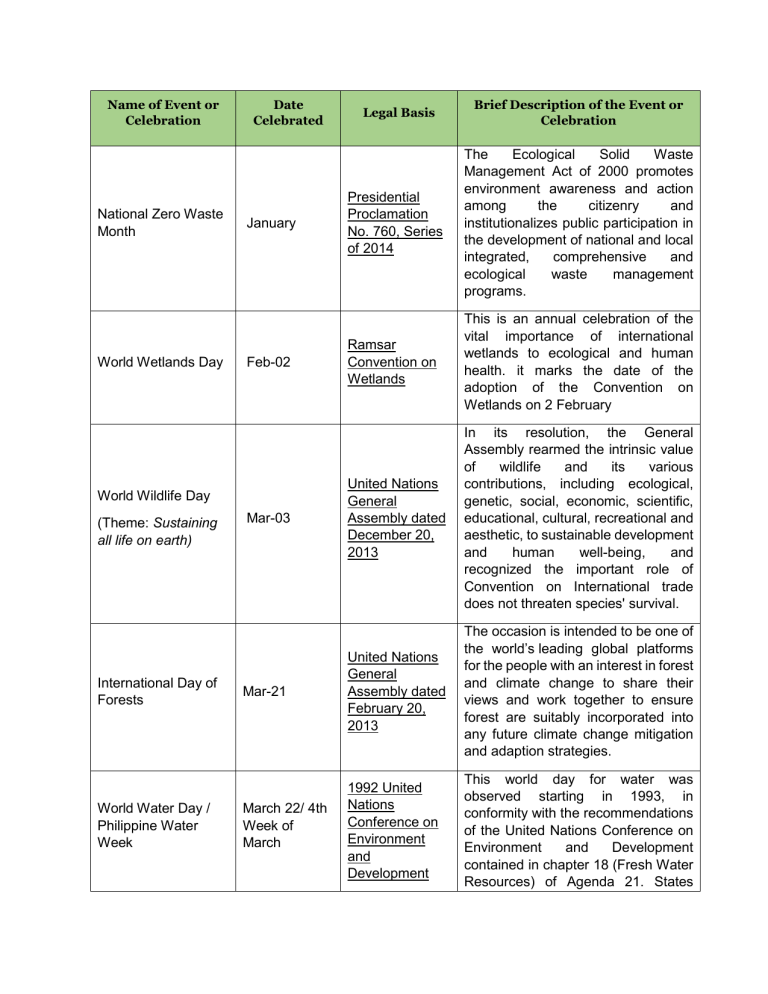 Name of Event or
Celebration
National Zero Waste
Month
World Wetlands Day
Date
Celebrated
Legal Basis
Brief Description of the Event or
Celebration
Presidential
Proclamation
No. 760, Series
of 2014
The
Ecological
Solid
Waste
Management Act of 2000 promotes
environment awareness and action
among
the
citizenry
and
institutionalizes public participation in
the development of national and local
integrated,
comprehensive
and
ecological
waste
management
programs.
Ramsar
Convention on
Wetlands
This is an annual celebration of the
vital importance of international
wetlands to ecological and human
health. it marks the date of the
adoption of the Convention on
Wetlands on 2 February
United Nations
General
Assembly dated
December 20,
2013
In its resolution, the General
Assembly rearmed the intrinsic value
of
wildlife
and
its
various
contributions, including ecological,
genetic, social, economic, scientific,
educational, cultural, recreational and
aesthetic, to sustainable development
and
human
well-being,
and
recognized the important role of
Convention on International trade
does not threaten species' survival.
Mar-21
United Nations
General
Assembly dated
February 20,
2013
The occasion is intended to be one of
the world's leading global platforms
for the people with an interest in forest
and climate change to share their
views and work together to ensure
forest are suitably incorporated into
any future climate change mitigation
and adaption strategies.
March 22/ 4th
Week of
March
1992 United
Nations
Conference on
Environment
and
Development
This world day for water was
observed starting in 1993, in
conformity with the recommendations
of the United Nations Conference on
Environment
and
Development
contained in chapter 18 (Fresh Water
Resources) of Agenda 21. States
January
Feb-02
World Wildlife Day
(Theme: Sustaining
all life on earth)
International Day of
Forests
World Water Day /
Philippine Water
Week
Mar-03
(UNCED) Rio de
Janeiro
International Earth
Day/ Month of Planet
Earth
Month of the Ocean
The International
Day for Biological
Diversity
World Environment
Day/ Philippine
Environment Month
were invited to devote the Day to
implement the UN recommendations
and set up concrete activities as
deemed appropriate in the national
context.
April 22
Presidential
Proclamation
No. 1481,
and1482
Earth Day Network was founded on
the premise that all people, regardless
of race, gender, income, or
geography, have a moral right to a
healthy, sustainable environment.
Our mission is to broaden and
diversify
the
environmental
movement worldwide, and to mobilize
it as the most effective vehicle for
promoting a healthy, sustainable
environment. We pursue our mission
through a combination of education,
public policy, and consumer activism
campaigns. Our campaign and
programs are predicted on the belief
that
an
educated,
energized
population will take actions to secure
a healthy future for itself and its
children. Earth Day Network has a
global reach with a network of more
than
17,000
partners
and
organizations in 174 countries. More
than 1 billion people participate in
Earth Day activities, making it the
largest secular civic event in the
world.
May
Presidential
Proclamation
No. 57, series of
1999
Proclamation No. 57 dated January 9,
1999 declares the Month of May as
the Month of the Ocean in the
Philippines.
May 22
Convention on
Biological
Diversity
The United Nations proclaimed May
22 as International Day for Biological
Diversity to increase understanding
and awareness of biodiversity issues.
Jun 5
Presidential
Proclamation
no. 237
World Environment Day (WED) was
established by the General Assembly
in 1972 to mark the opening of the
Stockholm Conference on the Human
Environment. Commemorated yearly
on 5 June, WED is one of the principal
vehicles through which the United
Nations
stimulates
worldwide
awareness of the environment and
enhance political attention and action.
Philippine Eagle
Week
World Oceans Day
World Day to
Combat
Desertification
June 4-10
Proclamation
No. 79
Said Proclamation aims specifically i)
to strengthen public awareness on the
significant role of the Philippine Eagle
in the forest ecosystem, and its
importance as a national symbol and
unique heritage, among others; ii) to
generate unified and concerted efforts
among all sectors of the society to
ensure
the
protection
and
perpetuation of the species; and iii) to
encourage
non-government
organizations, private companies or
corporations, people's organization,
academic and scientific organizations
and all another interested parties to
participate in the annual celebration of
the Philippine Eagle Week.
June 8
United Nations
Conference on
Environment
and
Development
(UNCED) and
was officially
recognized by
the UN in 2008.
In 1992, the Canada's International
Centre for Ocean Development
(ICOD) and the Ocean Institute of
Canada (OIC) at the Earth Summit in
Rio de Janeiro Brazil. In this day,
myriad of events are being conducted
with the objective of motivating the
people to help preserve and sustain
our oceans and marine life in line with
the
Sustainability
Development
Goals.
1994 United
Nations
Convention to
Combat
Desertification
In 1994, the United Nations General
Assembly declared June 17 the World
Day to Combat Desertification and
Drought to promote public awareness
of
the
issue,
and
the
implementation of the United Nations
Convention to Combat Desertification
(UNCCD)
in
those
countries
experiencing serious drought and/or
desertification, particularly in Africa.
June 17
National Arbor Day
National Disaster
Consciousness
Month
National Clean-Up
Month/ International
Coastal Clean-Up
Weekend
June 25
July
Proclamation
No. 643 that
amended
Proclamation
No. 396 of June
2, 2003
The "active participation of all
government
agencies,
including
government-owned and controlled
corporations, private sector, schools,
civil society groups and the citizenry
in tree planting activity.
Executive Order
No. 137 dated
August 10, 1999
National Disaster Consciousness
Month aimed to increase awareness
of every Filipino to the everthreatening disasters for a better
appreciation of the government's
disaster preparedness program.
Presidential
Proclamation
No. 244 National CleanSeptember/3rd Up Month
Weekend of
Presidential
September
Proclamation
No. 470 International
Coastal Clean up Weekend
National Ozone
Protection Month/
International Ozone
Day
September 16
DepEd Memo
No. 358, s. 2007
Montreal
Protocol
This event was just the beginning of a
movement for cleaner beaches and
marine habitats. In a few years, what
had been a local clean-up grew to
encompass the 25 U.S. States and
territories. In 1989, the Clean-Up the
World weekend, officially became an
international
event,
with
the
involvement of responsible citizens of
Canada and Mexico. Today, half a
million citizens from almost 100
countries participate in the Clean-Up,
and it has grown into an annual event,
motivating people the world over to
get outside and do something for their
coastal environment.
The Montreal Protocol on Substances
that Deplete the Ozone Layer came
into force on 1 January 1989 when it
had been ratified by 29 countries and
the European Economy Community
(EEC).
As of February 2007, 191 countries
have
ratified
the
Protocol,
representing an international effort to
safeguard the ozone layer through
controls on production, consumption
and
use
of
ozone-depleting
substances (ODS).
National Tamaraw
Month
International Lead
Poisoning Prevention
Week
Philippine Clean Air
Month
National
Environmental
Awareness Month
Presidential
Proclamation
No. 273
Under
said
Proclamation,
all
government offices, agencies and
instrumentalities in the whole Island of
Mindoro are urged to implement
activities
geared
toward
the
conservation of the Tamaraw and its
habitats at least during the month of
October.
October 20 26
2012
International
Conference on
Chemicals
Management
The United Nations Environment
Programme (UNEP) and the World
Health Organization (WHO) were
invited to establish a global
partnership to promote phasing out
the use of lead in paints, ie, the Global
Alliance to Eliminate Lead Paint
(GAELP). The Alliance aims to
catalyze efforts to prevent children's
exposure to lead from paints and to
minimize occupational exposures to
lead paint.
November
A continuing air quality information
and education campaign shall
promote by the Department, the
Department of Education, Culture and
Presidential
Sports (DECS), the Department on
Proclamation
Interior and Local Government
No. 1109, s.
(DILG), the Department of Agriculture
1997 - Clean Air
(DA) and the Philippine Information
Month
Agency (PIA). Consistent with Sec 7
of this Act, such campaign shall
Republic Act No.
encourage the participation of other
8749 - Philippine
government agencies and the private
Clean Air Act of
sector including non-government
1999
organizations,
the
academe,
environment groups and other private
entities in a multi-sectoral information
campaign.
November
Republic Act No.
9512 - National
Environmental
Awareness and
Education Act of
2008
October
Pursuant to the policy set forth in this
Act, the month of November of every
year shall be known as the
Environmental Awareness Month
throughout the Philippines.
National Climate
Change
Consciousness
Week
Presidential
Proclamation
No. 1667 Global Warming
and Climate
Change
November 19 Consciousness
25
Week
Republic Act.
No. 9729 Climate Change
Act of 2009
This is a long-week activity which
focuses on fostering environmental
awareness and actions. It aims to
raise awareness especially to the
continuing occurrence of climate
change in the world.