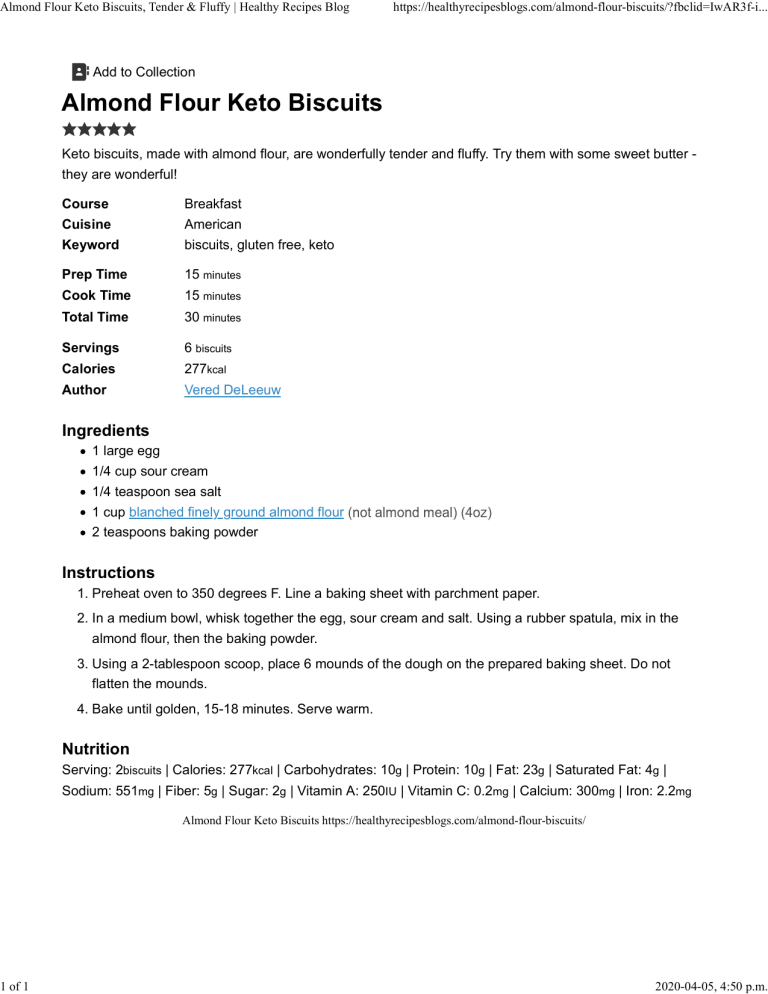 Almond Flour Keto Biscuits, Tender & Fluffy | Healthy Recipes Blog
1 of 1
https://healthyrecipesblogs.com/almond-flour-biscuits/?fbclid=IwAR3f-i...
Add to Collection
Almond Flour Keto Biscuits
Keto biscuits, made with almond flour, are wonderfully tender and fluffy. Try them with some sweet butter they are wonderful!
Course
Breakfast
Cuisine
American
Keyword
biscuits, gluten free, keto
Prep Time
15 minutes
Cook Time
15 minutes
Total Time
30 minutes
Servings
6 biscuits
Calories
277kcal
Author
Vered DeLeeuw
Ingredients
1 large egg
1/4 cup sour cream
1/4 teaspoon sea salt
1 cup blanched finely ground almond flour
2 teaspoons baking powder
Instructions
1. Preheat oven to 350 degrees F. Line a baking sheet with parchment paper.
2. In a medium bowl, whisk together the egg, sour cream and salt. Using a rubber spatula, mix in the
almond flour, then the baking powder.
3. Using a 2-tablespoon scoop, place 6 mounds of the dough on the prepared baking sheet. Do not
flatten the mounds.
4. Bake until golden, 15-18 minutes. Serve warm.
Nutrition
Serving: 2biscuits | Calories: 277kcal | Carbohydrates: 10g | Protein: 10g | Fat: 23g | Saturated Fat: 4g |
Sodium: 551mg | Fiber: 5g | Sugar: 2g | Vitamin A: 250IU | Vitamin C: 0.2mg | Calcium: 300mg | Iron: 2.2mg
Almond Flour Keto Biscuits https://healthyrecipesblogs.com/almond-flour-biscuits/
2020-04-05, 4:50 p.m.