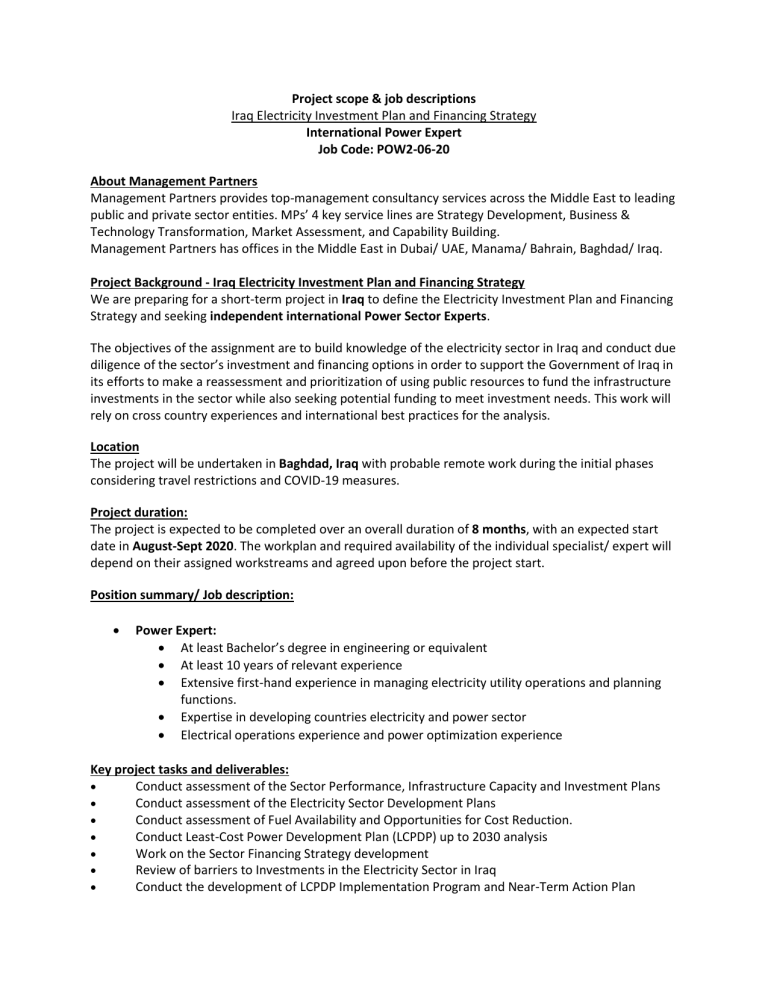 Project scope & job descriptions
Iraq Electricity Investment Plan and Financing Strategy
International Power Expert
Job Code: POW2-06-20
About Management Partners
Management Partners provides top-management consultancy services across the Middle East to leading
public and private sector entities. MPs' 4 key service lines are Strategy Development, Business &
Technology Transformation, Market Assessment, and Capability Building.
Management Partners has offices in the Middle East in Dubai/ UAE, Manama/ Bahrain, Baghdad/ Iraq.
Project Background - Iraq Electricity Investment Plan and Financing Strategy
We are preparing for a short-term project in Iraq to define the Electricity Investment Plan and Financing
Strategy and seeking independent international Power Sector Experts.
The objectives of the assignment are to build knowledge of the electricity sector in Iraq and conduct due
diligence of the sector's investment and financing options in order to support the Government of Iraq in
its efforts to make a reassessment and prioritization of using public resources to fund the infrastructure
investments in the sector while also seeking potential funding to meet investment needs. This work will
rely on cross country experiences and international best practices for the analysis.
Location
The project will be undertaken in Baghdad, Iraq with probable remote work during the initial phases
considering travel restrictions and COVID-19 measures.
Project duration:
The project is expected to be completed over an overall duration of 8 months, with an expected start
date in August-Sept 2020. The workplan and required availability of the individual specialist/ expert will
depend on their assigned workstreams and agreed upon before the project start.
Position summary/ Job description:

Power Expert:
 At least Bachelor's degree in engineering or equivalent
 At least 10 years of relevant experience
 Extensive first-hand experience in managing electricity utility operations and planning
functions.
 Expertise in developing countries electricity and power sector
 Electrical operations experience and power optimization experience
Key project tasks and deliverables:

Conduct assessment of the Sector Performance, Infrastructure Capacity and Investment Plans

Conduct assessment of the Electricity Sector Development Plans

Conduct assessment of Fuel Availability and Opportunities for Cost Reduction.

Conduct Least-Cost Power Development Plan (LCPDP) up to 2030 analysis

Work on the Sector Financing Strategy development

Review of barriers to Investments in the Electricity Sector in Iraq

Conduct the development of LCPDP Implementation Program and Near-Term Action Plan


Deliver a specialized training and experience sharing workshops
Other project ad hoc work
Support on the proposal development
In addition, the consultant is expected to review and contribute to the proposal being currently
developed by the Management Partners team. This should typically involve no more than half a day to
one day of work with a potential for some minor follow ups afterwards. This will be done towards the
end of the proposal development phase, and as such, the consultants, will not be paid for this task. If the
project is won, an agreed number of hours can be billed.