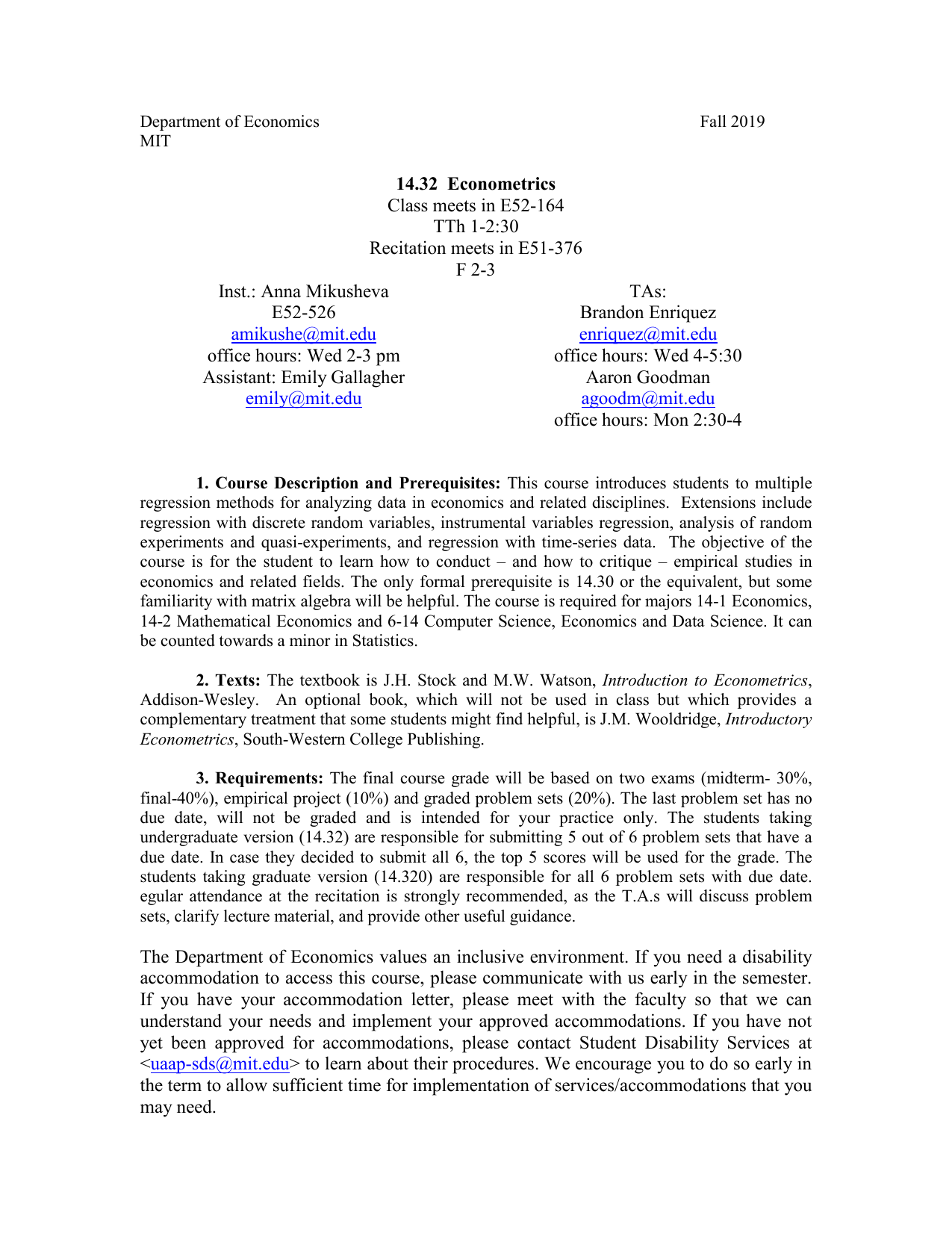 Department of Economics
MIT
Fall 2019
14.32 Econometrics
Class meets in E52-164
TTh 1-2:30
Recitation meets in E51-376
F 2-3
Inst.: Anna Mikusheva
TAs:
E52-526
Brandon Enriquez
[email protected]
[email protected]
office hours: Wed 2-3 pm
office hours: Wed 4-5:30
Assistant: Emily Gallagher
Aaron Goodman
[email protected]
[email protected]
office hours: Mon 2:30-4
1. Course Description and Prerequisites: This course introduces students to multiple
regression methods for analyzing data in economics and related disciplines. Extensions include
regression with discrete random variables, instrumental variables regression, analysis of random
experiments and quasi-experiments, and regression with time-series data. The objective of the
course is for the student to learn how to conduct – and how to critique – empirical studies in
economics and related fields. The only formal prerequisite is 14.30 or the equivalent, but some
familiarity with matrix algebra will be helpful. The course is required for majors 14-1 Economics,
14-2 Mathematical Economics and 6-14 Computer Science, Economics and Data Science. It can
be counted towards a minor in Statistics.
2. Texts: The textbook is J.H. Stock and M.W. Watson, Introduction to Econometrics,
Addison-Wesley. An optional book, which will not be used in class but which provides a
complementary treatment that some students might find helpful, is J.M. Wooldridge, Introductory
Econometrics, South-Western College Publishing.
3. Requirements: The final course grade will be based on two exams (midterm- 30%,
final-40%), empirical project (10%) and graded problem sets (20%). The last problem set has no
due date, will not be graded and is intended for your practice only. The students taking
undergraduate version (14.32) are responsible for submitting 5 out of 6 problem sets that have a
due date. In case they decided to submit all 6, the top 5 scores will be used for the grade. The
students taking graduate version (14.320) are responsible for all 6 problem sets with due date.
egular attendance at the recitation is strongly recommended, as the T.A.s will discuss problem
sets, clarify lecture material, and provide other useful guidance.
The Department of Economics values an inclusive environment. If you need a disability
accommodation to access this course, please communicate with us early in the semester.
If you have your accommodation letter, please meet with the faculty so that we can
understand your needs and implement your approved accommodations. If you have not
yet been approved for accommodations, please contact Student Disability Services at
<[email protected]> to learn about their procedures. We encourage you to do so early in
the term to allow sufficient time for implementation of services/accommodations that you
may need.
4. Schedule: The schedule is tentative. All changes will be announced in class.
Readings:
Class #
1
Date/Day
Sept.
Topic
SW Ch. #
5
Th
Introduction and review of probability
2
10
Tue
Review of statistics
3
3
12
Th
Review of statistics
3
4
17
Tue
Bivariate regression I
4
5
19
Th
Bivariate regression II
5
6
24
Tue
Bivariate regression II
5
7
26
Th
Multiple regression I
6
1
Tue
Multiple regression II
7
9
3
Th
Multiple regression III
7
10
8
Tue
Nonlinear regression models I
8
11
10
Th
Nonlinear regression models II
8
15
Tue
Columbus day- holiday
12
17
Th
Nonlinear regression models III
8
13
22
Tue
Assessing regression studies
14
24
Th
Midterm exam
15
29
Tue
16
31
Problem Sets:
Posted
Due
1,2
PS#1
PS#2
PS#1
PS#3
PS#2
9
PS#4
PS#3
Binary dependent variable I
11
project
Th
Binary dependent variable II
11
5
Tue
Panel Data I
10
18
7
Th
Panel Data II
10
19
12
Tue
Instrumental variable regression I
12
20
14
Th
Instrumental variable regression II
12
21
19
Tue
IV regression III and program evaluation I
22
21
Th
Program evaluation II
13
23
26
Tue
Program evaluation III
13
28
Th
No class- Thanksgiving
3
Tue
Time series regression I
15
25
5
Th
Time series regression II
16
26
10
Tue
Time series regression III
16
8
17
24
Oct
Nov
Dec
PS#5
PS#4
PS#6
PS#5
12,13
PS#6
PS#7
project
14.32 Policies
1. Problem sets are designed to help you learn how to apply the material presented
in lectures and recitations. You are permitted to discuss course material, including
homework, with other students in the class. However, you must turn in your own
individual solutions to each homework set. Discussion with others is intended to clarify
ideas, concepts, and technical questions, not to derive group homework set solutions.
Identical homework set answers (especially when the steps used to derive answers are not
shown or when questions of interpretation are involved) violate this policy and may
receive no credit. Also, you are expected to complete the problem sets without consulting
old problem set solutions.
2. Handwritten solutions are fine, as long as they are legible and neat. Please
remember: if we can't read it, we can't grade it. Please, attach your log files to show your
computer work.
3. In fairness to students who complete assignments on time, late homework sets
will not be accepted. You may turn in assignments during the lecture on the day they are
due. After the lecture, assignments may be placed in a designated box that will be set out
on the third floor of E52 until 5:00 pm. Do not leave assignments in the T.A.'s office or
mailbox. You may e-mail your homework to the TAs, but put 14.32 in the subject line.
You may also submit your work electronically through Stellar Grade-Module.
4. The empirical project is somewhat similar to the problem sets, but is more
open-ended. It contains less guidance and requires one to use knowledge from the course
in a real-life application. This project is in the spirit of MIT Lab requirement. All rules
about problem sets described above are applicable to the project as well. The description
of the project and the data for it will be posted immediately following the mid-term. The
sharp deadline for the project is December 5th.
5. Taking both exams is a requirement of the course. Missing an exam without a
valid excuse will result in a failing grade for the entire course.
6. To be considered valid, an excuse must be proffered prior to the exam that is to
be missed, if at all possible, the excuse must be in writing, and it must be verifiable.
These criteria are necessary, not sufficient, however. We reserve the right to deem an
excuse meeting the above criteria invalid.
7. An oral make-up exam will be given in the event of a valid excuse.
8. All requests for regrades must be submitted in writing within one week of the
exam being handed back.
9. Cheating or academic dishonesty in any form will not be tolerated and will
result in swift punitive action. This includes but is not restricted to copying information
from other students' exams, communicating with other students during exams, failing to
follow the rules of the exams regarding notes, calculators, etc., altering an exam for the
purpose of a regrade, and producing fraudulent written excuses. Any student found to
have cheated or to have behaved unethically or dishonestly will be given a grade of F on
the exam involved and referred to the appropriate disciplinary committees within MIT for
further action.