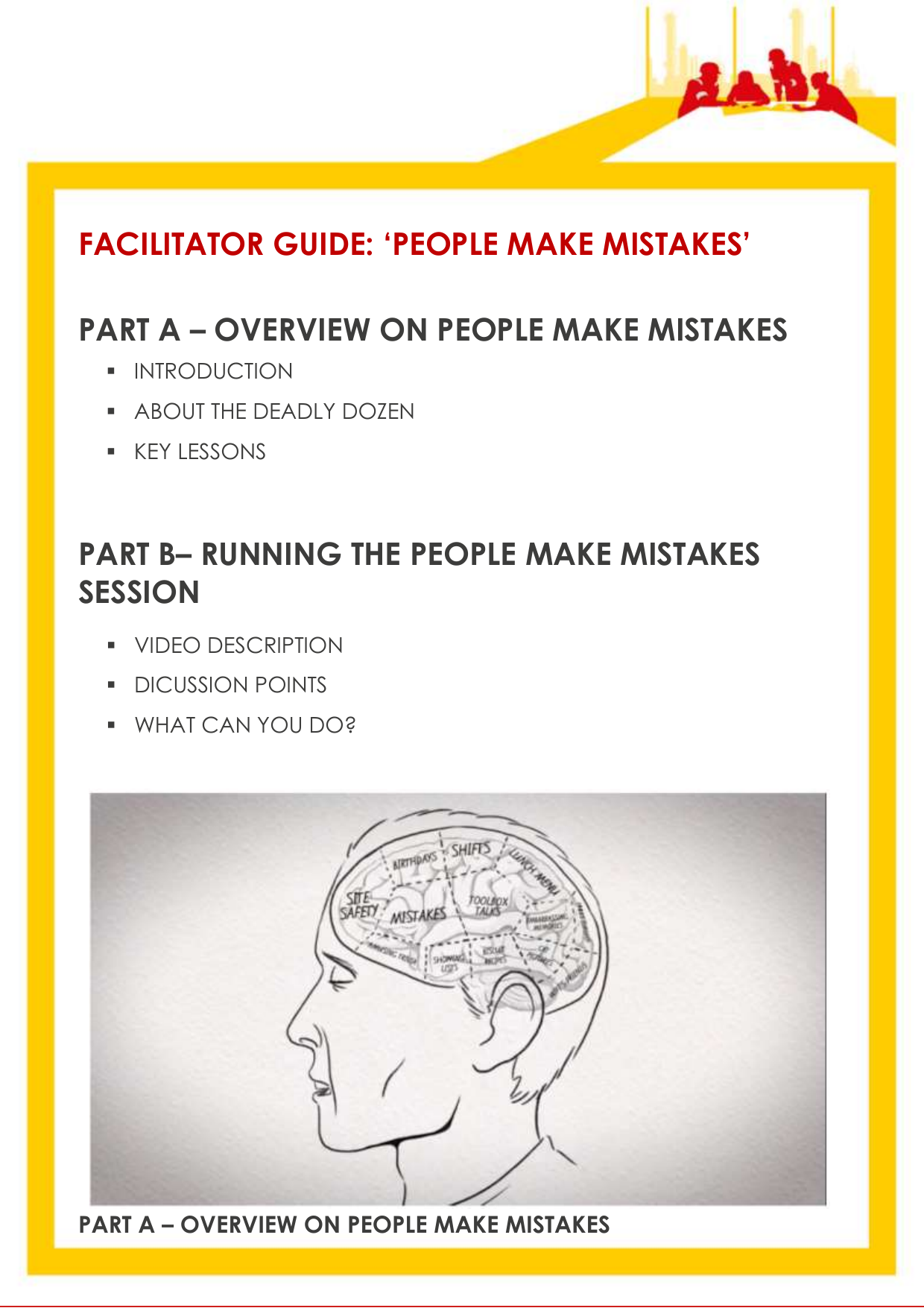 REFLECTIVE LEARNING
FACILITATOR GUIDE
FACILITATOR GUIDE: 'PEOPLE MAKE MISTAKES'
PART A – OVERVIEW ON PEOPLE MAKE MISTAKES
 INTRODUCTION
 ABOUT THE DEADLY DOZEN
 KEY LESSONS
PART B– RUNNING THE PEOPLE MAKE MISTAKES
SESSION
 VIDEO DESCRIPTION
 DICUSSION POINTS
 WHAT CAN YOU DO?
PART A – OVERVIEW ON PEOPLE MAKE MISTAKES
REFLECTIVE LEARNING
FACILITATOR GUIDE
Introduction
Key lessons
The aim of this learning session is not to just watch a video, it is to
think and talk about how our behaviours can impact safety in a
group. We want the audience to reflect on the behaviours outlined
in the video and identify how these behaviours can arise during their
work activities and operations. During this session the group will
have an opportunity to elaborate on how to prevent incidents
occurring as a result of the discussed behaviours.


Understand the importance of
addressing human factors that can
contribute to maritime incidents
and errors
The importance of individuals
creating and maintaining strong
behavioral barriers to promote a
positive safety culture
About the human factors 'deadly dozen'
The deadly dozen refers to twelve common conditions that can act as precursors to human error, leading
to incidents. These conditions can influence people to make unintentional mistakes.
The conditions are:
Situational Awareness – Are
you aware of what's
happening around you?
Working in isolation can lead
to a partial view of the entire
task at hand. It is important
to keep up to date with the
changing information and
report any situation changes.
Alerting – Do you speak up
when you should?
Capability – Is the crew really
capable?
Complacency – Is everything
really ok?
Expressing concerns is
essential in maintaining
situational awareness.
Speaking up in a prompt
manner can help avoid
incidents and improve safety
performance.
Competence in maritime safety
is more than holding the
required certificates and training.
Rather more about combining
technical and non-technical skills
successfully. It is therefore
critical to seek guidance when
unsure about a given task.
Maintaining a level of chronic
unease by being alert to
what else could go wrong is
key in reducing complacency.
Always check and avoid
working from memory.
Fit for Duty - Are you really fit
to work?
Pressure – Do we have the
resources we need?
Communication – Do you really
understand everyone?
Teamwork – How well are we
working together?
Good physical, mental and
emotional health are important
to enable seafarers to carry out
their roles and responsibilities
safely. It is always critical to
seek medical attention when
injured or feeling unwell.
Too much real or perceived
pressure can lead to
demotivation, leading to stress
which can reduce performance
and impact safety. It is
therefore vital to be alert to
workload pressures and seek
help where necessary.
Effective communication means
that an intended message is
delivered, received and
understood by everyone
involved successfully. This
reduces assumptions that could
lead to potential problems.
Good teamwork leads to a
good and effective vessel. It
is important to be inclusive
at all time and discuss
potential problems with
team members.
Local Practices – Are we
taking short cuts?
To prevent risks arising from
unsuitable work practices
procedures are put in places
and must be followed.
Taking short cuts should be
avoided as they can result in
undesired outcomes.
Distractions – Do we really
need to interrupt our current
task?
It is essential to keep focused
on the main task at hand and
not allow minor issues to
cause distractions.
Fatigue – Are you well
rested?
Being fatigued can have a
negative impact on
performance and safety and is
a significant factor in many
maritime incidents. It is key to
use rest periods appropriately.
Culture – Is the way we do
thing creating a good safety
culture?
Everyone always has a
personal responsibility to
think /act safely and
encourage safe behaviors in
their colleagues too.
PART B– FACILITATING THE PEOPLE MAKE MISTAKES SESSION
REFLECTIVE LEARNING
FACILITATOR GUIDE
Video description
Quick Exercise on the deadly
dozen


Video Layout
The video consists of five parts – it stops automatically
after each part for an engagement activity.
In the first part of the video the deadly dozen conditions
are introduced with five everyday examples. Pause the
video and take the group through the Quick Exercise on
the deadly dozen.
The video is then split into three scenarios:
Scenario one is based on the bridge of a vessel where Situational
Awareness, Teamwork, Communication, Alerting and Local
Practices are highlighted.
Scenario two is filmed on the deck of vessel where Fatigue, Fit
for Duty, Distractions, Situational Awareness, Pressures,
Capability, Communication and Complacency is shown.
Scenario three is based in the Engine room of a vessel where
Capability, Complacency and Culture can be identified.
"The final part of the video summaries the deadly dozen
conditions and askes participants how they will reduce the
occurrence of one or more of the deadly dozens."
Content adapted from UK Maritime Coastguard Agency MGN 520
Before running the three scenarios
ask the participants to discuss and
give examples of the twelve human
factors in the video.
Use prompts from the previous
page if participants are unsure of
the human factors.
Discussion Points
Questions after part 1 of the video



What behaviors contributed to
the incident?
Why did no one stop this from
happening before it was too
late?
How can we stop this from
happening to us?
Question after part 2 of the video

What factors led to this
incident happening?

Which of these behaviours do
you recognise?

How could this incident have
been avoided?
Questions after part 3 of the video

What went wrong here?

Why did it go wrong?

What would you have done
differently?