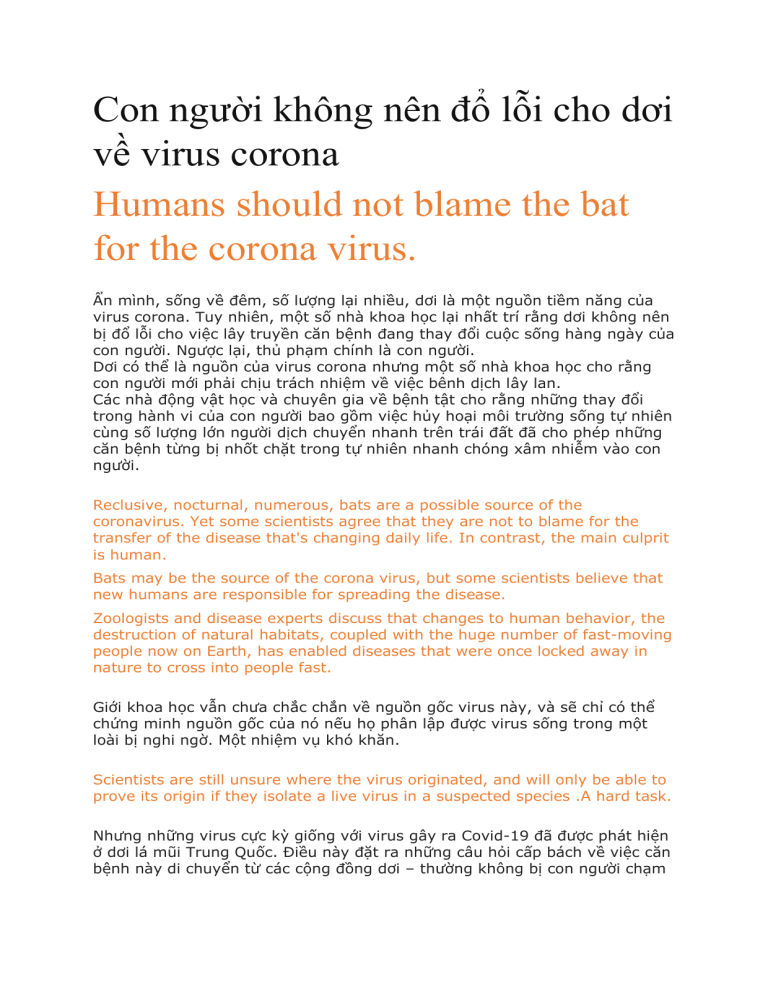 Con người không nên đổ lỗi cho dơi
về virus corona
Humans should not blame the bat
for the corona virus.
Ẩn mình, sống về đêm, số lượng lại nhiều, dơi là một nguồn tiềm năng của
virus corona. Tuy nhiên, một số nhà khoa học lại nhất trí rằng dơi không nên
bị đổ lỗi cho việc lây truyền căn bệnh đang thay đổi cuộc sống hàng ngày của
con người. Ngược lại, thủ phạm chính là con người.
Dơi có thể là nguồn của virus corona nhưng một số nhà khoa học cho rằng
con người mới phải chịu trách nhiệm về việc bênh dịch lây lan.
Các nhà động vật học và chuyên gia về bệnh tật cho rằng những thay đổi
trong hành vi của con người bao gồm việc hủy hoại môi trường sống tự nhiên
cùng số lượng lớn người dịch chuyển nhanh trên trái đất đã cho phép những
căn bệnh từng bị nhốt chặt trong tự nhiên nhanh chóng xâm nhiễm vào con
người.
Reclusive, nocturnal, numerous, bats are a possible source of the
coronavirus. Yet some scientists agree that they are not to blame for the
transfer of the disease that's changing daily life. In contrast, the main culprit
is human.
Bats may be the source of the corona virus, but some scientists believe that
new humans are responsible for spreading the disease.
Zoologists and disease experts discuss that changes to human behavior, the
destruction of natural habitats, coupled with the huge number of fast-moving
people now on Earth, has enabled diseases that were once locked away in
nature to cross into people fast.
Giới khoa học vẫn chưa chắc chắn về nguồn gốc virus này, và sẽ chỉ có thể
chứng minh nguồn gốc của nó nếu họ phân lập được virus sống trong một
loài bị nghi ngờ. Một nhiệm vụ khó khăn.
Scientists are still unsure where the virus originated, and will only be able to
prove its origin if they isolate a live virus in a suspected species .A hard task.
Nhưng những virus cực kỳ giống với virus gây ra Covid-19 đã được phát hiện
ở dơi lá mũi Trung Quốc. Điều này đặt ra những câu hỏi cấp bách về việc căn
bệnh này di chuyển từ các cộng đồng dơi – thường không bị con người chạm
tới – và lây lan khắp trái đất bằng cách nào. Câu trả lời cho thấy sự cần thiết
phải suy nghĩ lại về cách chúng ta đối xử với hành tinh.
However, viruses that are extremely similar to the one that causes Covid-19
have been detected in Chinese horseshoe bats. That has led to urgent
questions as to how the disease moved from bat communities - often
untouched by humans - to spread across Earth. The answers suggest the
need to rethink of how we treat the planet.