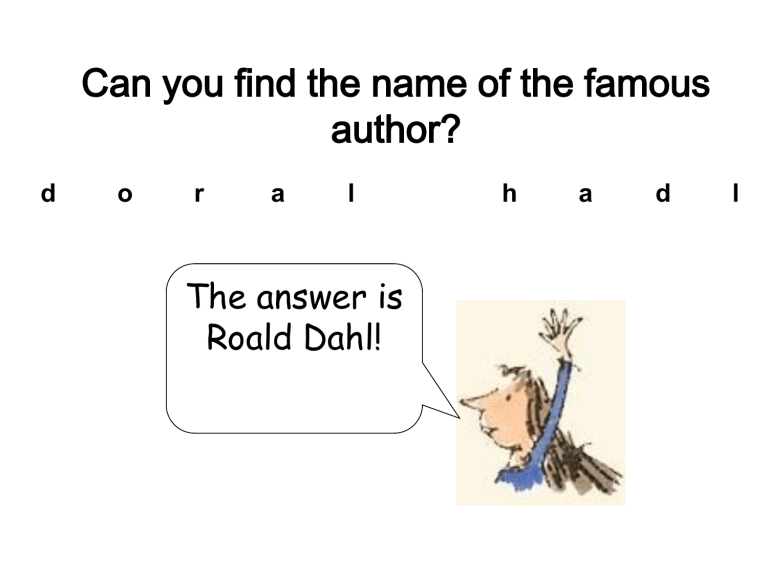 Can you find the name of the famous
author?
d
o
r
a
l
IThe
can!answer
Pleaseis
pick
Roald
me Dahl!
Miss!
h
a
d
l
Did you
that Roald
Dahlnew
would
have
Canknow
you make
up some
titles?
celebrated his 91st birthday this year?
The Enormous Chocolate Finger
Here are some
of theGiant
manyJames
famous books
Fantastic
that he has written:
Charlie, the Revolting Crocodile
Danny, the Champion of the World
Charlie and the Chocolate Factory
James and the Giant Peach
The Magic Finger
Fantastic Mr. Fox
The Enormous Crocodile
Revolting Rhymes
Now you are going to underline all those words that
Roald Dahl has made up!
'But if you don't eat people like all the others,' Sophie said,
'then what do you live on?'
'That is a squelching tricky problem around here,' the BFG
answered. 'In
this sloshflunking Giant Country, happy eats like
pineapples and
pigwinkles is simply not growing. Nothing is growing
except for one extremely icky-poo vegetable. It is called
the snozzcumber.'
'The snozzcumber!' cried Sophie. 'There's no such thing.'
The BFG looked at Sophie and smiled, showing about
twenty of his square white teeth. 'Yesterday,' he said, 'we
was not believing in giants, was we? Today we is not
believing in snozzcumbers. Just because we happen not
to have actually seen something with our own two little
winkles, we think it is not existing. What about for instance
the great squizzly scotch-hopper?'
'I beg your pardon?' Sophie said.
'And the humplecrimp?'
'What's that?' Sophie said.
'And the wraprascal?'
'The what?' Sophie said.
'And the crumpscoddle?'
'Are they animals?' Sophie asked.
'They is common animals,'
said the BFG contemptuously. 'I is not a very know-all giant
myself, but it seems to me that you is an absolutely know-nothing
human bean. Your brain is full of rotten-wool.'
'You mean cotton-wool,' Sophie said.
'What I mean and what I say is two different things,'
the BFG announced rather grandly. 'I will now show you a
snozzcumber.'…
See how many made up words you can find in this chapter.
Make a list of all the invented words you can find.