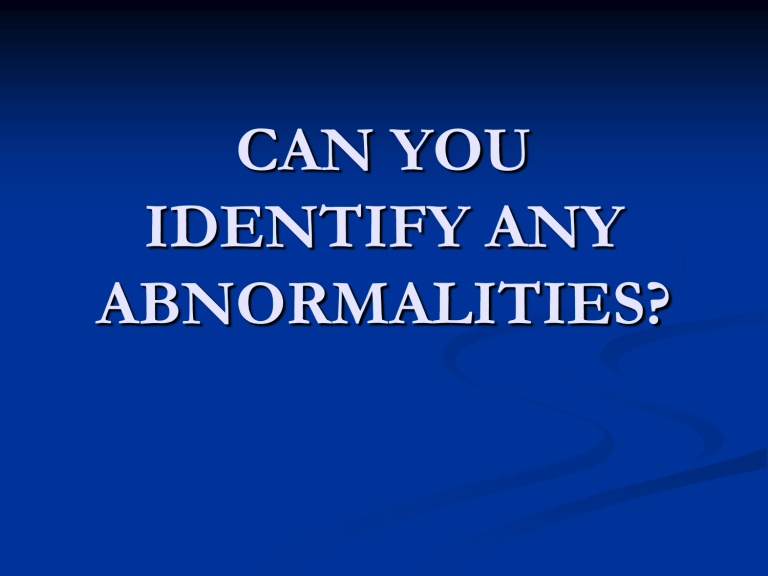 CAN YOU
IDENTIFY ANY
ABNORMALITIES?
Genitourinary Abnormalities: Male
Genitourinary Abnormalities: Male
Genitourinary Abnormalities
Genitourinary Abnormalities
Extremity Abnormalities
Vertebral Abnormalities
Skin Findings
Mongolian Spot (Congenital dermal melanocytosis)
www.koori-childrens-clinic.com
dermis.multimedica.de
Skin Findings
Erythema toxicum neonatorum
www.dermis.net
www.nursing.duq.edu
Transient pustular melanosis
www.ahsl.co.nz
ethnomed.org
Skin Findings
Sebaceous Gland Hyperplasia
Neonatal Acne
www.ahsl.co.nz
www.derm101.com
Skin Findings
Cradle Cap (Seborrheic dermatitis)
Stork bite (Nevus simplex)
en.wikipedia.org
www.ritari.org
Head Findings
Caput succedaneum
Cephalohematoma
www.fammed.washington.edu
www.emedicine.com
Epstein's pearls
www.dentistry.bham.ac.uk
Newborn Reflexes
Palmar and plantar grasp
Rooting reflex
www.winfssi.com
www.winfssi.com
Newborn Reflexes
Moro reflex
Stepping reflex
www.nlm.nih.gov
www.imi.org.uk
THEREFORE




Be thorough
Be complete
Find a system and use it each and every time!!!
The more infants you examine, the more
comfortable you will become with normal
variations.