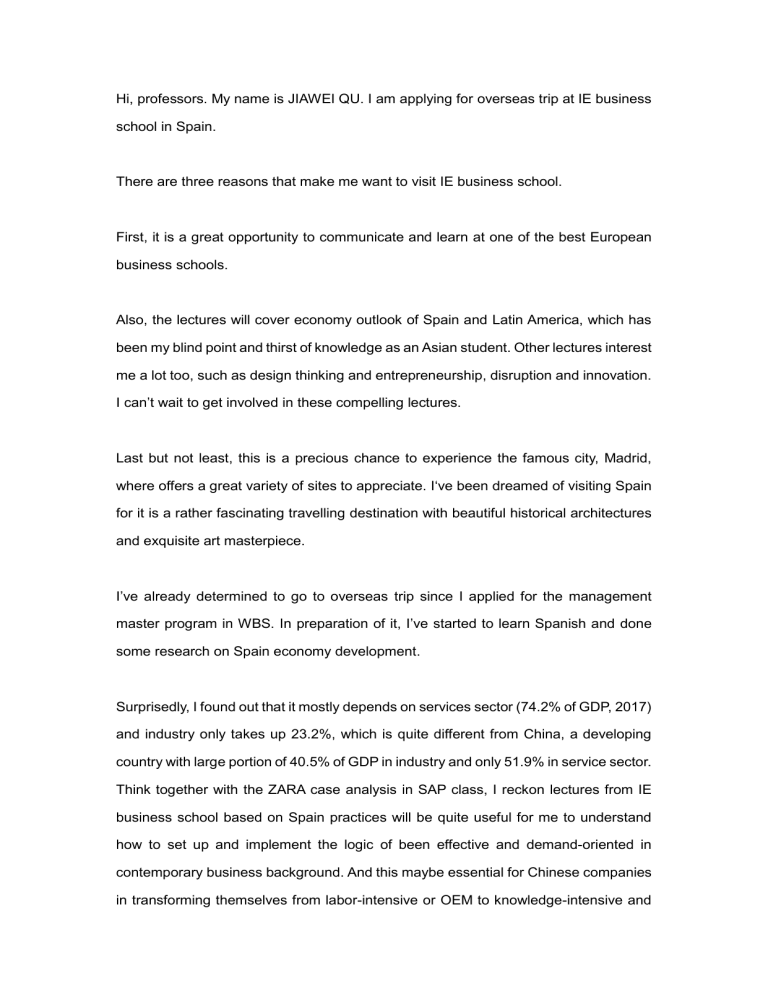 Hi, professors. My name is JIAWEI QU. I am applying for overseas trip at IE business
school in Spain.
There are three reasons that make me want to visit IE business school.
First, it is a great opportunity to communicate and learn at one of the best European
business schools.
Also, the lectures will cover economy outlook of Spain and Latin America, which has
been my blind point and thirst of knowledge as an Asian student. Other lectures interest
me a lot too, such as design thinking and entrepreneurship, disruption and innovation.
I can't wait to get involved in these compelling lectures.
Last but not least, this is a precious chance to experience the famous city, Madrid,
where offers a great variety of sites to appreciate. I've been dreamed of visiting Spain
for it is a rather fascinating travelling destination with beautiful historical architectures
and exquisite art masterpiece.
I've already determined to go to overseas trip since I applied for the management
master program in WBS. In preparation of it, I've started to learn Spanish and done
some research on Spain economy development.
Surprisedly, I found out that it mostly depends on services sector (74.2% of GDP, 2017)
and industry only takes up 23.2%, which is quite different from China, a developing
country with large portion of 40.5% of GDP in industry and only 51.9% in service sector.
Think together with the ZARA case analysis in SAP class, I reckon lectures from IE
business school based on Spain practices will be quite useful for me to understand
how to set up and implement the logic of been effective and demand-oriented in
contemporary business background. And this maybe essential for Chinese companies
in transforming themselves from labor-intensive or OEM to knowledge-intensive and
service company. I believe I will develop a better and deeper understanding of how
successful international companies operates business in common, in the meantime
varied from industry in competitive advantages, which will further benefit and enrich
my experience as an international master student when looking for jobs back to China.
I've participated in summer exchange program in Japan while in bachelor stage and
won the second prize of excellent exchange student. Plus, I believe I can blend into
European countries more with the help of over 3 months UK study experience till now.
I believe humble, helpful, respectful and open-mined are the bridges for cross-cultural
communications.
In general, I think studying and having a good time in sensing a different culture will
broaden my horizon, help with language learning, experience different educational
environment, gain more independence and as well as enrich my CV.
I value this opportunity of immersive overseas trip very much and I will try my best to
be a good ambassador both for WBS and for myself.
Thank you very much! Looking for the confirmation results come out.