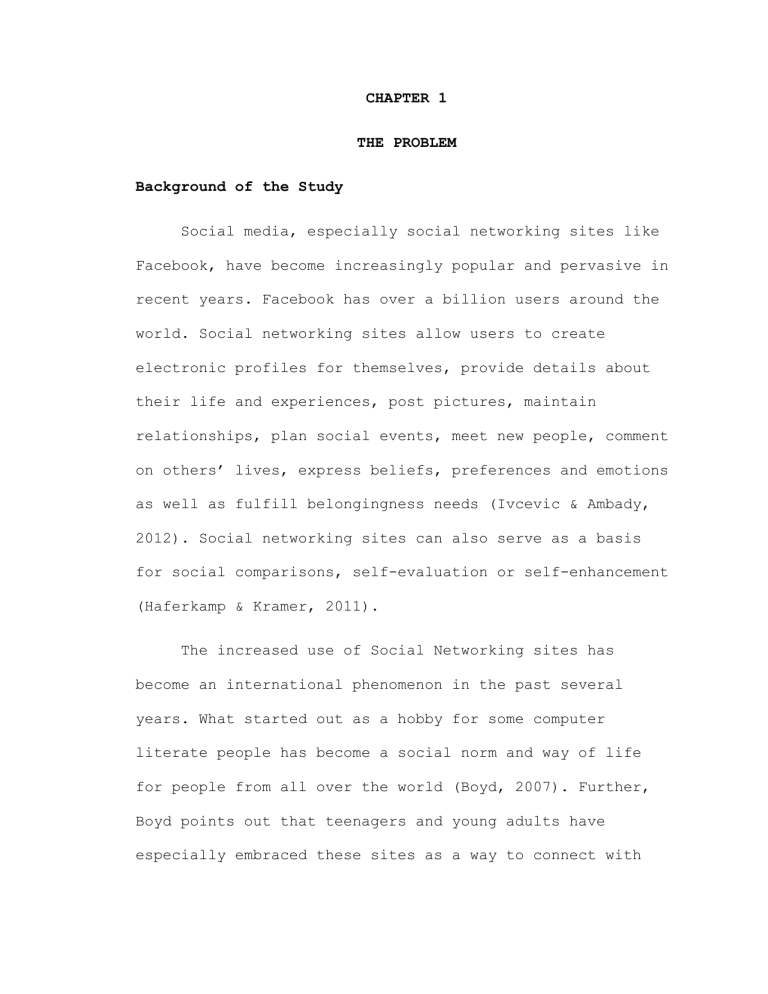 CHAPTER 1
THE PROBLEM
Background of the Study
Social media, especially social networking sites like
Facebook, have become increasingly popular and pervasive in
recent years. Facebook has over a billion users around the
world. Social networking sites allow users to create
electronic profiles for themselves, provide details about
their life and experiences, post pictures, maintain
relationships, plan social events, meet new people, comment
on others' lives, express beliefs, preferences and emotions
as well as fulfill belongingness needs (Ivcevic & Ambady,
2012). Social networking sites can also serve as a basis
for social comparisons, self-evaluation or self-enhancement
(Haferkamp & Kramer, 2011).
The increased use of Social Networking sites has
become an international phenomenon in the past several
years. What started out as a hobby for some computer
literate people has become a social norm and way of life
for people from all over the world (Boyd, 2007). Further,
Boyd points out that teenagers and young adults have
especially embraced these sites as a way to connect with
The Problem
9
their peers, share information, reinvent their
personalities, and showcase their social lives.
Boyd
as
a
(2007)
web-based
defines
service
Social
that
Networking
allows
Site (SNS)
individuals
to
construct a public or semi-public profile within a bounded
system, articulate a list of other users with whom they
share a connection, view and traverse their list of
connections and those made by others within
the system.
Such SNSs are websites such as MySpace, Facebook, whatsApp,
Skype, and Twitter among others. The nature and
nomenclature of these connections may vary from site to
site (Dothan & Boyd, 2009).
Emerging studies have found that teenagers spend a
considerable portion of their daily life interacting
through social media. Subsequently, questions and
controversies have emerged about the influence these SNSs
have on adolescents' social development. According
Reports
are
in
using
2007,
the
87%
Internet
of American
(Lenhart &
teens aged
Madden,
to
Pew
12-17
2007). An
average U.S. teenager, aged 12-17, use the Internet and
applications about 24 hours and 54 minutes per month
(Nielsen Company, 2009). More specifically, online social
networks and blogs represent the sites most frequented by
The Problem
10
adolescents. The Nielson Company further reported that in
May 2009 nearly half of U.S. adolescents visited MySpace
and Facebook (45% and 44%, respectively). According to the
same study, 67% of teen social networkers reported updating
their online profiles at least once a week and 57% of
adolescents use their online communities as a means of
acquiring advice on important issues
as
a
a
forum
practice
for
expression
of
in
their
thoughts
and
lives
and
feelings,
that distinguishes them from other social
networkers.
The Philippines is the fastest growing internet market
in Southeast Asia with media penetration rate of 58
percent, higher than the average of 47 percent in Southeast
Asia (Camus, 2017). Much
attributed
connections,
to
increases
of this
in
growth
mobile
can
be
internet
and intensified promotions on social media
applications by mobile operators.
The number of internet users in the Philippines
increased by 13 million or 27 percent from January 2016 to
January 2017, according to a report by social media agency
We Are Social and social media management platform
Hootsuite. That's four times the seven percent growth rate
in the previous 12-month period. In the report, Digital in
The Problem
11
2017, We Are Social and Hootsuite also said that social
media users in the Philippines grew by 12 million or 25
percent while the number of mobile social users increased
by 13 million or 32 percent. Those growth figures are still
higher compared to the previous year (Subido, 2017).
Because of the emergence of mobile and computer
technologies, social networking numbers continue to grow
with user participation influencing future trends in
communications (Boyd & Ellison, 2011). Therefore, if each
subsequent generation of adolescents were to devote
and more
time to online activities
networking sites,
more
on these social
it would appear to weaken the ability of
adolescents to engage in meaningful, face-to-face
interaction.
The primary purpose of this research is to have a
definite understanding on how social networking sites
affect the self-esteem of a person who is active in the
social net. Since the trend today is that almost everyone
is active in the social networking sites, most people are
driven by the fact that using these sites provides them
satisfaction and entertainment to the point where their
self-worth is greatly affected (Herrera, 2014). These
social networking sites are the Facebook, used for making
The Problem
12
friends, interaction, etc., Twitter, used for voicing out
one's emotions, sharing facts, and Instagram, used for
sharing moments through videos and pictures. Furthermore,
this research will serve as a guide and a theoretical model
for future studies involving self-esteem and social
networking sites. Future researchers would benefit from
this study, and it will provide them the facts needed to
compare their study during their researches.
Theoretical Framework
There are different reasons why people frequently use
Social Networking Sites (SNS). First, Social Networking
Sites can help them communicate with other people.
Especially those with long distance relationships or who
are separated from their families. One example of this are
the Overseas Filipino Workers (OFWs). It is expensive to
communicate with people from different countries using
phones or letters. But with the use of SNS, it made their
communication faster, easier and less expensive. They are
able to post pictures, share comments, email and video chat
in able to view, monitor each other and maintain their
connections (Beukeboom & Utz, 2011).
Second, it gives additional information regarding a
specific topic. Just like on Facebook or Twitter where
The Problem
13
people are able to share links and news for them to become
updated (Beukeboom & Utz, 2011).
Third, it gives an individual the opportunity to
produce more friends and connection. It gives them the
opportunity to feel accepted from the society which may
boost or enhance their self-esteem as an individual.
Especially when they are receiving positive feedbacks,
comments and likes from other people. However, those people
who do not usually use SNS may feel the opposite way.
Because as they receive less information and updates, they
tend to feel outdated and not part of the society which may
sometimes result to a negative behavior or feeling
(Beukeboom & Utz, 2011).
Fourth, it gives an opportunity for disabled people to
strive and to become part of the society. One example is a
person who cannot walk but can talk and write properly.
With the use of SNS they can still communicate to other
people without getting discriminated on how they look
(Beukeboom & Utz, 2011).
Lastly, it helps people study online such as language
tutorial and more, by means of communicating and consulting
online. Learning and gaining more knowledge is another kind
of achievement which leads to success. According to Maslow,
The Problem
14
respect and achievement plays an important role to develop
one's confidence and self-esteem (Feist & Feist, 2010).
Paradigm of the Study
In this research, the different social networking
sites, the amount of time spent by students in these SNS,
gender, and the level of self-esteem of the students were
taken into consideration. The researchers used the
questionnaire instrument to gather the necessary data. In
order to analyze the gathered data, the researchers used
descriptive correlational method and statistical analysis.
It was expected that after this study, the paper would give
sufficient information on the relationship between Social
Networking Site use and self-esteem.
The Problem
INPUT
Time spent in SNS
PROCESS

esteem
OUTPUT
Descriptive
Relationship
Correlational
between Social
Method
Networking Site

Questionnaire
use and level of

Statistical
self-esteem
Gender
Level of self-
15
Analysis
Figure 1. Paradigm of the Study
The Problem
16
Statement of the Problem
The researchers aimed to determine the relationship
between Social Networking Site use & self-esteem and to answer
the following questions:
1. Which of the following social networking sites do
the Grade 12 STEM students use the most?
a. Facebook
f. Pinterest
b. Youtube
g. Tumblr
c. Instagram
h. Flickr
d. Twitter
i. Google+
e. Reddit
2. What is the level of self-esteem of the students?
2.1. Is there a significant difference on the level
of self-esteem of the Grade 12 STEM students
according to gender?
HO: There is no significant difference on the level
of self-esteem of the Grade 12 STEM students
according to gender.
3. Is there a correlation between Social Networking
Site use and level of self-esteem?
HO: There is no correlation between Social
Networking Site use and the level of self-esteem.