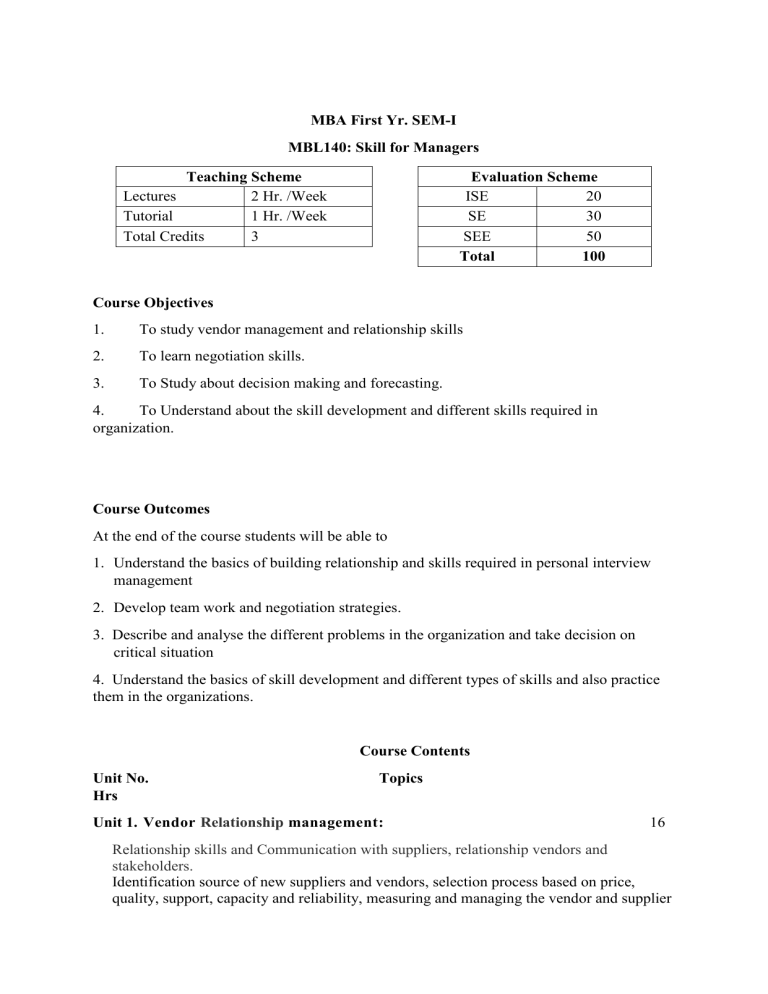 MBA First Yr. SEM-I
MBL140: Skill for Managers
Teaching Scheme
Lectures
2 Hr. /Week
Tutorial
1 Hr. /Week
Total Credits
3
Evaluation Scheme
ISE
20
SE
30
SEE
50
Total
100
Course Objectives
1.
To study vendor management and relationship skills
2.
To learn negotiation skills.
3.
To Study about decision making and forecasting.
4.
To Understand about the skill development and different skills required in
organization.
Course Outcomes
At the end of the course students will be able to
1. Understand the basics of building relationship and skills required in personal interview
management
2. Develop team work and negotiation strategies.
3. Describe and analyse the different problems in the organization and take decision on
critical situation
4. Understand the basics of skill development and different types of skills and also practice
them in the organizations.
Course Contents
Unit No.
Hrs
Topics
Unit 1. Vendor Relationship management:
16
Relationship skills and Communication with suppliers, relationship vendors and
stakeholders.
Identification source of new suppliers and vendors, selection process based on price,
quality, support, capacity and reliability, measuring and managing the vendor and supplier
cost, quality and delivery performance, managing risk relating to quality, cost, delivery
and supply of purchases. Problem-solving against a contract-driven relationship
Unit 2. Negotiation:
16
Introduction, Concept of Negotiation, Characteristics of a Negotiating Situation,
Types of Negotiation, Principles of Negotiation, Steps of Negotiating, Win -win
Negotiation, Negotiation Tactics, Factors Affecting Success in Negotiation
Negotiating across company boundaries, with "outsiders" and with a contractual baseline.
Costs and delivery performance
Unit 3. Decision Making:
16
Definition of Decision Making, Making, Objects, Advantages of Decision Making, Group
Decision Making ,Process, Models, Steps.
Monitoring and document decisions, resolutions, responsibilities and follow-up
Forecasting-Meaning of forecasting, Features of Forecasting, Role of forecasting, Steps in
forecasting, Techniques of forecasting.
Unit 4. :
Risk management (internally and with vendor) – analyse, anticipate and balance risks and
responses.
Documenting and reporting – results, changes, costs, meetings, agreements, problems and
resolutions
Business basics to understand business models and health
Partnering methods and requirements as a way of doing business
Case Study
Reference Books:
1. T,Ramasamy (2010),"Principles of Management", 1st Ed, Himalaya Publishing House
2. Basic Managerial Skills for All– 2011 by Mcgrath E.H
3. L.M. Prasad (2011) "Principles of Management Sultan Chand & Sons."
4. Robbins Stephen P. and Decenzo David (2002) , "Fundamentals of Management"-3rd
Ed Pearson Education
5. P C Tripathi and P N Reddy (2012) , "Principles of Management",5th Ed McGraw hill
publishing.
6. Sherlekar S.A (2016), "Modern Business Administration and Management", 4th Ed
Himalaya Publishing.