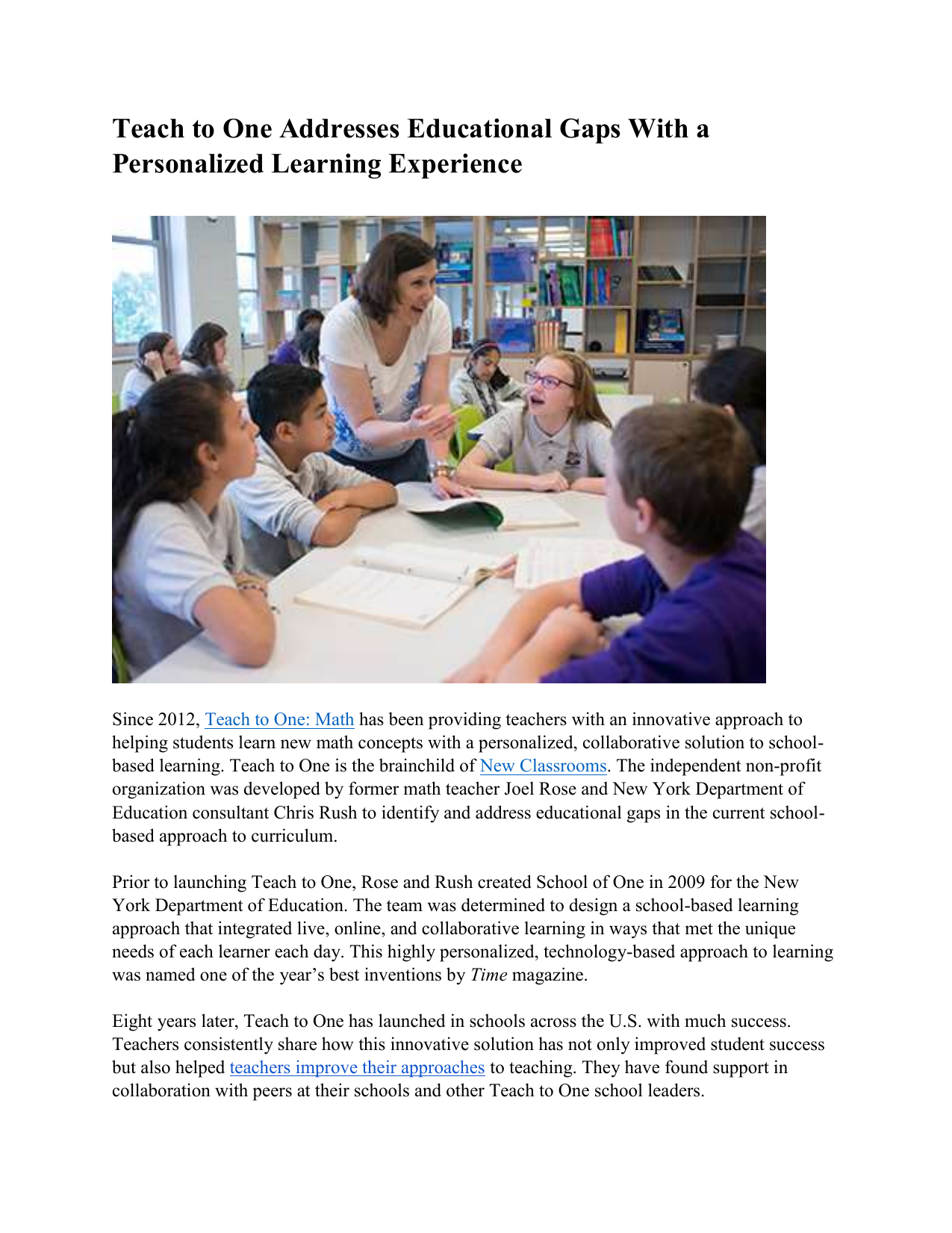 Teach to One Addresses Educational Gaps With a
Personalized Learning Experience
Since 2012, Teach to One: Math has been providing teachers with an innovative approach to
helping students learn new math concepts with a personalized, collaborative solution to schoolbased learning. Teach to One is the brainchild of New Classrooms. The independent non-profit
organization was developed by former math teacher Joel Rose and New York Department of
Education consultant Chris Rush to identify and address educational gaps in the current schoolbased approach to curriculum.
Prior to launching Teach to One, Rose and Rush created School of One in 2009 for the New
York Department of Education. The team was determined to design a school-based learning
approach that integrated live, online, and collaborative learning in ways that met the unique
needs of each learner each day. This highly personalized, technology-based approach to learning
was named one of the year's best inventions by Time magazine.
Eight years later, Teach to One has launched in schools across the U.S. with much success.
Teachers consistently share how this innovative solution has not only improved student success
but also helped teachers improve their approaches to teaching. They have found support in
collaboration with peers at their schools and other Teach to One school leaders.
The unique, collaborative method that Teach to One offers is designed to meet students where
they are, starting with an individualized assessment of each student. The approach empowers
students to accelerate their learning by incorporating a combination of approaches, including
independent work, group collaboration, and teacher-led instruction. Teachers are involved
throughout the process, assisting students when needed.
The dynamic approach to learning that Teach to One offers is breaking barriers and transforming
the traditional classroom learning environment. Teach to One has developed eight different
instructional approaches (modalities) to learning that account for each student's abilities. Each
modality is designed to target deeper levels of conceptual understanding of math skills and help
students develop lifelong habits.
The Teach to One classroom is a transformative open-space math center where multiple
classrooms meet for a 90-minute block. Each student finds their individual schedule for the day
based on the previous day's assessment, which includes the learning stations and modalities used
for their daily lessons.
Prior to leaving for their next class, students complete a short online assessment and get
immediate feedback outlining their progress. Based on the assessment, an algorithm calibrates
the student's lesson plan for the next day. Students move on to advanced lessons once they are
ready and have mastered the skills necessary to do so.
Founder and CEO Joel Rose is a former fifth grade math teacher who saw his students struggle
because they simply weren't ready for the curriculum that the standardized approach said they
should learn. On the other hand, he also saw advanced students lose their drive because they
weren't being challenged.
"An accountability system that expects all students to achieve the same standard of success in a
single year regardless of their starting point is magical thinking," says Rose. "Programs like
Teach to One meet students where they are and enable them to accelerate from that point
forward, far beyond what they might otherwise do."
Teach to One is breaking barriers in the traditional learning approach, and the students and future
leaders of our nation will reap the benefits of this new and innovative solution to problem
solving and learning.
About New Classrooms Innovation Partners
Founded in 2011, New Classrooms Innovation Partners is an independent, national nonprofit that
is on a mission to bring personalized learning to students across the country. Its innovative
learning solution Teach to One: Math is an award-winning educational approach that has
redesigned the traditional classroom learning experience. Teach to One creates content that
engages students by meeting them where they are in their educational journeys. Teach to One
uses an open-concept classroom and applies technology, independent learning, and collaboration
to help students understand the daily curriculum.
Prior to launching Teach to One: Math, Joel Rose and Chris Rush, co-founders of New
Classrooms, launched School of One, a middle-grade math modality designed to improve
students' learning experiences at New York City Public Schools. In 2009, School of One was
named the Best Invention of the Year by Time magazine. Teach to One: Math was built from the
same principles as School of One and is now available in schools nationwide. Teach to One:
Math ensures that students are learning the right math lesson, at the right time, and in the right
way that meets their individual needs.