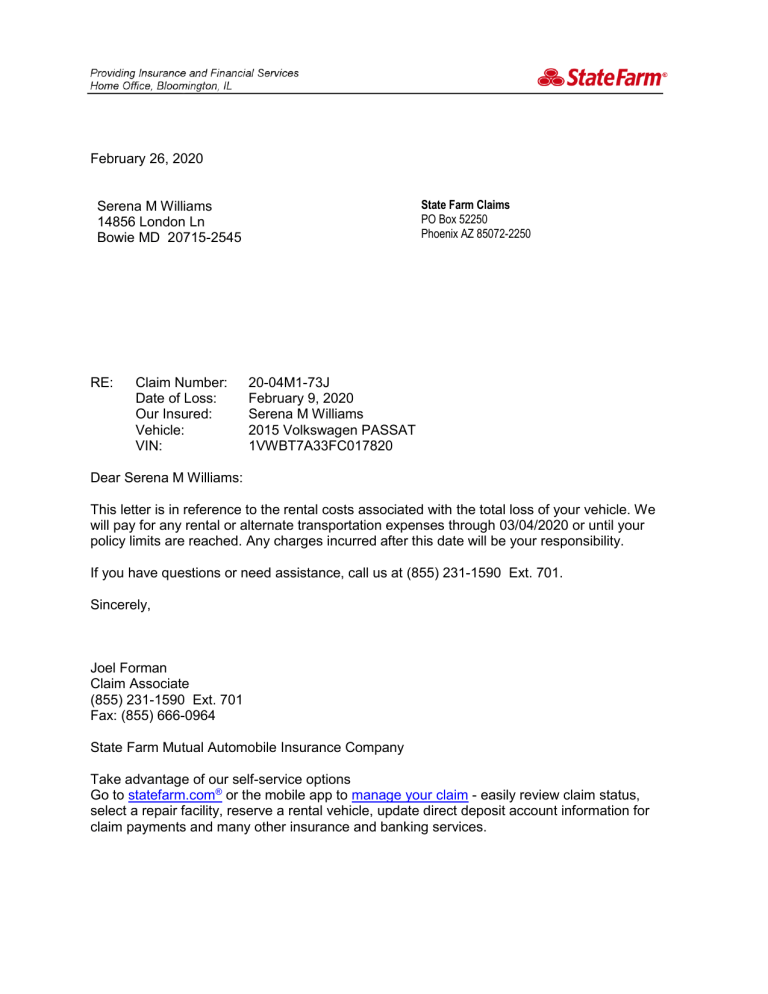 February 26, 2020
State Farm Claims
PO Box 52250
Phoenix AZ 85072-2250
Serena M Williams
14856 London Ln
Bowie MD 20715-2545
RE:
Claim Number:
Date of Loss:
Our Insured:
Vehicle:
VIN:
20-04M1-73J
February 9, 2020
Serena M Williams
2015 Volkswagen PASSAT
1VWBT7A33FC017820
Dear Serena M Williams:
This letter is in reference to the rental costs associated with the total loss of your vehicle. We
will pay for any rental or alternate transportation expenses through 03/04/2020 or until your
policy limits are reached. Any charges incurred after this date will be your responsibility.
If you have questions or need assistance, call us at (855) 231-1590 Ext. 701.
Sincerely,
Joel Forman
Claim Associate
(855) 231-1590 Ext. 701
Fax: (855) 666-0964
State Farm Mutual Automobile Insurance Company
Take advantage of our self-service options
Go to statefarm.com® or the mobile app to manage your claim - easily review claim status,
select a repair facility, reserve a rental vehicle, update direct deposit account information for
claim payments and many other insurance and banking services.