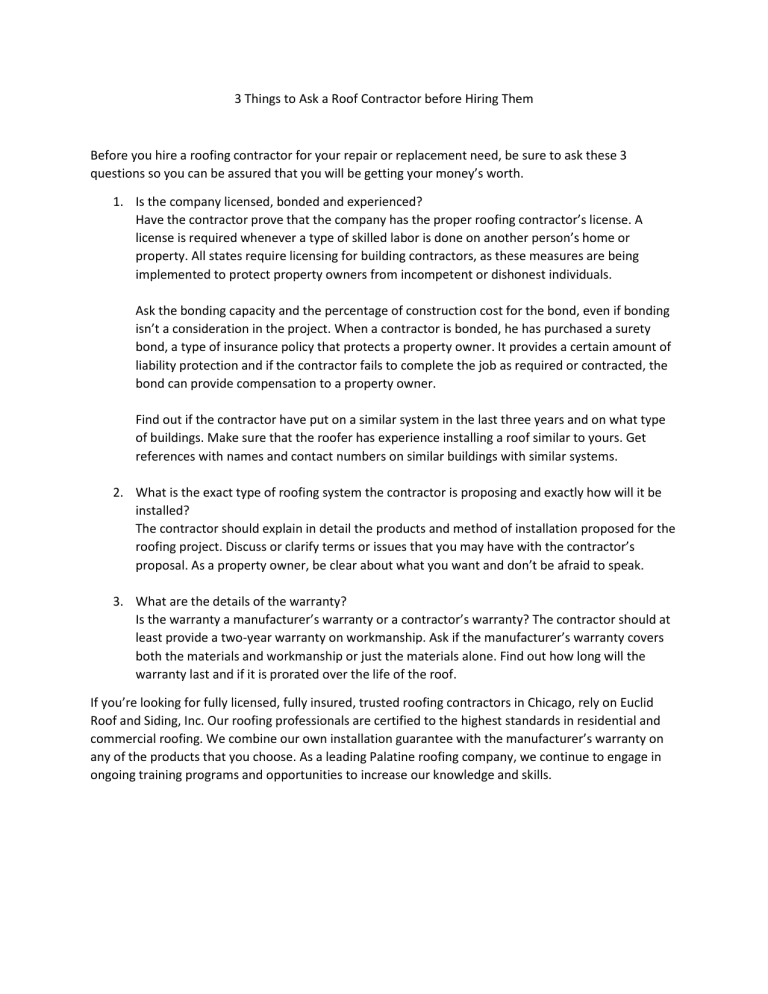 3 Things to Ask a Roof Contractor before Hiring Them
Before you hire a roofing contractor for your repair or replacement need, be sure to ask these 3
questions so you can be assured that you will be getting your money's worth.
1. Is the company licensed, bonded and experienced?
Have the contractor prove that the company has the proper roofing contractor's license. A
license is required whenever a type of skilled labor is done on another person's home or
property. All states require licensing for building contractors, as these measures are being
implemented to protect property owners from incompetent or dishonest individuals.
Ask the bonding capacity and the percentage of construction cost for the bond, even if bonding
isn't a consideration in the project. When a contractor is bonded, he has purchased a surety
bond, a type of insurance policy that protects a property owner. It provides a certain amount of
liability protection and if the contractor fails to complete the job as required or contracted, the
bond can provide compensation to a property owner.
Find out if the contractor have put on a similar system in the last three years and on what type
of buildings. Make sure that the roofer has experience installing a roof similar to yours. Get
references with names and contact numbers on similar buildings with similar systems.
2. What is the exact type of roofing system the contractor is proposing and exactly how will it be
installed?
The contractor should explain in detail the products and method of installation proposed for the
roofing project. Discuss or clarify terms or issues that you may have with the contractor's
proposal. As a property owner, be clear about what you want and don't be afraid to speak.
3. What are the details of the warranty?
Is the warranty a manufacturer's warranty or a contractor's warranty? The contractor should at
least provide a two-year warranty on workmanship. Ask if the manufacturer's warranty covers
both the materials and workmanship or just the materials alone. Find out how long will the
warranty last and if it is prorated over the life of the roof.
If you're looking for fully licensed, fully insured, trusted roofing contractors in Chicago, rely on Euclid
Roof and Siding, Inc. Our roofing professionals are certified to the highest standards in residential and
commercial roofing. We combine our own installation guarantee with the manufacturer's warranty on
any of the products that you choose. As a leading Palatine roofing company, we continue to engage in
ongoing training programs and opportunities to increase our knowledge and skills.