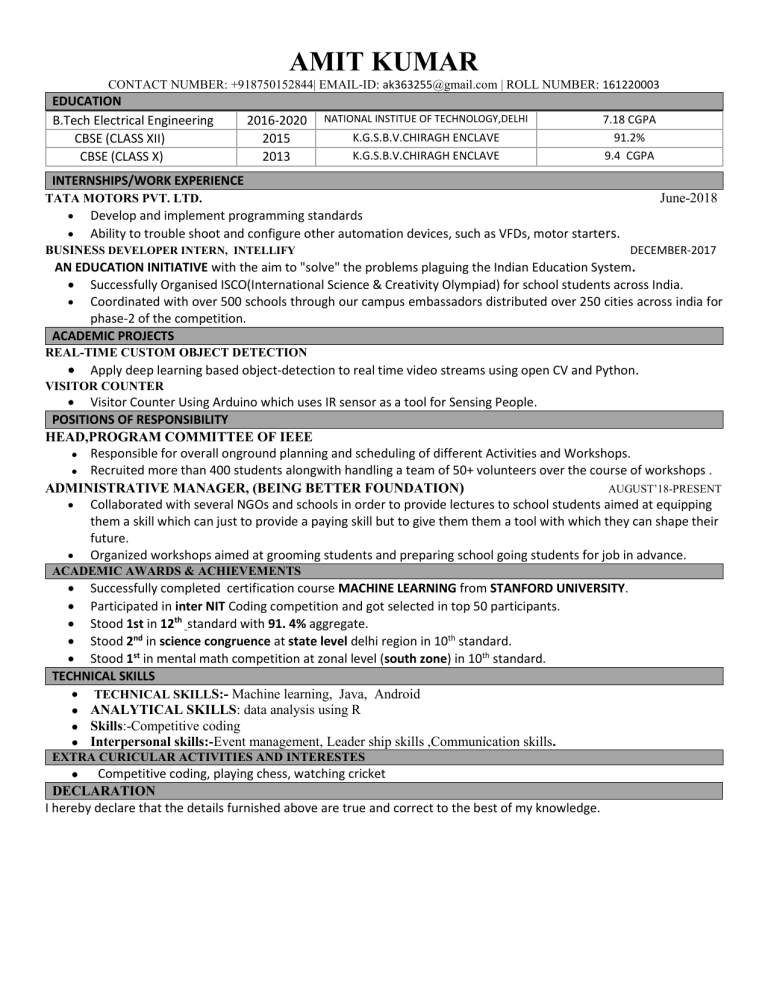 AMIT KUMAR
CONTACT NUMBER: +918750152844| EMAIL-ID: [email protected] | ROLL NUMBER: 161220003
EDUCATION
B.Tech Electrical Engineering
CBSE (CLASS XII)
CBSE (CLASS X)
2016-2020
2015
2013
NATIONAL INSTITUE OF TECHNOLOGY,DELHI
K.G.S.B.V.CHIRAGH ENCLAVE
K.G.S.B.V.CHIRAGH ENCLAVE
7.18 CGPA
91.2%
9.4 CGPA
INTERNSHIPS/WORK EXPERIENCE
TATA MOTORS PVT. LTD.
June-2018
 Develop and implement programming standards
 Ability to trouble shoot and configure other automation devices, such as VFDs, motor starters.
BUSINESS DEVELOPER INTERN, INTELLIFY
DECEMBER-2017
AN EDUCATION INITIATIVE with the aim to "solve" the problems plaguing the Indian Education System.
 Successfully Organised ISCO(International Science & Creativity Olympiad) for school students across India.
 Coordinated with over 500 schools through our campus embassadors distributed over 250 cities across india for
phase-2 of the competition.
ACADEMIC PROJECTS
REAL-TIME CUSTOM OBJECT DETECTION

Apply deep learning based object-detection to real time video streams using open CV and Python.
VISITOR COUNTER
 Visitor Counter Using Arduino which uses IR sensor as a tool for Sensing People.
POSITIONS OF RESPONSIBILITY
HEAD,PROGRAM COMMITTEE OF IEEE

Responsible for overall onground planning and scheduling of different Activities and Workshops.

Recruited more than 400 students alongwith handling a team of 50+ volunteers over the course of workshops .
ADMINISTRATIVE MANAGER, (BEING BETTER FOUNDATION)
AUGUST'18-PRESENT
 Collaborated with several NGOs and schools in order to provide lectures to school students aimed at equipping
them a skill which can just to provide a paying skill but to give them them a tool with which they can shape their
future.
 Organized workshops aimed at grooming students and preparing school going students for job in advance.
ACADEMIC AWARDS & ACHIEVEMENTS
 Successfully completed certification course MACHINE LEARNING from STANFORD UNIVERSITY.
 Participated in inter NIT Coding competition and got selected in top 50 participants.
 Stood 1st in 12th standard with 91. 4% aggregate.
 Stood 2nd in science congruence at state level delhi region in 10th standard.
 Stood 1st in mental math competition at zonal level (south zone) in 10th standard.
TECHNICAL SKILLS
 TECHNICAL SKILLS:- Machine learning, Java, Android
 ANALYTICAL SKILLS: data analysis using R
 Skills:-Competitive coding
 Interpersonal skills:-Event management, Leader ship skills ,Communication skills.
EXTRA CURICULAR ACTIVITIES AND INTERESTES

Competitive coding, playing chess, watching cricket
DECLARATION
I hereby declare that the details furnished above are true and correct to the best of my knowledge.