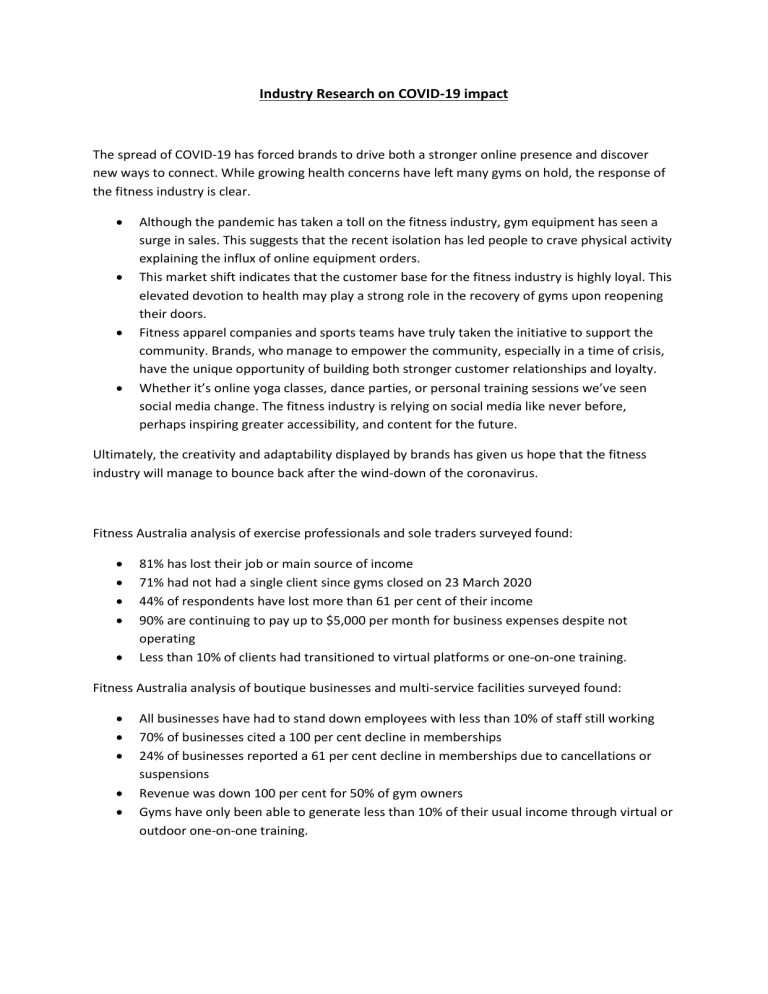 Industry Research on COVID-19 impact
The spread of COVID-19 has forced brands to drive both a stronger online presence and discover
new ways to connect. While growing health concerns have left many gyms on hold, the response of
the fitness industry is clear.




Although the pandemic has taken a toll on the fitness industry, gym equipment has seen a
surge in sales. This suggests that the recent isolation has led people to crave physical activity
explaining the influx of online equipment orders.
This market shift indicates that the customer base for the fitness industry is highly loyal. This
elevated devotion to health may play a strong role in the recovery of gyms upon reopening
their doors.
Fitness apparel companies and sports teams have truly taken the initiative to support the
community. Brands, who manage to empower the community, especially in a time of crisis,
have the unique opportunity of building both stronger customer relationships and loyalty.
Whether it's online yoga classes, dance parties, or personal training sessions we've seen
social media change. The fitness industry is relying on social media like never before,
perhaps inspiring greater accessibility, and content for the future.
Ultimately, the creativity and adaptability displayed by brands has given us hope that the fitness
industry will manage to bounce back after the wind-down of the coronavirus.
Fitness Australia analysis of exercise professionals and sole traders surveyed found:





81% has lost their job or main source of income
71% had not had a single client since gyms closed on 23 March 2020
44% of respondents have lost more than 61 per cent of their income
90% are continuing to pay up to $5,000 per month for business expenses despite not
operating
Less than 10% of clients had transitioned to virtual platforms or one-on-one training.
Fitness Australia analysis of boutique businesses and multi-service facilities surveyed found:





All businesses have had to stand down employees with less than 10% of staff still working
70% of businesses cited a 100 per cent decline in memberships
24% of businesses reported a 61 per cent decline in memberships due to cancellations or
suspensions
Revenue was down 100 per cent for 50% of gym owners
Gyms have only been able to generate less than 10% of their usual income through virtual or
outdoor one-on-one training.
A survey of the UK sport and physical activity workforce, undertaken in the last few days, which
underline the scale of the problem the sector is facing:




65% of respondents are self-employed
95% have already experienced financial losses, averaging £7,800
63% have no financial reserves to fall back on
75% stated that their insurance does not cover for loss of earnings
GREAT NEWS:
We need not worry of those 4 stages since we are yet to launch.
The fitness club of the future
Advantages of joining us:



Brand new set up – never used before equipment and facility
Cleaning measures – making sure it's a safe environment for both colleagues and members
Encouraging new habits – encouraging each one of them to not give up on their progress
What we will do:






Adhere to strict physical distancing and sanitation protocols
Robust plan for how we can keep our patrons safe
Measures to be taken to maintain social distancing
Cleaning procedures
Policies to open safely
Keeping our staff and personal trainers safe
What are other fitness clubs doing to keep their members safe?
All guidance will be specified by the health ministry — and if those rules are not concrete enough,
it'll fall to the clubs themselves to put more specific policies in place.






Many clubs have already created policies to make their space safer for members when they
do reopen.
"We have created a comprehensive, phased reopening plan with extensive sanitation, safety
and physical distancing protocols for our company-owned gyms, and have provided our
guidelines and recommendations to our franchisees," Gold's Gym president and CEO Adam
Zeitsiff.
For Gold's, this includes things like modified operating hours—including an "intermission"
from 1 p.m. to 2 p.m., during which staff will conduct a full gym cleaning—a new code of
conduct for members emphasizing cleaning standards and social distancing, staggered
cardio and strength machines, and a mask-and-gloves requirement for staff.
Equinox will be requiring members to book an appointment to enter the club, and they'll
offer scan less check-ins through their app to minimize contact with staff, according to a
statement sent to SELF. Members also must complete a "health declaration" before each
visit to confirm they have not been experiencing COVID-19 symptoms or come into contact
with anyone who has. Plus, the disinfectants they use will all come from the EPA-sanctioned
list.
At SoulCycle, all staff members and instructors will have their temperature checked before
their shift, bikes will be booked to maintain social distancing, and staff will use disinfectant
to clean areas like bikes, weights, and other common touch surfaces after every class, as well
as give their studios a full cleaning twice as often per week, according to a statement sent to
SELF.
Life Time will be spacing out its lockers, showers, and equipment, instituting several cleaning
stations throughout the floor, and capping class capacity and reserving floor space to
maintain social distancing there, according to its website. Personal trainers will practice
social distancing, touch will be eliminated, and masks will be encouraged or required.