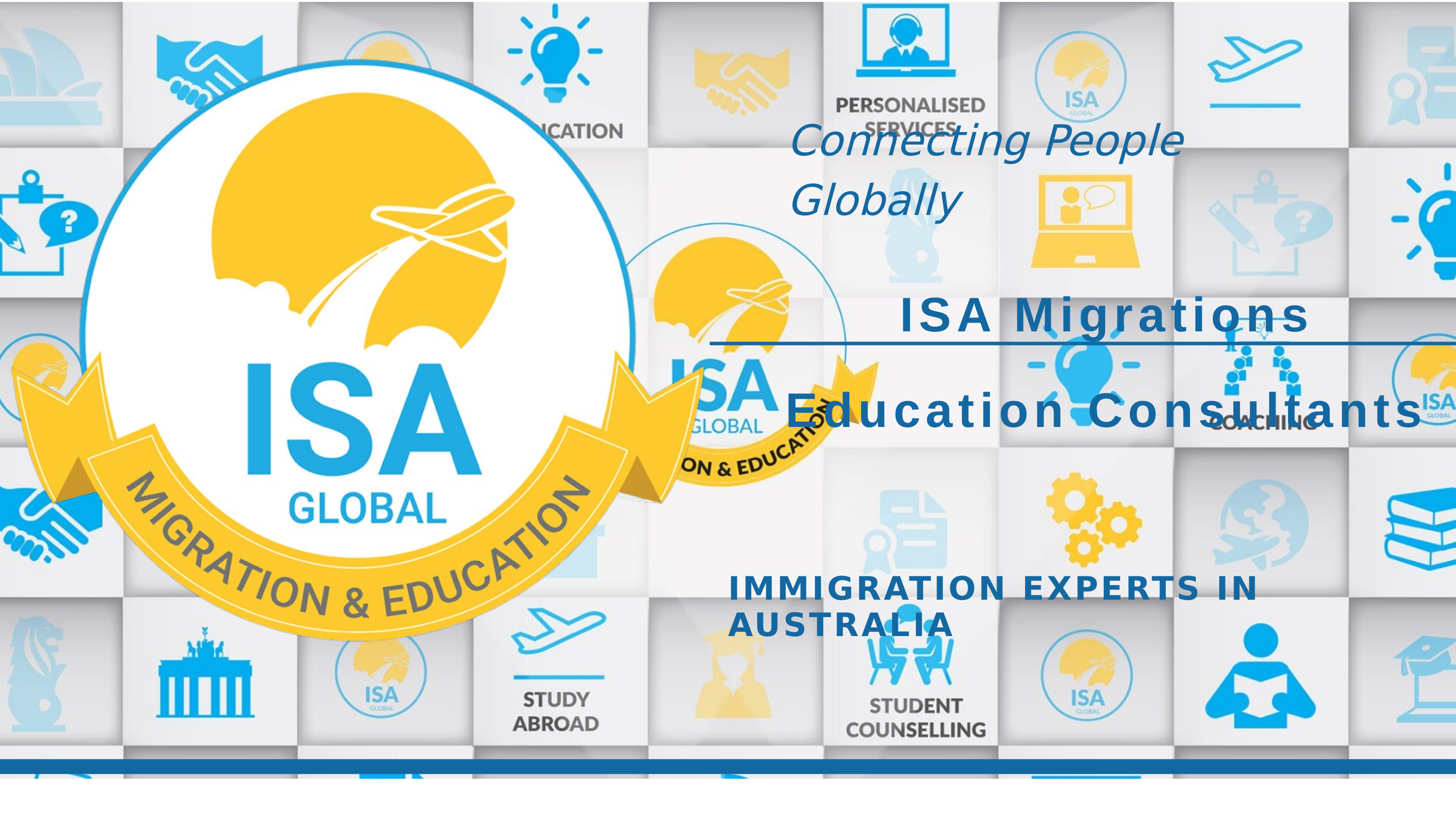 Connecting People
Globally
ISA Migrations
Education Consultants
IMMIGRATION EXPERTS IN
AUSTRALIA
590 Visa
Australia Features
A 590 Visa Australia authorizes a guardian to
stay in Australia as a guardian of an international
student who is pursuing an education course in
Australia on a Student visa 500. The Australian
visa subclass 590 allows you to stay with your
child to take care of him/her in Australia until
the course complete. Your child's age must
below then 18th years old at the time of
applying for student guardian visa subclass 590.
Student
guardian Visa
590
A relative of the student can become a
authority who can stay with the student
but he/she must have a written
permission of a child's caretakers. You
can go only in emergency conditions if
your child is above 18th. Parents can be
applied for visa 590 outside of Australia.
Who Can
Apply For
Visa
Subclass
590
THE VISA SUBCLASS 590 CAN BE
OBTAINED BY A PERSON WHO:
:
HAS A CHILD WHO IS A STUDENT
VISA HOLDER IN AUSTRALIA.
Is enough capable to provide
welfare to her/his child.
Has A intention of take care of
his/her child.

What Student
Guardian Visa
Subclass 590
Lets You Do In
Australia?
You can stay in Australia with your
child In Australia after applying
Student Guardian Visa Subclass 590
You can do study in Australia
only for a maximum 3 months.
• If you have another child who
is below six years of age then
you can bring him/her to
Australia.

General Eligibility
Criteria For Visa 590
1. You must be a guardian of an overseas non-Australian student who
is below 18th of age.
2. Your past immigration history must be legal and genuine like you
need not have any visa cancellation history.
3. If your family members want to apply with your Visa 590
application then they also need to meet the health policies of the
Australian government
4. You have to prove that you are enough capable to provide welfare
arrangement.
5. Your age must be above 21 years old at the time of applying for
590 Visa Australia.
General Q&A About 590 Visa
What is the cost and processing time of this visa?
The cost of 590 Visa starts from AUD 560 onward and
processing time can vary between 2 to 4 months.
What Is The Validity Of This Visa?
The Subclass 590 allows you to stay in with your child until he/she is completed
their education.
You can contact ISA Migrations & Education
Consultants who is a education and
Immigration Agent Adelaide, Australia.
Get the Directions to
Migration Agent Adelaide - ISA Migrations and
Education Consultants.