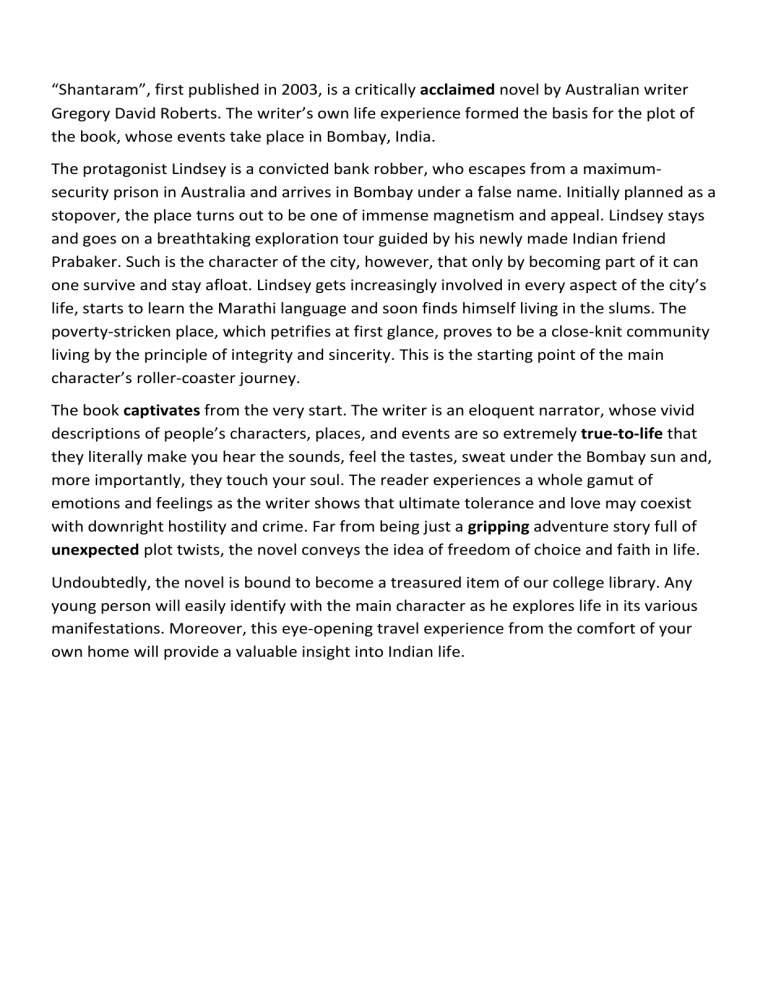 "Shantaram", first published in 2003, is a critically acclaimed novel by Australian writer
Gregory David Roberts. The writer's own life experience formed the basis for the plot of
the book, whose events take place in Bombay, India.
The protagonist Lindsey is a convicted bank robber, who escapes from a maximumsecurity prison in Australia and arrives in Bombay under a false name. Initially planned as a
stopover, the place turns out to be one of immense magnetism and appeal. Lindsey stays
and goes on a breathtaking exploration tour guided by his newly made Indian friend
Prabaker. Such is the character of the city, however, that only by becoming part of it can
one survive and stay afloat. Lindsey gets increasingly involved in every aspect of the city's
life, starts to learn the Marathi language and soon finds himself living in the slums. The
poverty-stricken place, which petrifies at first glance, proves to be a close-knit community
living by the principle of integrity and sincerity. This is the starting point of the main
character's roller-coaster journey.
The book captivates from the very start. The writer is an eloquent narrator, whose vivid
descriptions of people's characters, places, and events are so extremely true-to-life that
they literally make you hear the sounds, feel the tastes, sweat under the Bombay sun and,
more importantly, they touch your soul. The reader experiences a whole gamut of
emotions and feelings as the writer shows that ultimate tolerance and love may coexist
with downright hostility and crime. Far from being just a gripping adventure story full of
unexpected plot twists, the novel conveys the idea of freedom of choice and faith in life.
Undoubtedly, the novel is bound to become a treasured item of our college library. Any
young person will easily identify with the main character as he explores life in its various
manifestations. Moreover, this eye-opening travel experience from the comfort of your
own home will provide a valuable insight into Indian life.