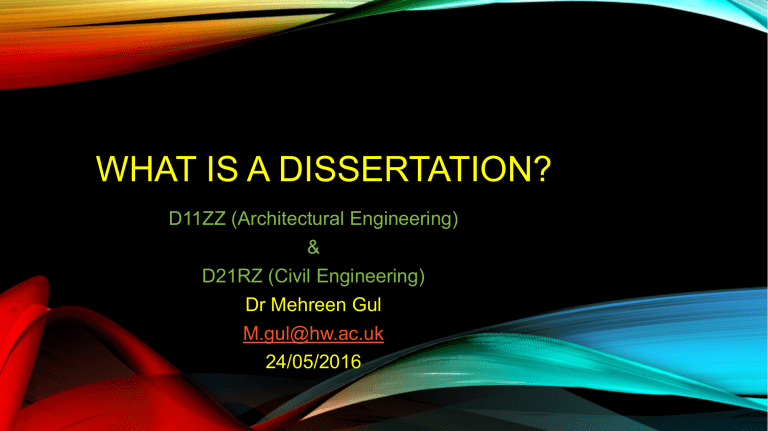 WHAT IS A DISSERTATION?
D11ZZ (Architectural Engineering)
&
D21RZ (Civil Engineering)
Dr Mehreen Gul
M.gul@hw.ac.uk
24/05/2016
WHAT IS A DISSERTATION?
• A good overview over the subject area within which the dissertation topic resides
• Detailed knowledge about the dissertation topic
• Evidence of own work to make a contribution to the dissertation
• Evidence of critical discussion of the results and their implications to the wider field
• Written in clear, correct, and appropriate English
• Structured clearly to reflect the progression of the argument to achieve the aims and
objectives of the project
• Make clear & specific references to the sources used in the project & discussion of the work
DISSERTATION STRUCTURE
Introduction &
general
context
Literature
Review
Conclusions
Results &
Discussion
Analysis
Research
Methodology
DISSERTATION LENGTH
• Examinable content is the quality of the research and not the length of the
dissertation
• Depends on the topic and type of dissertation (experimental, qualitative…)
• In general a dissertation should be around 50/60 pages excluding
Appendices.
• 12000 -14000 words approximately
YOUR DISSERTATION
• Initial consultation with your supervisor
• Refine the objectives & start the project immediately
• Dissertation progress is expected over the summer vacation….!!! (on-campus students)
• Stay in contact with your supervisor regularly (face to face meetings for on-campus students)
• Keep writing your dissertation as you proceed
• Remember to underpin your research objectives and analysis/discussion with
comprehensive literature-based evidence
• Don't leave everything until the last minute
DISSERTATION STAGES
Preparing
•
• Identify research aims, or a
problem & justify
• Develop methodology; start
background reading and carrying
out initial literature review; and get
feedback from supervisor
• Refine the aim, set up objectives,
methods, anticipate research
outcomes.
• Get advice from Supervisor on
skills and techniques required;
• Develop fieldwork or laboratory
work; further background reading
and literature review.
Carrying on
Finishing
• Organise any necessary
field/laboratory work and setup of
the platform for the investigation
• Data acquisition, Survey,
Experiments & Modelling
• Data analysing - Compare your
own data with published ones –
update literature review
• Draw conclusions – they
support/against your initial
arguments and elaborate possible
implementations
• Detailed outline of chapters drafted
• Writing the chapters of
methodology/results & discussion
while progressing your project
Stages
• Revising literature review, relate
your data with others" work,
deepen and widen your discussions
• Identify any gaps where extra work
or reading are necessary.
• Write the conclusion chapter,
highlight your findings
• Write the introduction particularly
refine your research aim and
objectives
• Prepare the first complete draft –
too long/short or repetition or poor
diagrams/tables/chart or English
• Check your references,
layout/format, page/figure/table
numbers ….
• Consult your Supervisor before
making final correction/checking,
• check binding requirements.
• Binding of dissertation, complete
forms and submit the dissertation to
the School Office
SOURCES OF SUPPORT
• Supervisors/Staff
• VISION
• Tutorials
• Academic Literature
• Resource Centre/HW Library
SUPERVISORS
• Assist you in the process: selecting a suitable topic, defining your
research topic, refining the hypothesis, selecting appropriate research
methods, carrying out a literature search, carrying out experimental
work, and writing up your dissertation.
• It is not always possible to give a student a supervisor who specialises
in the area in which they choose to work.
• S/He may not be a particular expert in the topic you choose, in which
case other supervisors may be able to offer subject-specific advice.
SUPERVISORS
• VISION link "Supervisors & Topics"
• EGIS website: http://www.hw.ac.uk/schools/energy-geoscienceinfrastructure-society/staff-directory/staff-a-z.htm
• Research/selected publications/biography
• IIE: Institute for Infrastructure and Environment (D21RZ)
• CESBD: Centre of Excellence in Sustainable Building Design (D11ZZ)
YOUR SUPERVISOR DO NOT
• Tell you the objectives of your work
• Give you a complete list of all the relevant literature on the subject
• Develop the dissertation structure for you
•
•
•
•
•
Do detailed design of apparatus for you
Do the experiments for you
Write chapters for you
Do proofreading for you
Chase you if you do not keep to time
VISION
• Learning Materials
• Dissertation guides
• Assessment
• Forms/front cover/binding info
• Organisations - EGIS > Graduate School >
• Infrastructure & Environment > Independent distance learning students > Safety,
risk & reliability engineering (Dr P Thompson)
• Centre of Excellence in Sustainable Building Design > Student hand books
THE TUTORIALS
Date
Time
Topic
Speaker
24th May
11:00 to 12:00
What is a Dissertation?
Dr Craig Kennedy &
Dr Mehreen Gul
24th May
12:15 to 13:15
Literature Review to Writeup
Dr David Kelly
25th May
11:00 to 12:00
Research Techniques
Dr Sarah Payne
25th May
12:15 to 13:15
Referencing/using End note Dr Alicia Montarzino
ACADEMIC LITERATURE
• Articles in journals/conferences/books are thought to be more
reputable because they have be refereed i.e. prior to publication, the
content of these publications has gone through a peer review process
• Peer review - review of an author's scholarly work/research/ideas by
others who are experts in the same field
• There is a difference between general web-sites and scholarly material
available online
• Although you do sometimes find academic literature via a web-search,
you will see there are better resources to use…
CENTRE LIB & EGIS RESOURCE
CENTRE
• www.info4education.cm
• A complete reference source for students, graduates and academic professionals who
need efficient and current access to British Standards, legislation and other guidance
information related to the construction, health and safety, engineering, process and
electronics industries.
• EGIS_databases guide ('Learning Materials' on Vision)
• www.sciencedirect.com
• World's leading information source for researchers: Journals, books, technical papers
• http://isguides.hw.ac.uk/home
• The Information Services Guide for Energy, Society, Geography and Environment (EGIS) was put
together by the Subject Librarian for EGIS. Lots of useful information and links to resources that
will help with your studies or research. If you have any questions, please get in touch.
• Your Librarian (Edinburgh Campus and Distance Learners) 'Rachael Whittington'
e:mail R.Whittington@hw.ac.uk
ASSESSMENT ASPECTS
1 Definition and justification of aims and objectives of dissertation
2 Evidence of literature research and a good overview over the subject
3 Research plan and appropriate methodology
4 Evidence of sufficient own work carried out
5 Quality of the work carried out
6 Critical analysis of the work within the methodology (Uncertainties of results,
potential and limitations of methodology)
7 Critical discussion of results in the wider context and contribution to the field
8 Clear and appropriate structure of dissertation and of logical progression of
argument
9 Appropriate use of language (spelling, grammar, style)
10 Quality of referencing, figures, tables, ... …
Submission dates 2016:
12th August
2nd December (on-campus re-sits and IDL/ALP students)
Thanks
Questions??