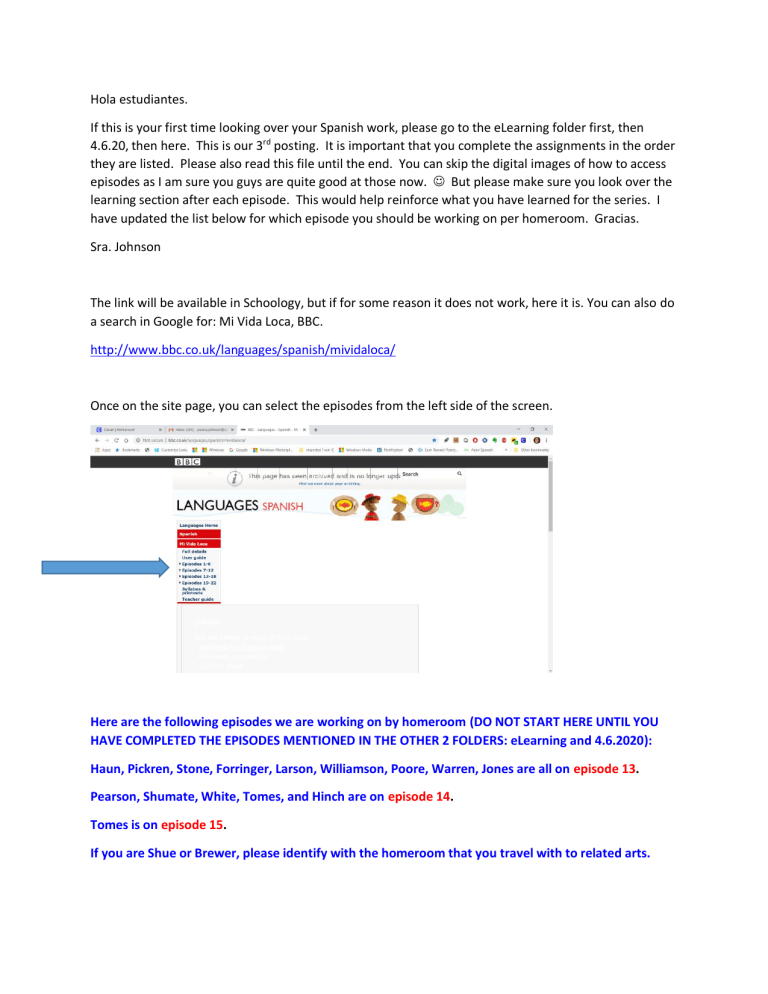 Hola estudiantes.
If this is your first time looking over your Spanish work, please go to the eLearning folder first, then
4.6.20, then here. This is our 3rd posting. It is important that you complete the assignments in the order
they are listed. Please also read this file until the end. You can skip the digital images of how to access
episodes as I am sure you guys are quite good at those now.  But please make sure you look over the
learning section after each episode. This would help reinforce what you have learned for the series. I
have updated the list below for which episode you should be working on per homeroom. Gracias.
Sra. Johnson
The link will be available in Schoology, but if for some reason it does not work, here it is. You can also do
a search in Google for: Mi Vida Loca, BBC.
http://www.bbc.co.uk/languages/spanish/mividaloca/
Once on the site page, you can select the episodes from the left side of the screen.
Here are the following episodes we are working on by homeroom (DO NOT START HERE UNTIL YOU
HAVE COMPLETED THE EPISODES MENTIONED IN THE OTHER 2 FOLDERS: eLearning and 4.6.2020):
Haun, Pickren, Stone, Forringer, Larson, Williamson, Poore, Warren, Jones are all on episode 13.
Pearson, Shumate, White, Tomes, and Hinch are on episode 14.
Tomes is on episode 15.
If you are Shue or Brewer, please identify with the homeroom that you travel with to related arts.
Once you click on the episode, please select the option to watch the full interactive episode.
After clicking on the watch the full interactive episode link, you will see this screen:
You will need to click on the top where it says not secure and click allow for Flash.
Next you will need to reload the site to update the settings by clicking the blue Reload button.
Click start once it is done loading.
Finally, please go back to earlier episodes to do the additional learning section at the bottom of each
episode. I have included a screen shot here below for you to see where to access this section on the
page.
Enjoy! Call or text with any questions: 864-756-1301.