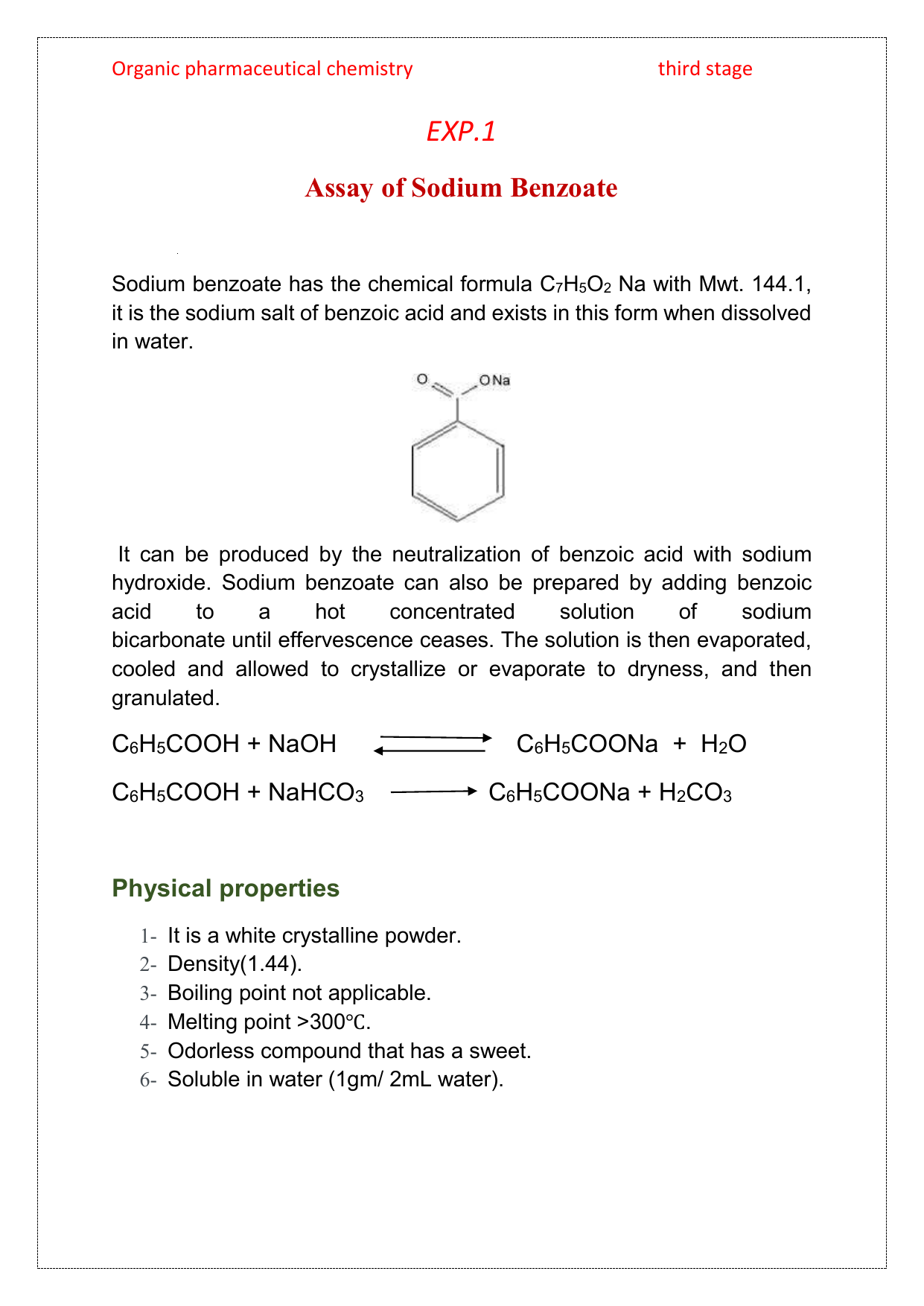 Organic pharmaceutical chemistry
third stage
EXP.1
Assay of Sodium Benzoate
Sodium benzoate has the chemical formula C7H5O2 Na with Mwt. 144.1,
it is the sodium salt of benzoic acid and exists in this form when dissolved
in water.
It can be produced by the neutralization of benzoic acid with sodium
hydroxide. Sodium benzoate can also be prepared by adding benzoic
acid
to
a
hot
concentrated
solution
of
sodium
bicarbonate until effervescence ceases. The solution is then evaporated,
cooled and allowed to crystallize or evaporate to dryness, and then
granulated.
C6H5COOH + NaOH
C6H5COOH + NaHCO3
C6H5COONa + H2O
C6H5COONa + H2CO3
Physical properties
123456-
It is a white crystalline powder.
Density(1.44).
Boiling point not applicable.
Melting point >300℃.
Odorless compound that has a sweet.
Soluble in water (1gm/ 2mL water).
Organic pharmaceutical chemistry
third stage
Chemical properties
1- In combination with ascorbic acid (vitamin C) sodium benzoate
and potassium benzoate form benzene, most beverages that
contained both ascorbic acid and benzoate had benzene levels that
were below those considered dangerous for consumption by the World
Health Organization (5 ppb), Heat and light can increase the rate at
which benzene is formed.
2- Sodium benzoate is heated with soda-lime and when it gets
decarboxylated (removal of carbon dioxide) benzene is obtained.
3- Sodium benzoate reacts with hydrochloric acid to produce benzoic
acid.
C6H5COONa + HCl
NaCl + C6H5COOH
Pharmaceutical applications
1- Sodium benzoate has antibacterial and antifungal properties and
2-
345-
uses as preservative in pharmaceutical formulation including oral
preparation in concentrations up to 0.5 %. It is also a common
ingredient of cough preparations.
Sodium benzoate is used as a treatment for urea cycle
disorders due to its ability to bind amino acids. This is leads to
excretion of these amino acids and a decrease in ammonia levels.
Sodium benzoate may be uses on therapy of schizophrenia.
Total Positive and Negative Syndrome Scale scores dropped by
21%.
Sodium benzoate is use in cosmetic products like mouthwash,
toothpaste, deodorant, lotion, and shampoo.
Notes
Sodium benzoate is an antimicrobial active against most yeast and
bacterial strains. It works by dissociating in the system and producing
benzoic acid. Benzoic acid is highly toxic to microbes; however, it is less
effective against molds. Overall, it is more effective as the pH of a system
is reduced with the optimal functional range between pH 2.5-4.0. The
antimicrobial effect is also enhanced by the presence of sodium chloride.
Organic pharmaceutical chemistry
third stage
Chemical principle:
Sodium benzoate is a salt derive from a weak acid and a strong base, so
its aqueous solution is alkaline. Therefore, sodium benzoate is assay by
using a standard N/2 HCl solution in acid base titration.
Procedure:
1- Fill the burette with N/2 HCl .
2- Put 10 ml of an unknown sample of sodium benzoate solution in a
clean conical flask.
3- Add 25 ml of DW and 15 ml of ether.
4- Add 6 drops of bromophenol blue.
5- Start titration by adding HCl drop wise with shaking the aqueous
and ethereal layers until a light green color persists in aqueous
layer.
Calculations:
1- Calculate the chemical factor (each 1 ml of N/2 HCl is equivalent to
0.07205 g of S.B.).
2- Calculate the quantity of sodium benzoate in your sample.
3- Calculate the percentage w/v of your sample.
Organic pharmaceutical chemistry
Post-lab report
third stage
(HW)
1- Why we add ether in this assay?
2- Calculate the chemical factor for sodium benzoate which is equivalent
to 1ml of N/2 HCl.