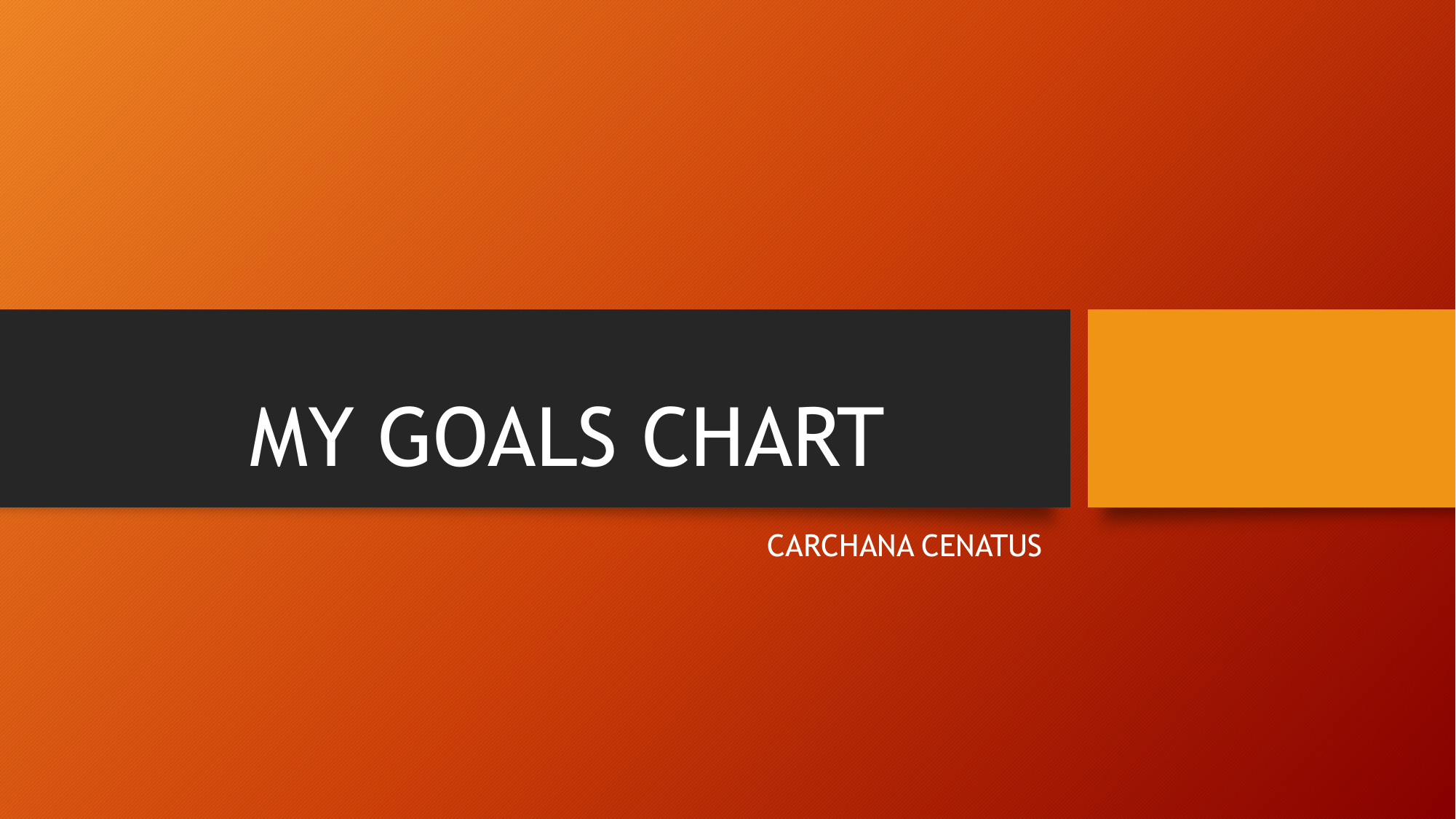 MY GOALS CHART
CARCHANA CENATUS
MISSION & VISION STATMENT
MISSION
MY MISSION AS A TEACHER IS TO
BE A ROLE MODEL,PROVIDE A
LISTENING EAR, HELPING HAND
AND CARING ENVIRONMENT,
WHERE ALL STUDENTS CAN
REACH THEIR ACADEMIC AND
PERSONAL GOALS.
VISION
I WILL PREPARE STUDENTS TO
ACHIEVE ACADEMIC SUCCESS.
I WILL TREAT EVERY CHILD
EQUALLY AND WITH RESPECT.
I WILL BE PREPARED EACH DAY
WITH A CLEAR MIND, AND CLEAR
LESSON PLAN.
GOALS FOR EACH YEARS
SOPHOMORE
1. PASS THE GKE TEST!!
*DO NOT GIVE UP! THE TEST
CAN BE BEATEN. KEEP
TRYING TILL IT IS DONE.
STUDY AND SIGN UP FOR
WORKSHOPS.
2. MAKE A ROUTINE!!
*I HAVE BEEN OUT OF
SCHOOL FOR 5 YEARS. GET
IN A ROUTINE TO HAVE TIME
TO GET ASSIGNMENTS DONE.
SCHEDULE THINGS AROUND
MY SCHOOL WORK.
JUNIOR
1. MASTER HOW TO WRITE A
LESSON PLAN.
SENIOR
1. GRADUATE
* PRACTICE WRITING LESSON
PLANS AS OFTEN AS I CAN.ASK
PROFESSORS THEIR OPINION
ON THE LESSON PLANS.
*DO ALL WORK ASSIGNED, MEET
ALL OF THE REQUIREMENTS.
2. MASTER MY ORGANIZATION
SKILLS.
*SUCH AS ESE,ESOL,EARLY
CHILDHOOD EDUCATION. THE
MORE I HAVE UNDER MY BELT,
THE BETTER PAY AND RESPECT.
*KEEP MY CAR AND BEDROOM
CLOSET,AS ORGANIZED AS
POSSIBLE.THIS WILL TRANSFER
INTO THE CLASSROOM.
2. APPLY FOR MORE
CERTIFICATIONS
COMMUNITY SERVICE GOALS
PROFESSIONAL
UNIVERSITY
COMMUNITY
• MY PROFESSIONAL GOAL- IS TO GIVE
MY ALL INTO THE CLASSROOM. BE THE
BEST THAT I CAN BE.
• UNIVERSITY GOAL- IS TO GET MY
BACHELOR DEGREE,AND ADD MORE
DEGREES AND/OR CERTIFICATES.
• COMMUNITY GOAL- I WOULD LIKE TO
OPEN UP A TUTOR CENTER IN MY
NEIGHBORHOOD. I WANT TO HELP
OUT CHILDREN WHO NEEDS IT THE
MOST.
BIBLE VERSES
PSALM 32:8
"I WILL INSTRUCT YOU AND TEACH
YOU IN THE WAY YOU SHOULD GO".
I WILL TEACH ALL MY STUDENTS,
WHAT IS EXPECTED OF THEM,
ACADEMICALLY AND FOR SOCIETY.
PROVERBS 11:25
PROVERBS 22:6
"THE GENEROUS SOUL WILL BE
MADE RICH. AND HE WHO WATERS
WILL ALSO BE WATERED HIMSELF."
"TRAIN UP A CHILD IN THE WAY HE
SHOULD GO, AND WHEN HE IS OLD,
HE WILL NOT DEPART FROM IT".
WHILE TEACHING MY STUDENTS, I
WILL ALSO BE LEARNING AND
TAUGHT THINGS ABOUT EACH
INDIVIDUAL, AND HOW TO BETTER
MY OWN TEACHING SKILLS AND
SELF.
PUT ENOUGH INFLUENCE IN MY
STUDENTS THAT THEY WILL REMAIN
TRUE TO
THEMSELVES,THROUGHOUT THEIR
YEARS, AND DON'T STRAY AWAY
INTO NEGATIVITY.