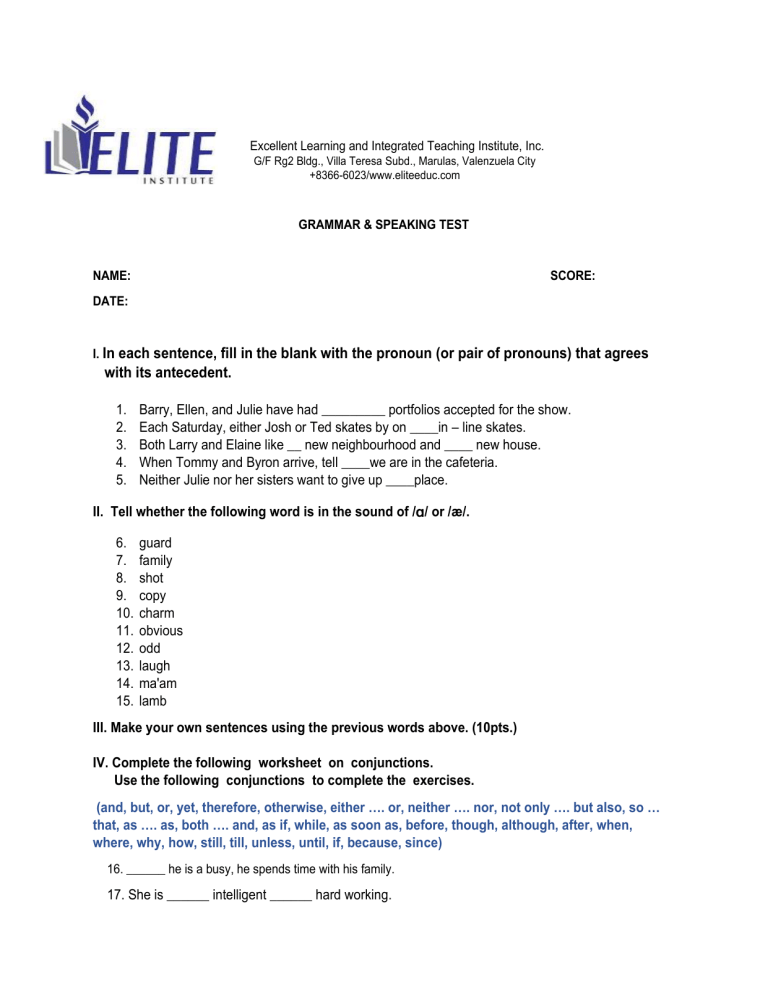 Excellent Learning and Integrated Teaching Institute, Inc.
G/F Rg2 Bldg., Villa Teresa Subd., Marulas, Valenzuela City
+8366-6023/www.eliteeduc.com
GRAMMAR & SPEAKING TEST
NAME:
SCORE:
DATE:
I. In each sentence, fill in the blank with the pronoun (or pair of pronouns) that agrees
with its antecedent.
1.
2.
3.
4.
5.
Barry, Ellen, and Julie have had _________ portfolios accepted for the show.
Each Saturday, either Josh or Ted skates by on ____in – line skates.
Both Larry and Elaine like __ new neighbourhood and ____ new house.
When Tommy and Byron arrive, tell ____we are in the cafeteria.
Neither Julie nor her sisters want to give up ____place.
II. Tell whether the following word is in the sound of /ɑ/ or /æ/.
6.
7.
8.
9.
10.
11.
12.
13.
14.
15.
guard
family
shot
copy
charm
obvious
odd
laugh
ma'am
lamb
III. Make your own sentences using the previous words above. (10pts.)
IV. Complete the following worksheet on conjunctions.
Use the following conjunctions to complete the exercises.
(and, but, or, yet, therefore, otherwise, either …. or, neither …. nor, not only …. but also, so …
that, as …. as, both …. and, as if, while, as soon as, before, though, although, after, when,
where, why, how, still, till, unless, until, if, because, since)
16. ______ he is a busy, he spends time with his family.
17. She is ______ intelligent ______ hard working.
18. Raju will play today ______ he gets a chance.
19. You can't succeed ______ you work hard.
20. We must reach there _______ anyone else.
21. Sam is ______ a fool _____ a stupid.
22. I fell asleep _______ I was watching TV.
23. He is ______ intelligent ______ hard working.
24. Samuel was eating food ______ the postman arrived.
25. I was very angry, ______ I didn't argue.
26. She was unhappy, ______ she was rich.
27. I like him very much ______ he is my best friend.
28. I can't believe you ______ you speak the truth.
29. Liola is _____ tall _____ Sweety.
30. We don't know ______ Suma failed in the examination.