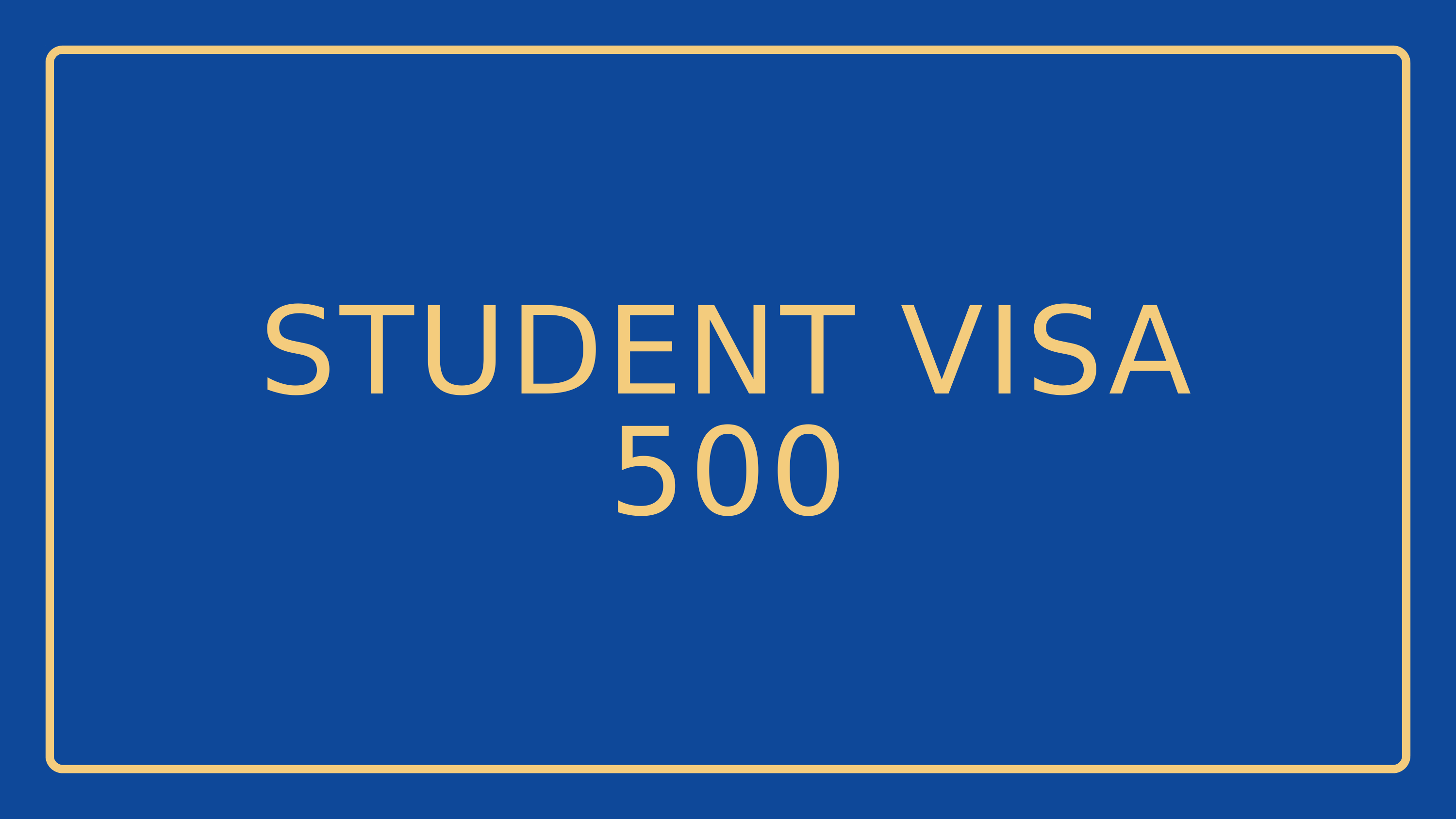 STUDENT VISA
500
PRESENTATION
OUTLINE
• Overview of visa
• Eligibility criteria
• Required
• Documents
• Cost of visa and processing
time
• Apply for the visa
• With this visa you can
Eligibility
The applicant has to enroll in any courses in Australia.
• You must not have been pending any debt to Australian government
• Provide the Proof for the sufficient amount of funds to survive in Australia.
• You must have passed English language test skill report.
• You don't need to provide an English language test score if you are a citizen of UK,
USA, Canada, New Zealand, Republic of Ireland.
• If you want to enroll more then one course then you have to submit all COE codes
with student visa subclass 500 visa form.
• You must have passed overseas student health cover.
• Your age must be below then 18th year old and if you are participating in any school
admission program you must be above 6 years old.
Documents
• Submit a letter of support with the student visa 500 form.
• Collect confirmation of enrollment documents.
• collect and submit your English language proficiency test report card.
• Submit your 18th dependent documents.
• Provide translated documents into English if it it is in non English.
• Take a colored scan copy of the required documents and photos.
• If you have a plan to enroll in multiple courses then submit all COE codes.
Cost and processing time
The final cost of the Student Visa 500 starts from AUD 560. The processing time will
increase/decreases according to the applicants' visa application type. Usually, it
proceeds in 10 days to 90 days to process. If you are an ex employee of defense
sector or the foreign affairs department of Australia then your visa will be on priority
and will proceed from 10 days to 30 days. If you have achieved an award by
commonwealth Gov. of Australia and applauded by the defense and foreign
department then the Student Visa Subclass 500 will be free of cost for you.
Apply for the visa
You can apply for this visa by online process. You can apply for the
Student Subclass 500 both onshore and offshore. You must provide
legal documents and information. One should consult the registered
migration agency. The immigration policy is determined to be having
changes frequently.
With This Visa You Can
• You can pursue your education for 5 years.
• You are allowed to do work up to 40 hours in two weeks duration.
• You can bring your parents with you.
• The student subclass 500 visa allows an international student to travel to and from
Australia for 5 years.
• If you want to get enrolled in multiple education programs then Subclass 500
permits you to do the same.
In case if you have any problem regarding visa then you
should contact Immigration Agent Adelaide for further
consultation.
Get the directions to Migration Agent Adelaide for
further consultation.