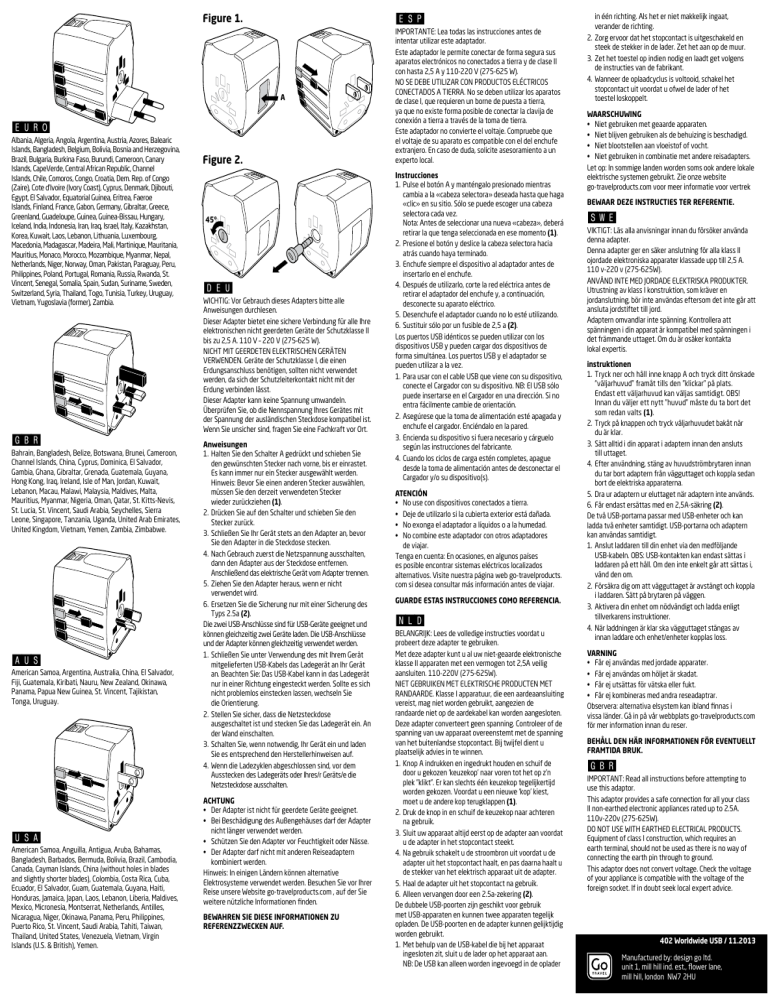 Figure 1.
Figure 1.
ESP
Figure 1.
A
A
A
EURO
Albania, Algeria, Angola, Argentina, Austria, Azores, Balearic
Islands, Bangladesh, Belgium, Bolivia, Bosnia and Herzegovina,
Brazil, Bulgaria, Burkina Faso, Burundi, Cameroon, Canary
Islands, CapeVerde, Central African Republic, Channel
Islands, Chile, Comoros, Congo, Croatia, Dem. Rep. of Congo
(Zaire), Cote d'Ivoire (Ivory Coast), Cyprus, Denmark, Djibouti,
Egypt, El Salvador, Equatorial Guinea, Eritrea, Faeroe
Islands, Finland, France, Gabon, Germany, Gibraltar, Greece,
Greenland, Guadeloupe, Guinea, Guinea-Bissau, Hungary,
Iceland, India, Indonesia, Iran, Iraq, Israel, Italy, Kazakhstan,
Korea, Kuwait, Laos, Lebanon, Lithuania, Luxembourg,
Macedonia, Madagascar, Madeira, Mali, Martinique, Mauritania,
Mauritius, Monaco, Morocco, Mozambique, Myanmar, Nepal,
Netherlands, Niger, Norway, Oman, Pakistan, Paraguay, Peru,
Philippines, Poland, Portugal, Romania, Russia, Rwanda, St.
Vincent, Senegal, Somalia, Spain, Sudan, Suriname, Sweden,
Switzerland, Syria, Thailand, Togo, Tunisia, Turkey, Uruguay,
Vietnam, Yugoslavia (former), Zambia.
GBR
Bahrain, Bangladesh, Belize, Botswana, Brunei, Cameroon,
Channel Islands, China, Cyprus, Dominica, El Salvador,
Gambia, Ghana, Gibraltar, Grenada, Guatemala, Guyana,
Hong Kong, Iraq, Ireland, Isle of Man, Jordan, Kuwait,
Lebanon, Macau, Malawi, Malaysia, Maldives, Malta,
Mauritius, Myanmar, Nigeria, Oman, Qatar, St. Kitts-Nevis,
St. Lucia, St. Vincent, Saudi Arabia, Seychelles, Sierra
Leone, Singapore, Tanzania, Uganda, United Arab Emirates,
United Kingdom, Vietnam, Yemen, Zambia, Zimbabwe.
AUS
American Samoa, Argentina, Australia, China, El Salvador,
Fiji, Guatemala, Kiribati, Nauru, New Zealand, Okinawa,
Panama, Papua New Guinea, St. Vincent, Tajikistan,
Tonga, Uruguay.
USA
American Samoa, Anguilla, Antigua, Aruba, Bahamas,
Bangladesh, Barbados, Bermuda, Bolivia, Brazil, Cambodia,
Canada, Cayman Islands, China (without holes in blades
and slightly shorter blades), Colombia, Costa Rica, Cuba,
Ecuador, El Salvador, Guam, Guatemala, Guyana, Haiti,
Honduras, Jamaica, Japan, Laos, Lebanon, Liberia, Maldives,
Mexico, Micronesia, Montserrat, Netherlands, Antilles,
Nicaragua, Niger, Okinawa, Panama, Peru, Philippines,
Puerto Rico, St. Vincent, Saudi Arabia, Tahiti, Taiwan,
Thailand, United States, Venezuela, Vietnam, Virgin
Islands (U.S. & British), Yemen.
Figure 2.
Figure 2.
45º
45º
Figure 2.
Figure 1.
45º
DEU
A
WICHTIG: Vor Gebrauch dieses Adapters bitte alle
Anweisungen durchlesen.
Figure
Dieser Adapter bietet eine
sichere 1.
Verbindung für alle Ihre
elektronischen nicht geerdeten Geräte der Schutzklasse II
bis zu 2,5 A. 110 V – 220 V (275–625 W).
NICHT MIT GEERDETEN ELEKTRISCHEN GERÄTEN
VERWENDEN. Geräte der Schutzklasse I, die einen
Erdungsanschluss benötigen,
sollten
Figure
2.
Figure
1.nicht verwendet
werden, da sich der Schutzleiterkontakt nicht mit der
Erdung verbinden lässt.
Dieser Adapter kann keine Spannung umwandeln. A
Überprüfen Sie, ob die Nennspannung Ihres Gerätes mit
der Spannung der ausländischen Steckdose kompatibel ist.
Wenn Sie unsicher sind, fragen
45º Sie eine Fachkraft vor Ort.
Anweisungen
1.Halten Sie den Schalter A gedrückt und schiebenASie
den gewünschten Stecker nach vorne, bis er einrastet.
Es kann immer nur ein
Stecker ausgewählt
werden.
Figure
2.
Hinweis: Bevor Sie einen anderen Stecker auswählen,
müssen Sie den derzeit verwendeten Stecker
wieder zurückziehen (1).
2.Drücken Sie auf den Schalter und schieben Sie den
Stecker zurück.
Figure 2.
3.Schließen Sie Ihr Gerät45º
stets an den Adapter an, bevor
Sie den Adapter in die Steckdose stecken.
4.Nach Gebrauch zuerst die Netzspannung ausschalten,
dann den Adapter aus der Steckdose entfernen.
Anschließend das elektrische Gerät vom Adapter trennen.
5.Ziehen Sie den Adapter
heraus, wenn er nicht
45º
verwendet wird.
6.Ersetzen Sie die Sicherung nur mit einer Sicherung des
Typs 2.5a (2).
Die zwei USB-Anschlüsse sind für USB-Geräte geeignet und
können gleichzeitig zwei Geräte laden. Die USB-Anschlüsse
und der Adapter können gleichzeitig verwendet werden.
1.Schließen Sie unter Verwendung des mit Ihrem Gerät
mitgelieferten USB-Kabels das Ladegerät an Ihr Gerät
an. Beachten Sie: Das USB-Kabel kann in das Ladegerät
nur in einer Richtung eingesteckt werden. Sollte es sich
nicht problemlos einstecken lassen, wechseln Sie
die Orientierung.
2.Stellen Sie sicher, dass die Netzsteckdose
ausgeschaltet ist und stecken Sie das Ladegerät ein. An
der Wand einschalten.
3.Schalten Sie, wenn notwendig, Ihr Gerät ein und laden
Sie es entsprechend den Herstellerhinweisen auf.
4.Wenn die Ladezyklen abgeschlossen sind, vor dem
Ausstecken des Ladegeräts oder Ihres/r Geräts/e die
Netzsteckdose ausschalten.
ACHTUNG
• Der Adapter ist nicht für geerdete Geräte geeignet.
•Bei Beschädigung des Außengehäuses darf der Adapter
nicht länger verwendet werden.
• Schützen Sie den Adapter vor Feuchtigkeit oder Nässe.
•Der Adapter darf nicht mit anderen Reiseadaptern
kombiniert werden.
Hinweis: In einigen Ländern können alternative
Elektrosysteme verwendet werden. Besuchen Sie vor Ihrer
Reise unsere Website go-travelproducts.com , auf der Sie
weitere nützliche Informationen finden.
BEWAHREN SIE DIESE INFORMATIONEN ZU
REFERENZZWECKEN AUF.
IMPORTANTE: Lea todas las instrucciones antes de
intentar utilizar este adaptador.
Este adaptador le permite conectar de forma segura sus
aparatos electrónicos no conectados a tierra y de clase II
con hasta 2,5 A y 110-220 V (275-625 W).
NO SE DEBE UTILIZAR CON PRODUCTOS ELÉCTRICOS
CONECTADOS A TIERRA. No se deben utilizar los aparatos
de clase I, que requieren un borne de puesta a tierra,
ya que no existe forma posible de conectar la clavija de
conexión a tierra a través de la toma de tierra.
Este adaptador no convierte el voltaje. Compruebe que
el voltaje de su aparato es compatible con el del enchufe
extranjero. En caso de duda, solicite asesoramiento a un
experto local.
Instrucciones
1.Pulse el botón A y manténgalo presionado mientras
cambia a la «cabeza selectora» deseada hasta que haga
«clic» en su sitio. Sólo se puede escoger una cabeza
selectora cada vez.
Nota: Antes de seleccionar una nueva «cabeza», deberá
retirar la que tenga seleccionada en ese momento (1).
2.Presione el botón y deslice la cabeza selectora hacia
atrás cuando haya terminado.
3.Enchufe siempre el dispositivo al adaptador antes de
insertarlo en el enchufe.
4.Después de utilizarlo, corte la red eléctrica antes de
retirar el adaptador del enchufe y, a continuación,
desconecte su aparato eléctrico.
5.Desenchufe el adaptador cuando no lo esté utilizando.
6.Sustituir sólo por un fusible de 2,5 a (2).
Los puertos USB idénticos se pueden utilizar con los
dispositivos USB y pueden cargar dos dispositivos de
forma simultánea. Los puertos USB y el adaptador se
pueden utilizar a la vez.
1.Para usar con el cable USB que viene con su dispositivo,
conecte el Cargador con su dispositivo. NB: El USB sólo
puede insertarse en el Cargador en una dirección. Si no
entra fácilmente cambie de orientación.
2.Asegúrese que la toma de alimentación esté apagada y
enchufe el cargador. Enciéndalo en la pared.
3.Encienda su dispositivo si fuera necesario y cárguelo
según las instrucciones del fabricante.
4.Cuando los ciclos de carga estén completes, apague
desde la toma de alimentación antes de desconectar el
Cargador y/o su dispositivo(s).
ATENCIÓN
• No use con dispositivos conectados a tierra.
• Deje de utilizarlo si la cubierta exterior está dañada.
• No exonga el adaptador a líquidos o a la humedad.
•No combine este adaptador con otros adaptadores
de viajar.
Tenga en cuenta: En ocasiones, en algunos países
es posible encontrar sistemas eléctricos localizados
alternativos. Visite nuestra página web go-travelproducts.
com si desea consultar más información antes de viajar.
GUARDE ESTAS INSTRUCCIONES COMO REFERENCIA.
NLD
BELANGRIJK: Lees de volledige instructies voordat u
probeert deze adapter te gebruiken.
Met deze adapter kunt u al uw niet-geaarde elektronische
klasse II apparaten met een vermogen tot 2,5A veilig
aansluiten. 110-220V (275-625W).
NIET GEBRUIKEN MET ELEKTRISCHE PRODUCTEN MET
RANDAARDE. Klasse I apparatuur, die een aardeaansluiting
vereist, mag niet worden gebruikt, aangezien de
randaarde niet op de aardekabel kan worden aangesloten.
Deze adapter converteert geen spanning. Controleer of de
spanning van uw apparaat overeenstemt met de spanning
van het buitenlandse stopcontact. Bij twijfel dient u
plaatselijk advies in te winnen.
1.Knop A indrukken en ingedrukt houden en schuif de
door u gekozen 'keuzekop' naar voren tot het op z'n
plek "klikt". Er kan slechts één keuzekop tegelijkertijd
worden gekozen. Voordat u een nieuwe 'kop' kiest,
moet u de andere kop terugklappen (1).
2.Druk de knop in en schuif de keuzekop naar achteren
na gebruik.
3.Sluit uw apparaat altijd eerst op de adapter aan voordat
u de adapter in het stopcontact steekt.
4.Na gebruik schakelt u de stroombron uit voordat u de
adapter uit het stopcontact haalt, en pas daarna haalt u
de stekker van het elektrisch apparaat uit de adapter.
5.Haal de adapter uit het stopcontact na gebruik.
6.Alleen vervangen door een 2.5a-zekering (2).
De dubbele USB-poorten zijn geschikt voor gebruik
met USB-apparaten en kunnen twee apparaten tegelijk
opladen. De USB-poorten en de adapter kunnen gelijktijdig
worden gebruikt.
1.Met behulp van de USB-kabel die bij het apparaat
ingesloten zit, sluit u de lader op het apparaat aan.
NB: De USB kan alleen worden ingevoegd in de oplader
in één richting. Als het er niet makkelijk ingaat,
verander de richting.
2.Zorg ervoor dat het stopcontact is uitgeschakeld en
steek de stekker in de lader. Zet het aan op de muur.
3.Zet het toestel op indien nodig en laadt get volgens
de instructies van de fabrikant.
4.Wanneer de oplaadcyclus is voltooid, schakel het
stopcontact uit voordat u ofwel de lader of het
toestel loskoppelt.
WAARSCHUWING
• Niet gebruiken met geaarde apparaten.
• Niet blijven gebruiken als de behuizing is beschadigd.
• Niet blootstellen aan vloeistof of vocht.
• Niet gebruiken in combinatie met andere reisadapters.
Let op: In sommige landen worden soms ook andere lokale
elektrische systemen gebruikt. Zie onze website
go-travelproducts.com voor meer informatie voor vertrek
BEWAAR DEZE INSTRUCTIES TER REFERENTIE.
SWE
VIKTIGT: Läs alla anvisningar innan du försöker använda
denna adapter.
Denna adapter ger en säker anslutning för alla klass II
ojordade elektroniska apparater klassade upp till 2,5 A.
110 v-220 v (275-625W).
ANVÄND INTE MED JORDADE ELEKTRISKA PRODUKTER.
Utrustning av klass I konstruktion, som kräver en
jordanslutning, bör inte användas eftersom det inte går att
ansluta jordstiftet till jord.
Adaptern omvandlar inte spänning. Kontrollera att
spänningen i din apparat är kompatibel med spänningen i
det främmande uttaget. Om du är osäker kontakta
lokal expertis.
instruktionen
1.Tryck ner och håll inne knapp A och tryck ditt önskade
"väljarhuvud" framåt tills den "klickar" på plats.
Endast ett väljarhuvud kan väljas samtidigt. OBS!
Innan du väljer ett nytt "huvud" måste du ta bort det
som redan valts (1).
2.Tryck på knappen och tryck väljarhuvudet bakåt när
du är klar.
3.Sätt alltid i din apparat i adaptern innan den ansluts
till uttaget.
4.Efter användning, stäng av huvudströmbrytaren innan
du tar bort adaptern från vägguttaget och koppla sedan
bort de elektriska apparaterna.
5.Dra ur adaptern ur eluttaget när adaptern inte används.
6.Får endast ersättas med en 2,5A-säkring (2).
De två USB-portarna passar med USB-enheter och kan
ladda två enheter samtidigt. USB-portarna och adaptern
kan användas samtidigt.
1.Anslut laddaren till din enhet via den medföljande
USB-kabeln. OBS: USB-kontakten kan endast sättas i
laddaren på ett håll. Om den inte enkelt går att sättas i,
vänd den om.
2.Försäkra dig om att vägguttaget är avstängt och koppla
i laddaren. Sätt på brytaren på väggen.
3.Aktivera din enhet om nödvändigt och ladda enligt
tillverkarens instruktioner.
4.När laddningen är klar ska vägguttaget stängas av
innan laddare och enhet/enheter kopplas loss.
VARNING
• Får ej användas med jordade apparater.
• Får ej användas om höljet är skadat.
• Får ej utsättas för vätska eller fukt.
• Får ej kombineras med andra reseadaptrar.
Observera: alternativa elsystem kan ibland finnas i
vissa länder. Gå in på vår webbplats go-travelproducts.com
för mer information innan du reser.
BEHÅLL DEN HÄR INFORMATIONEN FÖR EVENTUELLT
FRAMTIDA BRUK.
GBR
IMPORTANT: Read all instructions before attempting to
use this adaptor.
This adaptor provides a safe connection for all your class
II non-earthed electronic appliances rated up to 2.5A.
110v-220v (275-625W).
DO NOT USE WITH EARTHED ELECTRICAL PRODUCTS.
Equipment of class I construction, which requires an
earth terminal, should not be used as there is no way of
connecting the earth pin through to ground.
This adaptor does not convert voltage. Check the voltage
of your appliance is compatible with the voltage of the
foreign socket. If in doubt seek local expert advice.
402 Worldwide USB / 11.2013
Manufactured by: design go ltd.
unit 1, mill hill ind. est., flower lane,
mill hill, london NW7 2HU
Instructions for use
1.Push and hold button A and slide your preferred
'Selector Head' forward until it "clicks" into place.
Only one Selector Head can be chosen at any one time.
NB. Before selecting a new 'Head' you must retract the
one already selected (1).
2.Push the button and slide selector head backwards
when finished.
3.Always plug your appliance into the adaptor before
inserting into the socket.
4.After use, switch off at the mains before removing
the adaptor from the socket, and then disconnect your
electrical appliance.
5.Unplug the adaptor when not in use.
6.Replace with 2.5A fuse only (2).
The twin USB ports are suitable for use with USB devices
and can charge two devices simultaneously. The USB
ports and the adaptor can be used at the same time.
1.Using the USB cable supplied with your device, connect
the charger with your device. NB: The USB can only be
inserted into the charger in one direction. If it does not
go in easily, switch the orientation.
2.Ensure the mains socket is switched off and plug in the
charger. Switch on at the wall.
3.Turn on your device if necessary and charge as per
the manufacturer's instructions.
4.When charging cycles are complete, turn off at the
mains socket before disconnecting either the charger or
your device/s.
WARNING
• Do not use with earthed devices.
• Do not continue to use if outer casing is damaged.
• Do not expose to liquid or moisture.
• Do not combine with any other travel adaptors.
Please note: alternative localized electrical systems may
occasionally be found in some countries. Please refer to
our website go-travelproducts.com for further information
prior to your departure.
Regulatory Notices
WEEE Notice:
In July 2007 the Waste Electrical and Electronic Equipment
Directive came into force to reduce the disposal of
domestic waste and to promote recycling.
Any electrical item that carries the crossed out wheelie
bin logo must not be disposed of in domestic waste but
should be taken to a designated collection facility. Design
Go is a member of an approved compliance scheme,
Transform, to encourage consumers to recycle unwanted
items. Your local authority will be able to provide details of
your nearest site.
For more information on the WEEE Directive please visit
www.recycle-more.co.uk
KEEP THESE INSTRUCTIONS FOR FUTURE REFERENCE.
FRE
IMPORTANT : Lire toute la notice avant d'essayer d'utiliser
cet adaptateur.
Cet adaptateur vous permet de brancher en sécurité tous
vos appareils électroniques de classe II non munis d'une
terre jusqu'à 2,5 A en 110 V ou 220 V (275 à 625 W).
NE PAS UTILISER AVEC DES APPAREILS ÉLECTRIQUES
MUNIS D'UNE TERRE. Les appareils de classe I, qui
nécessitent une borne de terre, ne doivent pas être
utilisés car il n'est pas possible de relier la broche de terre
à la terre de l'installation.
Cet adaptateur ne convertit pas la tension. Vérifiez que
la tension de votre appareil est compatible avec celle de
la prise étrangère. En cas de doute, demandez l'avis d'un
expert local.
Instructions
1.Appuyer sur le bouton A et maintenez-le dans cette
position pendant que vous glissez la « tête » que vous
avez sélectionnée jusqu'à ce qu'elle « clique »
en position.
Vous ne pouvez sélectionner qu'une seule tête à la fois.
NB : avant de sélectionner une « nouvelle tête »,
vous devez veiller à rentrer celle qui était déjà en
position (1).
2.Appuyer sur le bouton et rentrer les têtes lorsque vous
avez terminé.
3.Veillez à toujours brancher votre appareil dans
l'adaptateur avant de connecter ce dernier à la
prise réseau.
4.Après utilisation, coupez le courant au niveau du
secteur avant de retirer l'adaptateur de la prise, puis
débranchez votre appareil électrique.
5.Débranchez l'adaptateur lorsqu'il n'est pas utilisé.
6. Remplacez le fusible uniquement avec un fusible 2.5 A (2).
Le double port USB est compatible avec les dispositifs USB et
peut charger deux appareils simultanément. Les ports USB et
l'adaptateur sont utilisables en même temps.
1.À l'aide du câble USB fourni avec votre périphérique,
connectez le chargeur à celui-ci. Remarque : l'USB ne
peut être inséré que dans un seul sens dans le chargeur.
En cas de difficulté, changez de sens.
2.Assurez-vous que la prise secteur est désactivée et
branchez le chargeur. Activez la prise murale.
3.Mettez le périphérique sous tension si nécessaire
et procédez au chargement selon les instructions
du fabricant.
4.Une fois le cycle de chargement terminé, désactivez la
prise secteur avant de débrancher le chargeur ou
le(s) périphérique(s).
AVERTISSEMENT DE SÉCURITÉ
• Ne pas utiliser avec des appareils reliés à la terre.
•Ne pas utiliser dès lors que le boîtier extérieur
est endommagé.
• Ne pas mettre en contact avec l'eau ou l'humidité.
•N'est pas compatible avec tout autre adaptateur
de voyage.
Veuillez noter que certains pays disposent localement
d'autres réseaux électriques. Nous vous prions de
consulter notre site go-travelproducts.com pour obtenir
des informations complémentaires avant votre départ.
VEUILLEZ CONSERVER CES INSTRUCTIONS POUR
RÉFÉRENCES FUTURES.
ITA
IMPORTANTE: prima di utilizzare l'adattatore, leggere
tutte le istruzioni.
L'adattatore fornisce una connessione sicura per tutte
le apparecchiature eletteoniche di classe II senza messa
a terra, con tensione massima di 2,5 A. 110 v - 220 v
(275 - 625 W).
NON UTILIZZARE CON PRODOTTI ELETTRICI CON MESSA
A TERRA. Non devono essere utilizzare apparecchiature di
classe I che richiedono un terminale di terra, perché non è
possibile collegare lo spinotto di terra alla messa a terra.
L'adattatore non converte la tensione. Verificare che
la tensione dell'apparecchiatura sia compatibile con la
tensione della presa straniera. In caso di dubbi, consultare
un esperto in loco.
Istruzioni
1.Premere e tenere premuto il pulsante A e far scivolare
il selettore nella posizione desiderata. È possibile
selezionare solo un selettore alla volta.
N.B.: prima di cambiare selettore è necessario
deselezionare quello usato in precedenza (1).
2.Premere il pulsante e spostare il selettore all'indietro
quando l'adattatore non viene più utilizzato.
3.Collegare il dispositivo all'adattatore prima di inserire la
spina nella presa.
4.Dopo l'uso, spegnere l'alimentazione della presa
prima di rimuovere l'adattatore, quindi scollegare
l'apparecchiatura elettrica.
5.Scollegare l'adattatore quando non viene utilizzato.
6.Utilizzare solo fusibili da 2,5 A (2).
Le porte USB doppie sono adatte all'uso con dispositivi
USB e possono caricare due dispositivi simultaneamente.
Porte USB e adattatore possono essere utilizzate
contemporaneamente.
1.Utilizzando il cavo USB fornito con il dispositivo,
collegare il caricabatterie con il dispositivo.
NB: Il cavo USB può essere inserito nel caricabatterie
solo verso un'unica direzione. Qualora non entrasse con
facilità, ruotare l'orientamento.
2.Assicurarsi che l'alimentazione sia staccata e collegare il
caricabatterie. Attaccarlo alla presa elettrica.
3.Accendere il dispositivo, se necessario, e caricare sulla
base delle istruzioni del produttore.
4.Al completamento dei cicli di caricamento, spegnere
l'alimentazione prima di scollegare il caricabatterie
o il/i dispositivo/i.
ATTENZIONE
• Non utilizzare l'adattatore con dispositivi a massa.
• Non utilizzare l'adattatore se è danneggiato.
• Proteggere l'adattatore dall'acqua e dall'umidità.
• Non utilizzare l'adattatore con altri adattatori da viaggio.
Nota: è possibile che in alcuni Paesi si utilizzino
sistemi elettrici alternativi. Prima della partenza, fare
riferimento al sito Web go-travelproducts.com per avere
ulteriori informazioni.
CONSERVARE LE ISTRUZIONI PER FUTURO RIFERIMENTO.
GRC
ΣΗΜΑΝΤΙΚΟ: Πριν χρησιμοποιήσετε αυτόν τον
προσαρμογέα, διαβάστε όλες τις οδηγίες.
Αυτός ο προσαρμογέας παρέχει μια ασφαλή σύνδεση για
όλες τις μη γειωμένες ηλεκτρονικές συσκευές σας κλάσης II
ισχύος έως 2,5A. 110v-220v (275-625W).
ΜΗΝ ΤΟΝ ΧΡΗΣΙΜΟΠΟΙΕΙΤΕ ΜΕ ΓΕΙΩΜΕΝΑ ΗΛΕΚΤΡΙΚΑ
ΠΡΟΪΟΝΤΑ. Ο εξοπλισμός κατασκευής κλάσης I, ο
οποίος χρειάζεται ακροδέκτη γείωσης, δεν πρέπει να
χρησιμοποιείται καθώς δεν υπάρχει τρόπος σύνδεσης της
ακίδας γείωσης μέσω γείωσης.
Αυτός ο προσαρμογέας δεν μετατρέπει την τάση. Ελέγξτε
αν η τάση της συσκευής σας είναι συμβατή με την τάση της
ξένης υποδοχής. Αν αμφιβάλλετε, ζητήστε συμβουλές από
κάποιον ειδικό.
Οδηγίες
1.Κρατήστε πατημένο το κουμπί A και μετακινήστε την
επιθυμητή «κεφαλή επιλογέα» προς τα εμπρός μέχρι
να ακουστεί ένας χαρακτηριστικός ήχος. Μπορεί να
επιλεγεί μόνο μία κεφαλή επιλογέα κάθε φορά.
ΣΗΜ.: Πριν επιλέξετε μια νέα «κεφαλή», πρέπει να
αφαιρέσετε την κεφαλή που χρησιμοποιείται ήδη (1).
2.Πατήστε το κουμπί και μετακινήστε την κεφαλή
επιλογέα προς τα πίσω όταν ολοκληρωθεί η διαδικασία.
3.Συνδέετε πάντα τη συσκευή σας στον προσαρμογέα
πριν από τη σύνδεση στην πρίζα.
4.Μετά τη χρήση, διακόψτε την κεντρική τροφοδοσία πριν
αφαιρέσετε τον προσαρμογέα από την υποδοχή και
έπειτα αποσυνδέστε την ηλεκτρική συσκευή σας.
5.Αποσυνδέετε τον προσαρμογέα όταν
δεν χρησιμοποιείται.
6.Αντικαθιστάτε μόνο με ασφάλεια 2,5a (2).
Οι διπλές θύρες USB είναι κατάλληλες για χρήση με
συσκευές USB και μπορούν να φορτίσουν δύο συσκευές
ταυτόχρονα. Οι θύρες USB και ο προσαρμογέας μπορούν
να χρησιμοποιηθούν ταυτόχρονα.
1.Χρησιμοποιώντας το καλώδιο USB που συνοδεύει
τη συσκευή σας, συνδέστε το φορτιστή με τη συσκευή
σας. Σημείωση: Το USB μπορεί να εισαχθεί στο φορτιστή
μόνο προς μία κατεύθυνση. Εάν αυτό δεν γίνεται τόσο
εύκολα, αλλάξτε τον προσανατολισμό.
2.Βεβαιωθείτε ότι η πρίζα είναι απενεργοποιημένη και
περάστε τον Φορτιστή στην πρίζα. Στη συνέχεια θέστε
τον σε λειτουργία.
3.Ενεργοποιήστε τη συσκευή σας, εάν είναι απαραίτητο
και φορτίστε σύμφωνα με τις οδηγίες του κατασκευαστή.
4.Όταν οι κύκλοι φόρτισης ολοκληρωθούν,
απενεργοποιήστε την πρίζα πριν να αποσυνδέσετε είτε
το φορτιστή, είτε τη συσκευή/ες σας.
ΠΡΟΕΙΔΟΠΟΊΗΣΗ
• Μην τον χρησιμοποιείτε με γειωμένες συσκευές.
•Διακόψτε τη χρήση σε περίπτωση φθοράς του
εξωτερικού περιβλήματος.
• Αποφεύγετε την έκθεση σε υγρά ή υγρασία.
•Μην τον χρησιμοποιείτε σε συνδυασμό με άλλους
προσαρμογείς ταξιδίου.
Σημείωση: σε ορισμένες χώρες ενδέχεται να υπάρχουν
διαφορετικά τοπικά ηλεκτρικά συστήματα. Ανατρέξτε στην
ιστοσελίδα μας, go-travelproducts.com, για περαιτέρω
πληροφορίες πριν από την αναχώρησή σας.
ΦΥΛΆΞΤΕ ΤΙΣ ΟΔΗΓΊΕΣ ΑΥΤΈΣ ΓΙΑ ΑΝΑΦΟΡΆ.
PRT
IMPORTANTE: Leia todas as instruções antes de tentar
utilizar este adaptador.
Este adaptador fornece uma ligação segura para todos os
aparelhos electrónicos sem ligação à terra classe II com
potência até 2,5 A. 110 V-220 V (275-625 W).
NÃO UTILIZE COM PRODUTOS ELÉCTRICOS LIGADOS
À TERRA.
Não deve ser utilizado equipamento de construção classe
I que necessite de um terminal de ligação à terra, pois não
existe forma de ligar o pino de ligação à terra à massa.
Este adaptador não converte tensão. Verifique se a tensão
do seu aparelho é compatível com a tensão da tomada do
estrangeiro. Em caso de dúvida, obtenha aconselhamento
especializado local.
Instruções
1.Prima e mantenha premido o botão A e introduza o seu
Selector preferido até ouvir um clique indicando que se
encontra ajustado. Pode apenas introduzir um Selector
de cada vez.
Nota: antes de seleccionar um novo selector, deverá
retirar o selector previamente seleccionado (1).
2.Prima o botão e puxe o selector quando terminar.
3.Ligue sempre o seu aparelho no adaptador antes de o
ligar à tomada.
4.Após a utilização, desligue a electricidade antes
de remover o adaptador da tomada e, em seguida,
desconecte o aparelho eléctrico.
5.Desligue o adaptador quando não estiver a ser utilizado.
6.Proceda à substituição apenas com fusível 2.5a (2).
As portas USB duplas são adequadas para utilização
com dispositivos USB e podem carregar dois dispositivos
em simultâneo. As portas USB e o adaptador podem ser
utilizados em simultâneo.
1.Com recurso ao cabo USB fornecido com o dispositivo,
conecte o carregador ao aparelho. Nota: o USB só pode
ser inserido no carregador numa direcção. Se não entrar
facilmente, deverá mudar a orientação.
2.Certifique-se de que a tomada está desligada e
INTRODUZA o carregador. Ligue na parede.
3.Ligue o seu dispositivo se for necessário e proceda
ao carregamento conforme as instruções do fabricante.
4.Quando os ciclos de carregamento estiverem
concluídos, desligue da tomada antes de desligar tanto
o carregador ou o dispositivo.
AVISO
• Não utilizar com aparelhos ligados à terra.
•Não continue a utilizar caso o invólucro exterior
estiver danificado.
• Não expor a líquidos ou humidade.
•Não utilizar em conjunto com outros Adaptadores
de viagem.
Atenção: podem ser ocasionalmente encontrados sistemas
eléctricos locais em alguns países.
Consulte o nosso website go-travelproducts.com para
obter mais informação antes de viajar.
GUARDE ESTAS INSTRUÇÕES PARA REFERÊNCIA FUTURA.
RUS
ВАЖНО: Перед использованием этого адаптера
прочитайте все инструкции.
Этот адаптер обеспечивает безопасное подключение
всех незаземленных электронных устройств класса II
номиналом до 2,5 A, 110-220 В (275-625 Вт).
НЕ ИСПОЛЬЗУЙТЕ С ЗАЗЕМЛЕННЫМИ
ЭЛЕКТРИЧЕСКИМИ УСТРОЙСТВАМИ. Не используйте
с оборудованием класса I, которое требует
заземляющего зажима, поскольку соединение
заземляющего штырька с землей невозможно.
Этот адаптер не преобразует напряжение. Проверьте
соответствие номинального напряжения своего
устройства напряжению иностранной розетки. В
случае сомнений обратитесь за консультацией к
местному эксперту.
Инструкции
1.Нажмите и удерживайте нажатой кнопку А,
затем выдвиньте вперед выбранный переходник
так, чтобы он со щелчком встал на свое место.
Одновременно можно установить только один
переходник. Обратите внимание: чтобы выдвинуть
любой другой переходник, сначала следует убрать
уже установленный (1).
2.После использования нажмите кнопку и сдвиньте
переходник назад.
3.Всегда сначала подсоединяйте электронные
приборы к адаптеру, а затем вставляйте адаптер в
розетку сети электропитания.
4.После использования выключите питание,
затем извлеките адаптер из розетки, после чего
отсоедините электрическое устройство.
5.Если адаптер не используется, выньте его из
розетки сети электропитания.
6.При замене предохранителя используйте только
предохранители с номиналом 2,5 А (2).
Двойные порты USB подходят для использования с
устройствами USB и могут одновременно заряжать
два устройства. Порты USB и адаптер могут
использоваться одновременно.
1.Присоедините зарядник к вашему устройству,
используя комплектный кабель USB.
Внимание: USB можно вставлять в зарядник только
в одну сторону. Штекер должен легко входить в
зарядник, иначе поменяйте ориентацию штекера.
2.Убедитесь в том, что основной переключатель
отключен и присоедините зарядник. Включите
переключатель на стене.
3.При необходимости включите устройств и
заряжайте согласно инструкциям изготовителя.
4.По окончании цикла зарядки выключите основной
разъем перед отключением зарядника или устройства.
ВНИМАНИЕ!
•Не используйте адаптер с устройствами,
требующими заземления.
•Запрещается использовать адаптер с
поврежденным корпусом.
•Не подвергайте адаптер воздействию жидкостей
или влаги.
•Запрещается подсоединять к адаптеру другие
дорожные адаптеры.
Примечание: в некоторых странах могут
использоваться электрические сети с
характеристиками, отличными от типовых.
Перед отъездом ознакомьтесь с дополнительной
информацией на веб-сайте go-travelproducts.com.
СОХРАНИТЕ ДАННУЮ ИНСТРУКЦИЮ, ЧТОБЫ В
БУДУЩЕМ ОНА БЫЛА У ВАС ПОД РУКОЙ.