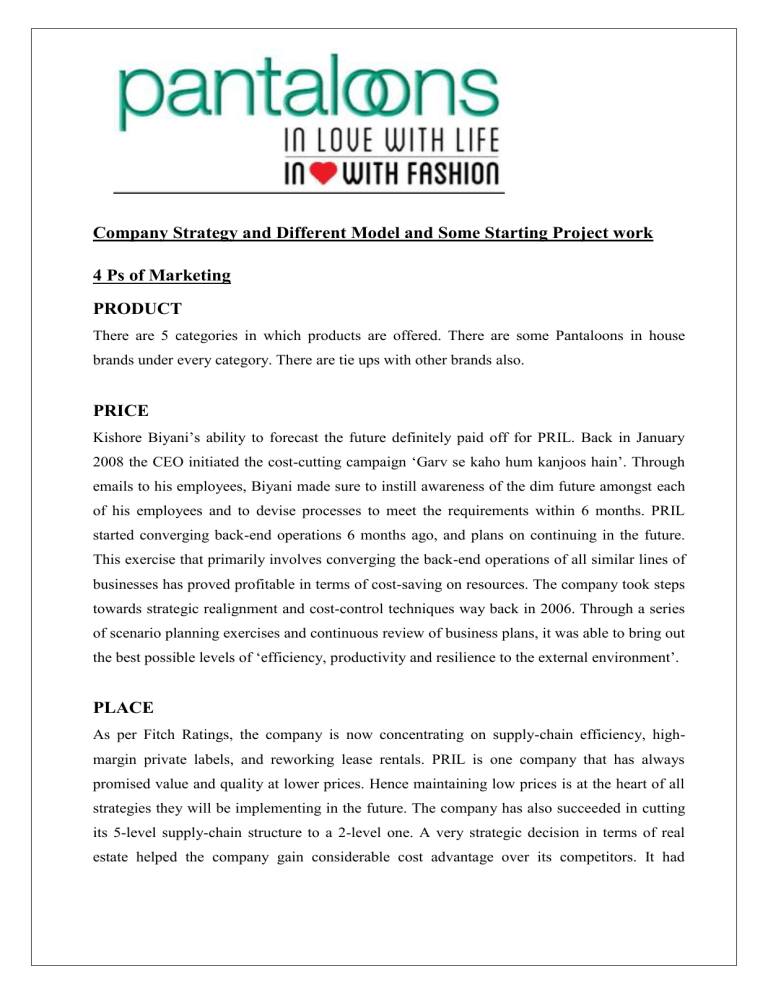 Company Strategy and Different Model and Some Starting Project work
4 Ps of Marketing
PRODUCT
There are 5 categories in which products are offered. There are some Pantaloons in house
brands under every category. There are tie ups with other brands also.
PRICE
Kishore Biyani's ability to forecast the future definitely paid off for PRIL. Back in January
2008 the CEO initiated the cost-cutting campaign 'Garv se kaho hum kanjoos hain'. Through
emails to his employees, Biyani made sure to instill awareness of the dim future amongst each
of his employees and to devise processes to meet the requirements within 6 months. PRIL
started converging back-end operations 6 months ago, and plans on continuing in the future.
This exercise that primarily involves converging the back-end operations of all similar lines of
businesses has proved profitable in terms of cost-saving on resources. The company took steps
towards strategic realignment and cost-control techniques way back in 2006. Through a series
of scenario planning exercises and continuous review of business plans, it was able to bring out
the best possible levels of 'efficiency, productivity and resilience to the external environment'.
PLACE
As per Fitch Ratings, the company is now concentrating on supply-chain efficiency, highmargin private labels, and reworking lease rentals. PRIL is one company that has always
promised value and quality at lower prices. Hence maintaining low prices is at the heart of all
strategies they will be implementing in the future. The company has also succeeded in cutting
its 5-level supply-chain structure to a 2-level one. A very strategic decision in terms of real
estate helped the company gain considerable cost advantage over its competitors. It had
acquired land for reasonable rates a few years ago, as it expected the increase in real estate
prices.
PROMOTION
In addition to all the above, PRIL also introduced shopping festivals, end of season sales,
exchange fairs and days dedicated to low-price shopping. Through a partnership with
McKinsey & Co., they were able to develop a process-driven approach towards discount
planning and inventory management.
Porter's Five forces:
When Kishore Biyani started Pantaloons Retail (India) Ltd.(PRIL), he must have hardly
expected to hit in such a manner in the short time frame. What started off as India's first brand
for formal trousers back in 1987, transitioned into what is now the country's largest retail giant
with its footfall in every arena the modern-day consumer believes to be part of his/her lifestyle.
PRIL, the flagship company of the Future Group, operates through a large number of formats
that
target
different
aspects
of
consumerism.
These

Sports and Fashion - Pantaloons, Central, Brand Factory etc.

Food – Food Bazaar, Fair price etc.

Home products – e-Zone, Staples, Home Town etc.

Leisure and Entertainment – F123, Bowling Co. etc.
largely
center
on:-
Threat of Entry
PRIL's rivals Shopper's Stop and Vishal Retail only grew by 3.3% and 17.8%, with operating
margins falling over last year's. This hardly seems a lucrative opportunity to any big names
scanning the horizon. In addition to this, the latest budget did nothing to spur growth when it
made no mention of the relaxation in FDI norms for the retail sector – a longstanding demand
by the major players in the sector, along with recognition as an industry. However, considering
AT Kearney's predictions of the potential in the Indian retail market, the threat of foreign
entrants looms large in the near future with the first Wal-Mart in India opening just a few
weeks ago.
Threat of suppliers
Market share generally reflects the focal firm's influence over its consumers, competitors and
suppliers. Rather than the traditional 'Producer-push' format of supply-chains, large retailers
enjoy
the
advantage
of
the
'Consumer-pull'
format.
Threat of substitutes
Substitutes to this sector may largely come in the form of Internet, wherein direct selling of
consumer goods may take place. But considering this phenomenon has not gained momentum
in India, its chances of posing a major threat to the sector is fairly low .
Threat of Buyers
The retail sector has always faced trouble retaining consumer-loyalty. The gloom of the
meltdown has spread rather rapidly in the consumption segment with same-store sales in most
retail chains dropping to abysmal numbers. In the current scenario most consumers prefer
deferring
purchases
of
retail
items,
and
hence
pose
the
largest
threat.
Threat of Rivalry
PRIL's immediate competitor, Vishal Retail is running out of cash and closing stores all over
the country. Although they have no hopes of opening these outlets just as yet, they do plan on
reworking
their
format
through
expansion
by
way
SWOT Analysis
Strength
1. It is India's largest retailer having 1000 stores across 70 cities in India
2. It is country's largest retailer by market capitalization and revenue
3. It manages high number of purchase orders
4. It is always updated with changing consumer preferences
5. Popular brand with a high presence across India
Weakness
of
franchisee
units.
1. It serves mass consumer base; still skilled labor force is not adequate when compared with
global standards
2. Consumers from premium target group perceives it as low quality brand
Opportunities
1. Increase in footfalls by increasing ATL – TV commercial promotion.
2. India is fast emerging as retail hub for top brands as government allowed FDI in single brand
and multi brand retail
3. Organized retail is only 4.5 % of total Indian retail industry
Threat
1. Strong competition from unorganized retail sector in India.
2. Government policies are not well defined in emerging markets
3. Online shopping is emerging trend in consumers due to convenience
PESTEL Analysis of apparel retail industry
Macro environmental factors affecting the clothing industry are those which lie outside small
companies and their competitors. Business owners have less control of these external factors,
and their impact in changing them is minimal. Instead, small companies must adapt to these
macro environmental factors, which include consumer characteristics, technology, government
influence and the economy. The way small companies adapt to macro environmental factors
determines both their ability to differentiate themselves from key competitors and overall
success.
Legal and Political factor
A number of legal and political macro environmental factors affect small businesses in the
clothing industry. The industry has repeatedly been affected by issues such as workers' rights
and child labour laws. Union workers in clothing manufacturing plants may picket their
employers, especially if their wages or medical benefits are less favourable than workers in
comparable industries. Workers picketing their clothing employers impacts production. This
can cause delays for retailers in getting spring or fall fashions on time. Activists who are not
employed by the companies may also picket retailers who purchase clothing from countries
known for violating child labour laws. This negative publicity may impact small clothing
retailers' sales and profits. Also, a trade embargo against another company's imports would
force clothing wholesalers to find different suppliers.
•
Shop and Establishment Act
•
Standards of Weights and Measures Act
•
Provisions of the Contract Labour (Regulations and Abolition) Act
•
The Income Tax Act
•
Customs Act
Economic factor
Economic factors can have both positive and negative impacts on the clothing industry. During
economic boom periods, people have more disposable income. Hence, they may buy more
clothes, increasing sales for clothing manufacturers, wholesalers and retailers. However,
recessions have the opposite effect. Sales for these various clothing entities may be
significantly lower. Consequently, retailers may be stuck with large amounts of inventory. And
they may have to sell the clothing at substantially reduced prices. Clothing manufacturers and
retailers may also need to sell lower-priced clothing brands to compete with more generic
brands. Consumers often shop for cheaper brands when they have less disposable income.
Social factor
Consumer micro environmental factors include cultures, norms, lifestyle, demographics and
population changes. These factors affect the clothing industry in different ways. For example, a
small clothing manufacturer needs to create styles that appeal to those of different cultures,
especially if those cultural groups represent large enough segments of its market. Contrarily,
clothing manufacturers, wholesalers and retailers avoid creating too many clothing items that
fall outside the norms of society, such as styles worn 100 years ago. An ageing population may
increase the demand for larger jeans and pants sizes, such as relaxed or looser-fitting styles.
Generally, many people become more sedentary when they get into their 40s and 50s.
Consumers' waistlines expand so they need larger sizes and more room for comfort.
Technological factor
Technological micro environmental factors affecting the clothing industry include availability
of resources, demand and production. For example, the scarcity of certain materials, such as
leather, may force retail and wholesale clothing companies to sell more faux or substitute
leather products. Retailers may increase the prices of cotton clothing if they encounter
shortages of this raw material, as they must pay their manufacturers more. The introduction of
new clothing styles by a competitor can shift demand away from older fashions. Hence, a small
clothing manufacturer may need to discontinue certain clothing lines and produce new ones
that meet the needs of consumers. Moreover, clothing companies may add more advanced
equipment in their plants like robots, which may force companies to fire some workers.
PROJECT WORK (Part-B)
Research Objective:
The objectives of this study is:
To analyze store operations through store green card, KPI, loyalty drive, Mission
Happiness and how a buyer and a non-buyer customer reacts.
Research Methodology
Research process is a series of systematic steps that are followed to solve a business
problem. It is the framework of the entire plan-of-action. It clearly describes crucial
issues like the study's purpose and objectives, the type of data needed, the technique
to be used for selecting samples, data collecting method, analyzing it, managing costs
and other aspects that are essential for conducting business research.
A descriptive research design has been followed for this marketing research which
highlights both the qualitative and quantitative aspects of the identified problem.
'Descriptive research' is a study designed to depict the participants in an accurate
way. More simply put, descriptive research is all about describing people who take
part in the study.
There are three ways a researcher can go about doing a descriptive research project,
and they are:
 Observational, defined as a method of viewing and recording the participants
 Case study, defined as an in-depth study of an individual or group of
individuals
 Survey, defined as a brief interview or discussion with an individual about a
specific topic
Observational studies are all about watching people, and they come in two flavors.
Naturalistic, also known as field observation is a study where a researcher
observes the subject in its natural environment. This is basically what Jane Goodall
did; she observed the chimpanzees in their natural environment and drew
conclusions from this. This makes the observations truer to what happens in the
chaotic, natural world. But it also means you have less control over what happens.
The other flavor is laboratory observation, where a researcher observes the subject
in a laboratory setting. This gives the researcher a little more control over what
happens so they don't have to fly out to some tiny little island in the middle of a war
zone to observe something. However, it does ruin some of the naturalness that one
might get from field observation. An example of a laboratory observation in
psychology would be done to understand something about children at a certain age,
such as the process of how a child learns to speak and mimic sounds.
Survey
A survey comes in different flavors, be it interviewing people face to face or
handling out questionnaire to fill out. The main difference between surveys and
observations is that in a survey, you don't watch people; you ask them about
themselves.
SAMPLING DESIGN: Sampling is an essential part of the business research process. Sampling is the
technique of selecting a representative part of a population for the purpose of
determining the characteristics of the whole population. During the research,
DATA COLLECTION: Primary Data: - It is original, problem or project specific and collected for serving a
particular purpose. Its authenticity or relevance is reasonably high. To collect the
primary data the best way is to interact with people directly or it can be through direct
interviews and questionnaires. Both these methods have used for collection of
primary data.
Secondary Data: - It is not topical or research specific. It can be economically and
quickly collected by the decision maker in a short span of time. It has been collected
and compiled by some other researcher or investigative body. Secondary data is
collected from company websites and various Literature reviews. As Pantaloons is
daily in news because of its expansion plans, and its recent merge with forever 21. So
I benefited a lot from articles on net
For the study
Mission Happiness, data collected was Primary data. A questionnaire of 3
questions is kept near every billing counter. The response given by customers is used
data. Above is the picture of the questionnaire.
First question (Score Category):
This question asks customer to rate the shopping experience. Scale is from 0 to 10, 0
being worst & 10 being best. Customers rating between 9 & 10 are called promoters.
It is expected that they will spread a positive word of mouth. Customers giving score
7 or 8 are passive. They are not happy with the shopping experience, but also not
disappointed. We can make a try to convert them to promoters with little efforts.
Rating below 7 is the area of concern. Those customers are detractor. They can
spread a negative word of mouth, which must be taken care of.
Second question (L1 reasons):
This question asks about L1 reason which has options like billing, Staff service, range
& variety, product quality, pricing & others. The score given in question 1 is related
to one of those reason.
Third Question (Hygiene Hat trick):
This question covers 3 sub yes/no questions which are called as hygiene hat tricks. It
includes whether customer was greeted at store. At the entrance of store, guard is
supposed to greet customer so that they feel welcomed. Then next Is about features
explanation. This is to check was anybody there to help customer to choose the
product. Last one is about trial recommendation. It is highly recommended to try the
product before billing. So question tells us whether our staff is focusing on this point
or not.
Response Rate:
Response rate is no. of feedback /total no. of bills
As every customer is important, his feedback is valuable. So ideally response rate
should be 100%. Its cashier's duty to ask customer to give feedback and also explain
them what are the questions.
Many times, customers are in hurry and they try to avoid this. So we are unable to
understand whether they are happy or unhappy with the shopping experience.
Another observation is that some customer give the feedback just for the sake of
doing. They give score, reason randomly. So whatever results we get are not with
highest accuracy. Effective communication is solution to this issue.
Verbatim:
At the end of the day, some customers are selected for calling. They include both
promoters and detractor from almost all stores. This calls are to get the actual detailed
feedback. This calls are recorded. Verbatim given by the customer is attached to the
feedback given by customers on the day of shopping. They are also asked about
reason of shopping, frequency of shopping, preferred brands, Other places where they
shop(competitors) etc. This calls are also important to find lost sales. Major concerns
can be pointed out for every store and accordingly actions can be taken.
DATA ANALSIS & INTERPRETATION: RANGE AND VARIETY:
Every feedback is provided with the unique ID. All other details like store, timing of
billing, amount of bill, payment mode, mobile no. of customer, cashier name etc. are
given with every feedback. This helps to study feedback in depth. After IBC,
Verbatim from customer is also mentioned with feedback.
If any query us left unsolved, it has to be taken care of within 24 hours by store
manager. Otherwise, Escalation matrix is used and accordingly concerned person is
supposed to satisfy the customer.
Happiness index is (no. of promoter – No. of detractor) / total no. of feedback.
Happiness index for every reason can be calculated by taking respective inputs. For
example, to calculate billing Happiness Index, all feedbacks who have given billing
as the reason are considered. Then according to score category, Billing HI is
calculated.
Hygiene Hat trick is No. of YES / total no. of feedback. It is directly related to
conversion.