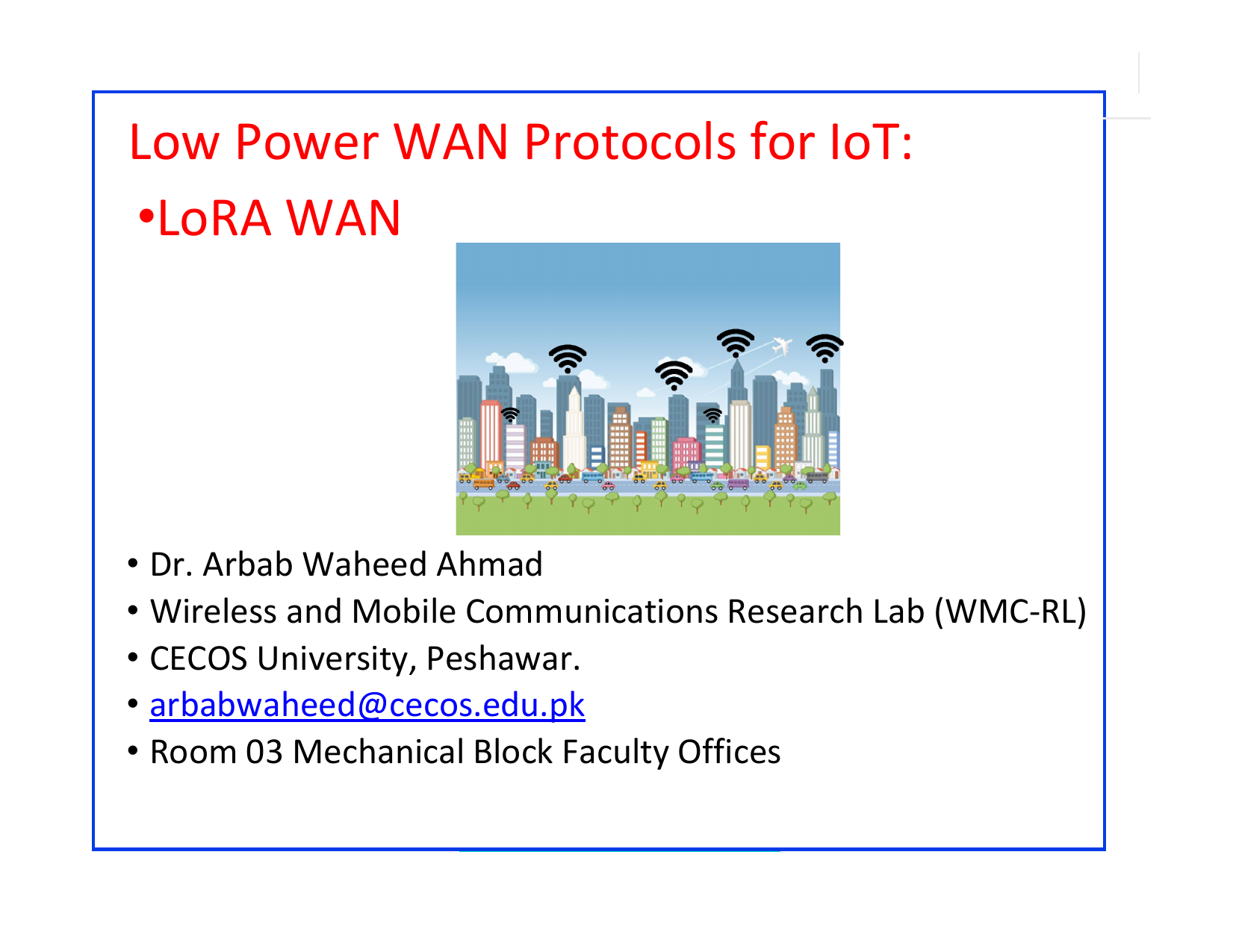 Low Power WAN Protocols for IoT:
•LoRA WAN
• Dr. Arbab Waheed Ahmad
• Wireless and Mobile Communications Research Lab (WMC-RL)
• CECOS University, Peshawar.
• [email protected]
• Room 03 Mechanical Block Faculty Offices
Datalink
Network
Session
Recent Protocols for IoT
MQTT, SMQTT, CoRE, DDS, AMQP ,
XMPP, CoAP, IEC,…
Security
Management
Encapsulation 6LowPAN, 6TiSCH,
6Lo, Thread…
Routing RPL, CORPL, CARP
IEEE 1888.3,
TCG,
Oath 2.0,
SMACK,
IEEE 1905,
IEEE 1451,
IEEE 1377,
IEEE P1828,
WiFi, 802.11ah, Bluetooth Low
Energy, Z-Wave, ZigBee Smart,
DECT/ULE, 3G/LTE, NFC,
Weightless, HomePlug GP, 802.15.4e,
G.9959, WirelessHART, DASH7,
ANT+, LTE-A, LoRaWAN,
ISA100.11a, DigiMesh, WiMAX, …
SASL,
EDSA,
ace,
DTLS,
Dice, …
IEEE P1856
LoRaWAN
❑
❑
❑
❑
Long Range Wide Area Network.
.
Originally developed by Cyclos in France.
Acquired by Semtech corporation, which formed LoRa Alliance
Now 160+ members.
V1.0 spec dated January 2015. Released to public July 2015.
Rapid Adoption: Products already available on Amazon.
Transceiver
Arduino
Connectivity Kit for Radio Shield
Arduino, Waspmote,
Raspberry Pi
Ref: https://www.lora-alliance.org/What-Is-LoRa/Technology
Key Features
❑
❑
❑
❑
Bidirectional communication
⇒ Allows firmware/software updates of end devices
Low Rate: 0.3 kbps to 22 kbps in Europe, 0.9 kbps in US
Star of Stars Topology: Gateways are transparent bridges.
Server is the brain. Simple devices. Relays are optional.
Secure: EUI128 Device Key, EUI64 Network Key,
EUI64 Application Key
Gateway
Server
RelayRelay
Device Device Device Device Device Device Device
Classes of Devices
❑
❑
❑
Class A: Uplink transmission followed by 2 short
downlink Schedule determined by the end point ⇒ Simple
devices.
Pure Aloha ⇒ 18.4% =1/2e efficiency under heavy load.
Gateways listen to multiple transmissions on multiple channels
All gateways listen to all transmissions ⇒ Antenna Diversity.
Server selects one gateway for downlink/ack to device ⇒ Mobility
Class B: Class A + extra receive window at scheduled time
following the beacon from Gateway
All gateways transmit beacons every 2n seconds (n=0..7)
All gateways are synchronized using GPS
Device is told receive slot
Class C: Can receive anytime (unless transmitting).
Generally on AC power
Frequency
❑
❑
❑
Uses ISM license-exempt band:
915 MHz MHz in US. Power limit. No duty cycle limit.
868 MHz in Europe. 1% and 10% duty cycle limit
433 MHz in Asia
Same techniques can be used in 2.4GHz or 5.8 GHz
Currently suitable for public (single) deployment in an area
All gateways report to the same server
A device can talk to any gateway
All devices use the same frequency
Ref: http://www.link-labs.com/what-is-lora/
http://www.radio-electronics.com/info/wireless/lora/lorawan-network-architecture.php
Chirp Spread Spectrum
Chirp: A signal with continuously increasing (or
decreasing) frequency (Whale sound)
❑
Chirp Spread Spectrum: signal is frequency modulated with
frequency increasing (or decreasing) from min to max (or max
to min) ⇒ power is spread over the entire spectrum
Power
❑
Frequency
Ref: Z. Ianelli, "Introduction to Chirp Spread Spectrum (CSS) Technology," IEEE 802 Tutorial,
http://www.ieee802.org/802_tutorials/03-November/15-03-0460-00-0040-IEEE-802-CSS-Tutorial-part1.ppt
LoRa Modulation
❑
❑
❑
❑
❑
Designed to achieve high sensitivity using a cheap crystal
Allows low power transmissions over long distances
A form of Chirp spread spectrum.
Data is encoded using the frequency increase/decrease rate
⇒ Data rate and link condition determines the frequency
f
bandwidth required
t
Multiple parallel transmissions with different data rates on
the same frequency
❑
Can receive signals 19.5 dB below noise floor with
forward error correction (FEC)
❑
Power level is determined adaptively based on data rate
and link condition. Fast communication is used to save
battery.
Ref: "LoRA Physical Layer and RF Interface," Radio-Electronics,
http://www.radio-electronics.com/info/wireless/lora/rf-interface-physical-layer.php
LoRaWAN MAC
❑
❑
LoRaWAN: MAC function over LoRa PHY
Server manages the network and runs MAC
Assigns each device is a frequency, spreading code, data
rate
Eliminates duplicate receptions
Schedules acknowledgements
Adapts data rates
❑
All gateways of a network are synchronized Server
❑
Data rate is determined by
distance and message duration
❑
Gateway
Server determines the data rate using
an adaptive data rate (ADR) scheme
Device Device Device
LoRaWAN: Summary
1.
LoRaWAN is the new MAC standardized by LoRa Alliance
2.
LoRa modulation is a variation of chirp spread spectrum
where the rate of frequency increase/decrease is modulated by
symbol
⇒ Increases its resistance to noise
⇒ Allows multiple parallel transmissions in one frequency
3.
Centralized management and media access control using a
"server"
4.
Devices broadcast to all gateways. The best gateway replies
back.