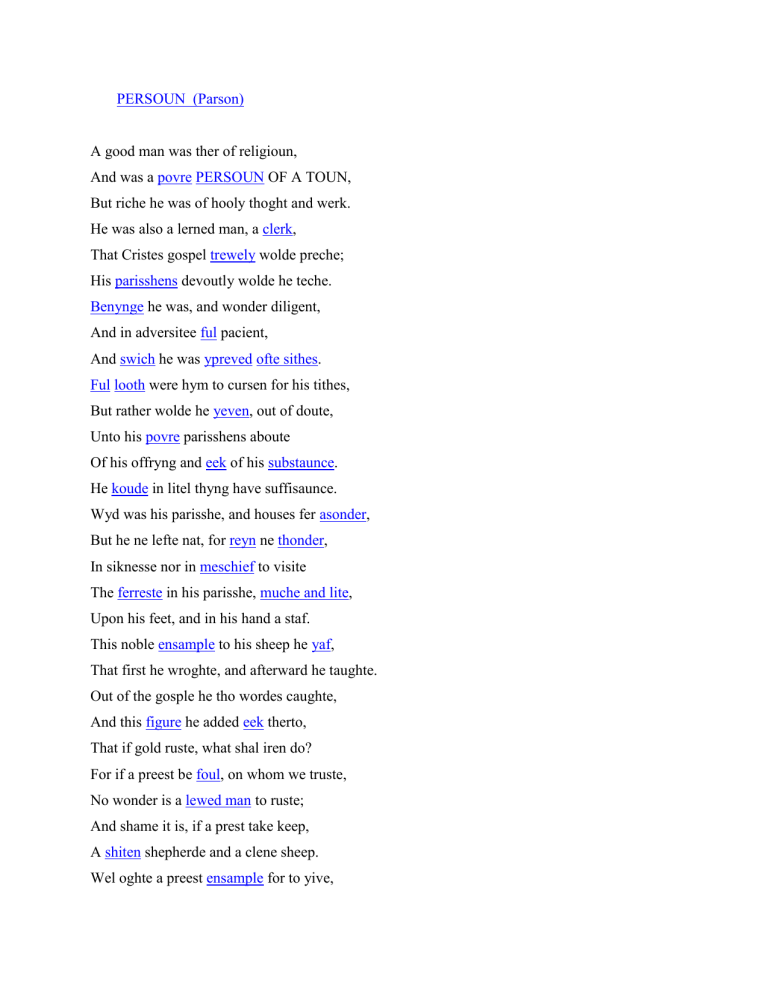 PERSOUN (Parson)
A good man was ther of religioun,
And was a povre PERSOUN OF A TOUN,
But riche he was of hooly thoght and werk.
He was also a lerned man, a clerk,
That Cristes gospel trewely wolde preche;
His parisshens devoutly wolde he teche.
Benynge he was, and wonder diligent,
And in adversitee ful pacient,
And swich he was ypreved ofte sithes.
Ful looth were hym to cursen for his tithes,
But rather wolde he yeven, out of doute,
Unto his povre parisshens aboute
Of his offryng and eek of his substaunce.
He koude in litel thyng have suffisaunce.
Wyd was his parisshe, and houses fer asonder,
But he ne lefte nat, for reyn ne thonder,
In siknesse nor in meschief to visite
The ferreste in his parisshe, muche and lite,
Upon his feet, and in his hand a staf.
This noble ensample to his sheep he yaf,
That first he wroghte, and afterward he taughte.
Out of the gosple he tho wordes caughte,
And this figure he added eek therto,
That if gold ruste, what shal iren do?
For if a preest be foul, on whom we truste,
No wonder is a lewed man to ruste;
And shame it is, if a prest take keep,
A shiten shepherde and a clene sheep.
Wel oghte a preest ensample for to yive,
By his clennesse, how that his sheep sholde lyve.
He sette nat his benefice to hyre
And leet his sheep encombred in the myre
And ran to Londoun unto Seinte Poules
To seken hym a chaunterie for soules,
Or with a bretherhed to been witholde;
But dwelt at hoom, and kepte wel his folde,
So that the wolf ne made it nat myscarie;
He was a shepherde and noght a mercenarie.
And though he hooly were and vertuous,
He was to synful men nat despitous,
Ne of his speche daungerous ne digne,
But in his techyng discreet and benygne;
To drawen folk to hevene by fairnesse,
By good ensample, this was his bisynesse.
But it were any persone obstinat,
What so he were, of heigh or lough estat,
Hym wolde he snybben sharply for the nonys.
A bettre preest I trowe, that nowher noon ys.
He waited after no pompe and reverence,
Ne maked him a spiced conscience,
But Cristes loore, and Hise apostles twelve
He taughte, but first he folwed it hymselve.
PARDONER
With hym ther rood a gentil PARDONER
Of Rouncivale, his freend and his compeer,
That streight was comen fro the court of Rome.
Ful loude he soong "Com hider, love, to me!"
This Somonour bar to hym a stif burdoun;
Was nevere trompe of half so greet a soun.
This Pardoner hadde heer as yelow as wex,
But smothe it heeng as dooth a strike of flex;
By ounces henge his lokkes that he hadde,
And therwith he hise shuldres overspradde;
But thynne it lay by colpons oon and oon.
But hood, for jolitee, wered he noon,
For it was trussed up in his walet.
Hym thoughte he rood al of the newe jet;
Dischevelee, save his cappe, he rood al bare.
Swiche glarynge eyen hadde he as an hare.
A vernycle hadde he sowed upon his cappe.
His walet lay biforn hym in his lappe
Bretful of pardoun come from Rome al hoot.
A voys he hadde as smal as hath a goot,
No berd hadde he, ne nevere sholde have;
As smothe it was as it were late shave,
I trowe he were a geldyng or a mare.
But of his craft, from Berwyk into Ware,
Ne was ther swich another pardoner;
For in his male he hadde a pilwe-beer,
Which that he seyde was Oure Lady veyl:
He seyde he hadde a gobet of the seyl
That Seint Peter hadde, whan that he wente
Upon the see, til Jesu Crist hym hente.
He hadde a croys of latoun ful of stones,
And in a glas he hadde pigges bones.
But with thise relikes, whan that he fond
A povre persoun dwellyng upon lond,
Upon a day he gat hym moore moneye
Than that the person gat in monthes tweye;
And thus, with feyned flaterye and japes,
He made the persoun and the peple his apes.
But trewely to tellen atte laste,
He was in chirche a noble ecclesiaste.
Wel koude he rede a lessoun or a storie,
But alderbest he song an offertorie;
For wel he wiste, whan that song was songe,
He moste preche, and wel affile his tonge
To wynne silver, as he ful wel koude;
Therfore he song the murierly and loude.