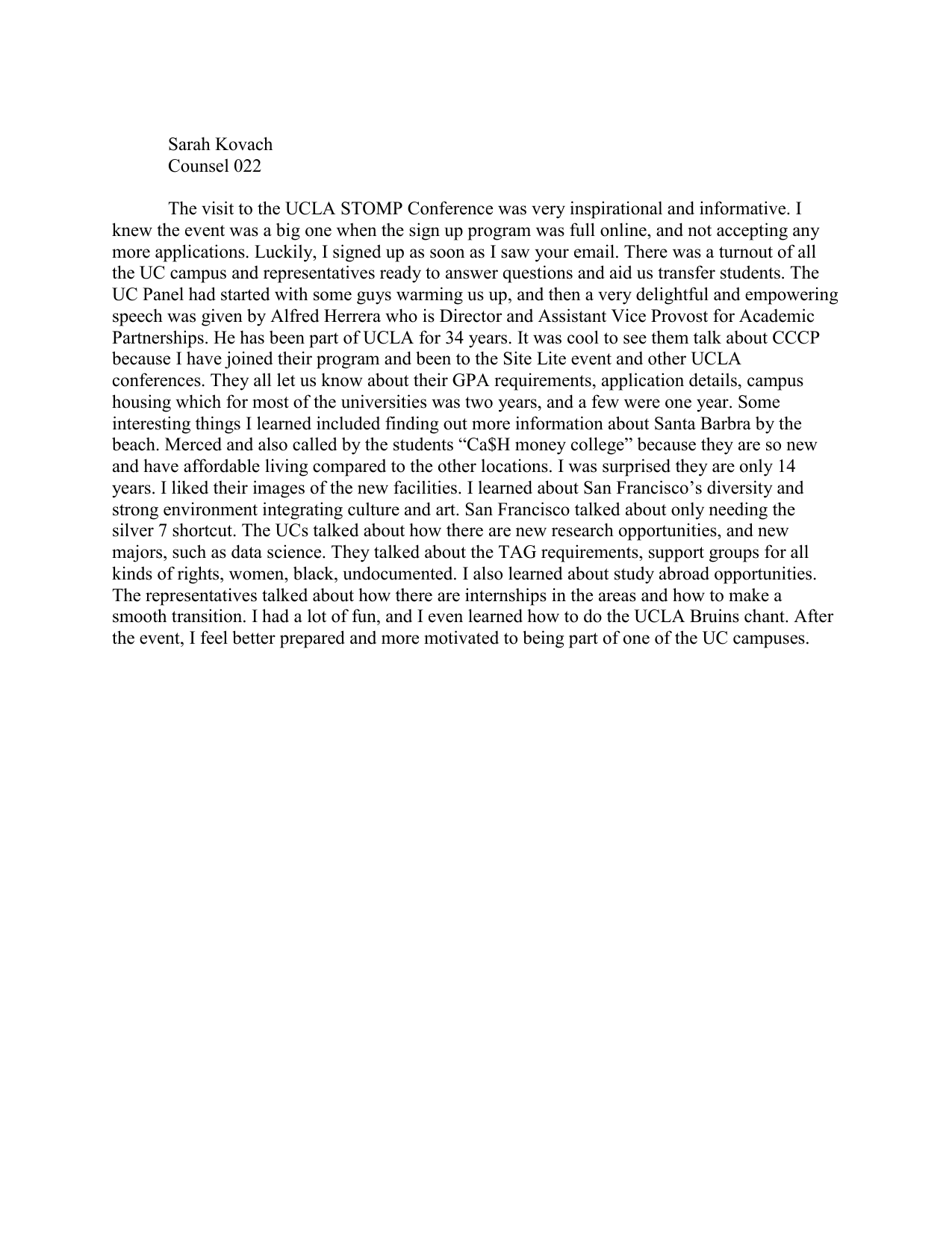 Sarah Kovach
Counsel 022
The visit to the UCLA STOMP Conference was very inspirational and informative. I
knew the event was a big one when the sign up program was full online, and not accepting any
more applications. Luckily, I signed up as soon as I saw your email. There was a turnout of all
the UC campus and representatives ready to answer questions and aid us transfer students. The
UC Panel had started with some guys warming us up, and then a very delightful and empowering
speech was given by Alfred Herrera who is Director and Assistant Vice Provost for Academic
Partnerships. He has been part of UCLA for 34 years. It was cool to see them talk about CCCP
because I have joined their program and been to the Site Lite event and other UCLA
conferences. They all let us know about their GPA requirements, application details, campus
housing which for most of the universities was two years, and a few were one year. Some
interesting things I learned included finding out more information about Santa Barbra by the
beach. Merced and also called by the students "Ca$H money college" because they are so new
and have affordable living compared to the other locations. I was surprised they are only 14
years. I liked their images of the new facilities. I learned about San Francisco's diversity and
strong environment integrating culture and art. San Francisco talked about only needing the
silver 7 shortcut. The UCs talked about how there are new research opportunities, and new
majors, such as data science. They talked about the TAG requirements, support groups for all
kinds of rights, women, black, undocumented. I also learned about study abroad opportunities.
The representatives talked about how there are internships in the areas and how to make a
smooth transition. I had a lot of fun, and I even learned how to do the UCLA Bruins chant. After
the event, I feel better prepared and more motivated to being part of one of the UC campuses.