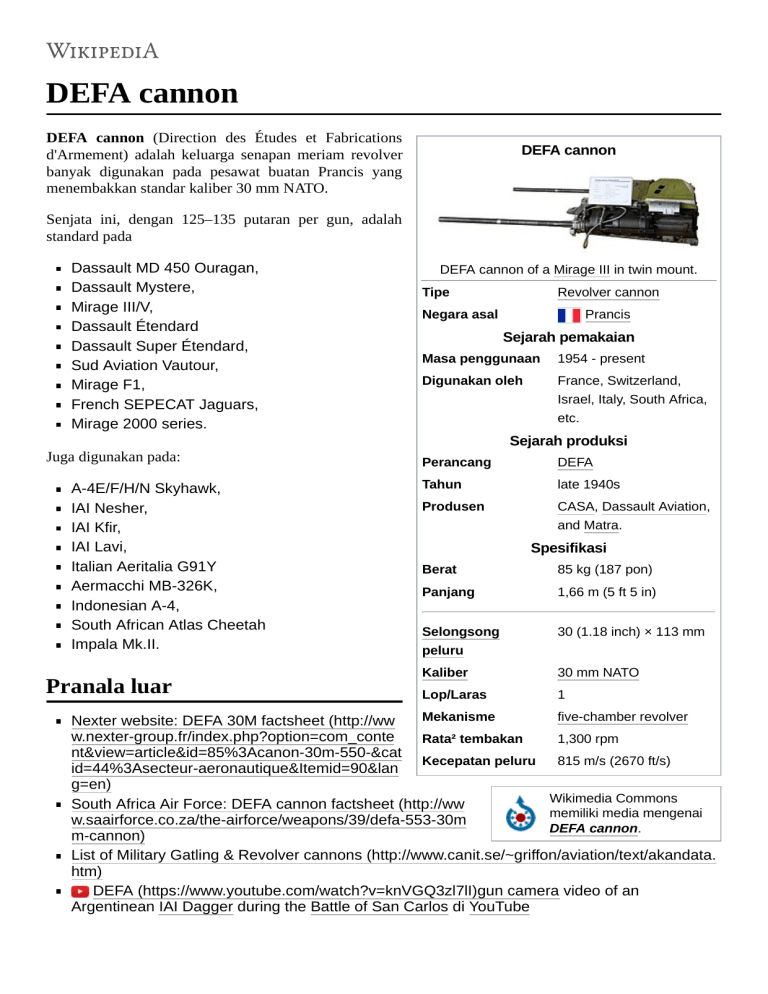 DEFA cannon
DEFA cannon (Direction des Études et Fabrications
d'Armement) adalah keluarga senapan meriam revolver
banyak digunakan pada pesawat buatan Prancis yang
menembakkan standar kaliber 30 mm NATO.
DEFA cannon
Senjata ini, dengan 125–135 putaran per gun, adalah
standard pada
Dassault MD 450 Ouragan,
Dassault Mystere,
Mirage III/V,
Dassault Étendard
Dassault Super Étendard,
Sud Aviation Vautour,
Mirage F1,
French SEPECAT Jaguars,
Mirage 2000 series.
DEFA cannon of a Mirage III in twin mount.
Tipe
Revolver cannon
Negara asal
Prancis
Sejarah pemakaian
Masa penggunaan
1954 - present
Digunakan oleh
France, Switzerland,
Israel, Italy, South Africa,
etc.
Sejarah produksi
Juga digunakan pada:
A-4E/F/H/N Skyhawk,
IAI Nesher,
IAI Kfir,
IAI Lavi,
Italian Aeritalia G91Y
Aermacchi MB-326K,
Indonesian A-4,
South African Atlas Cheetah
Impala Mk.II.
Pranala luar
Perancang
DEFA
Tahun
late 1940s
Produsen
CASA, Dassault Aviation,
and Matra.
Spesifikasi
Berat
85 kg (187 pon)
Panjang
1,66 m (5 ft 5 in)
Selongsong
peluru
30 (1.18 inch) × 113 mm
Kaliber
30 mm NATO
Lop/Laras
1
Mekanisme
five-chamber revolver
Nexter website: DEFA 30M factsheet (http://ww
w.nexter-group.fr/index.php?option=com_conte
Rata² tembakan
1,300 rpm
nt&view=article&id=85%3Acanon-30m-550-&cat
Kecepatan peluru
815 m/s (2670 ft/s)
id=44%3Asecteur-aeronautique&Itemid=90&lan
g=en)
Wikimedia Commons
South Africa Air Force: DEFA cannon factsheet (http://ww
memiliki media mengenai
w.saairforce.co.za/the-airforce/weapons/39/defa-553-30m
DEFA cannon.
m-cannon)
List of Military Gatling & Revolver cannons (http://www.canit.se/~griffon/aviation/text/akandata.
htm)
DEFA (https://www.youtube.com/watch?v=knVGQ3zl7lI)gun camera video of an
Argentinean IAI Dagger during the Battle of San Carlos di YouTube
Diperoleh dari "https://id.wikipedia.org/w/index.php?title=DEFA_cannon&oldid=15169767"
Halaman ini terakhir diubah pada 7 Juni 2019, pukul 23.24.
Teks tersedia di bawah Lisensi Atribusi-BerbagiSerupa Creative Commons; ketentuan tambahan mungkin berlaku. Lihat
Ketentuan Penggunaan untuk lebih jelasnya.