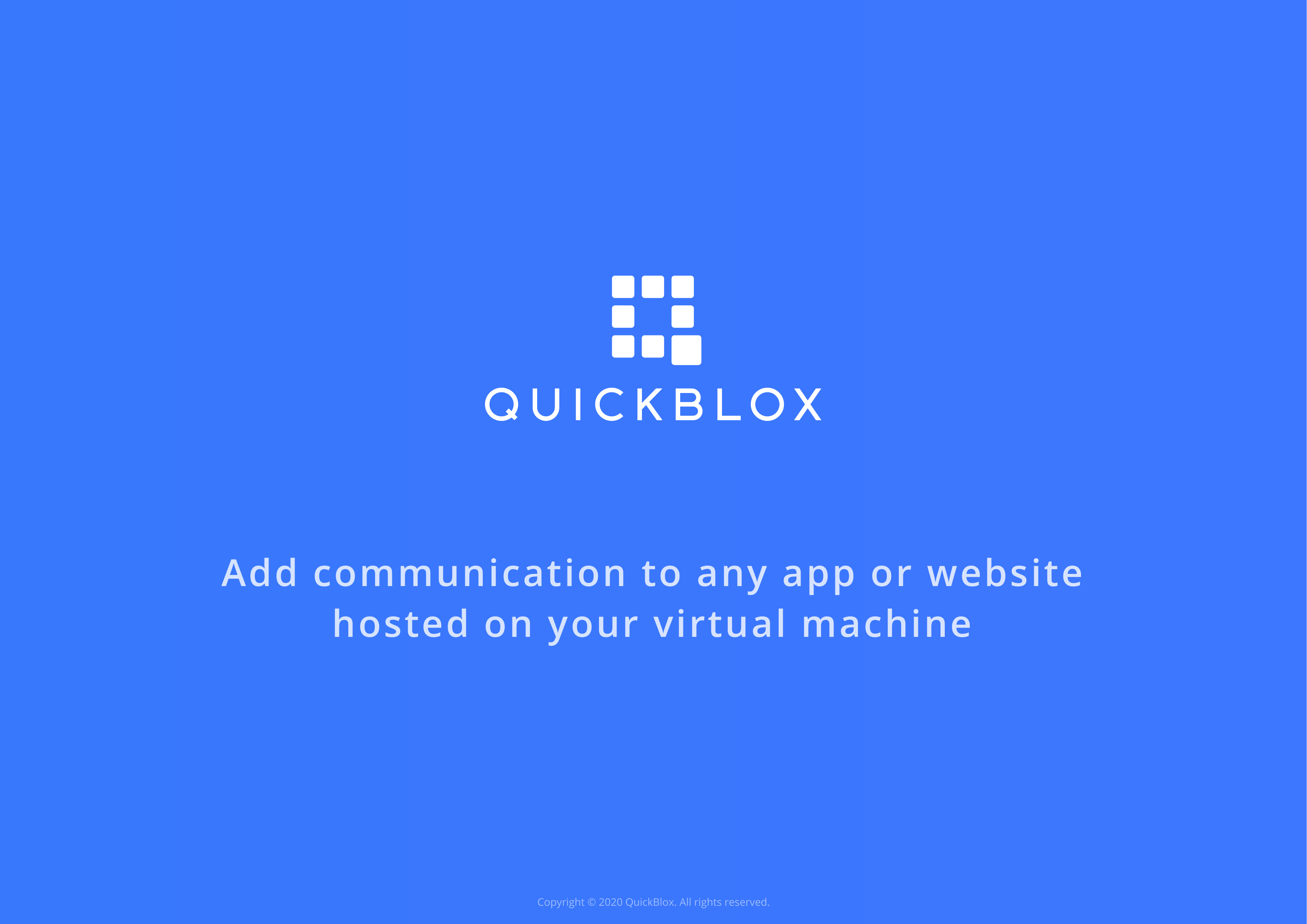 Add communication to any app or website
hosted on your virtual machine
Copyright © 2020 QuickBlox. All rights reserved.
Platform overview
Page 2 of 5
Functionality
Use our APIs or SDKs to make the communication app with the custom features including:
Private and group chats
Video calling
Conference calling
Chat-bots
Sign in
Push notifications
User authentification
Copyright © 2020 QuickBlox. All rights reserved.
Custom data storage
Platform overview
Page 3 of 5
Communication ready-made for your app
Privacy
Traceability
Security
Control
Ownership
within their
organisation
and administration
protected
communication
of users and data
of hosting, data,
users and services
Copyright © 2020 QuickBlox. All rights reserved.
Platform overview
Page 4 of 5
Where business meets benefits
⏳
Time-efficient
With an API or SDK, a complete solution is deployed in a matter of days while custom
development will take months of hard work.
🔌
Easy-to-integrate
Our SDKs and APIs are quick and straightforward to integrate with support and maintenance
provided by our team.
💰
Money-saving
No need to spend thousands of dollars for a custom solution when you can have an effective
communication tool at a fair subscription fee.
Messaging + Notifications = Key layers of every meaningful mobile app
Copyright © 2020 QuickBlox. All rights reserved.
Platform overview
Page 5 of 5
Use cases
Healthcare
Corporate &
Enterprise
Banking & Finance
Marketplaces &
e-commerce
Social Networking
For healthcare, nutrition and
QuickBlox's enterprise-ready
The finance industry depends
Connect your consumers with
A social network is impossible
fitness organization, QuickBlox
communication solutions will
on effective communication.
the best chat, messaging, and
without effective chat and
provides secure, reliable and
enhance corporate systems of
QuickBlox communication
communication platform
communication features. With
HIPAA-compliant
any scale and purpose.
products are used by banks
for your marketplace and
the QuickBlox products, social
communication solutions. Our
The feature-rich and highly
offering on premise mobile
e-commerce. Deep link to
networks are getting a
products guarantee effective
secure communication
wallets and customer care to
product pages, share product
complete communication
communication between all
products will meet all needs
innovative fintech startups
details and engage directly
stack with private and group
members of the healthcare
of your enterprise and can be
offering loans & peer-to-peer
with consumers in real-time.
chats, content sharing and
delivery chain with top-level
easily integrated into your
money transfers.
data protection and security.
existing ERP systems.
advanced security
mechanisms.
Copyright
Copyright ©
© 2019
2020 QuickBlox.
QuickBlox. All rights
rights reserved.
reserved.