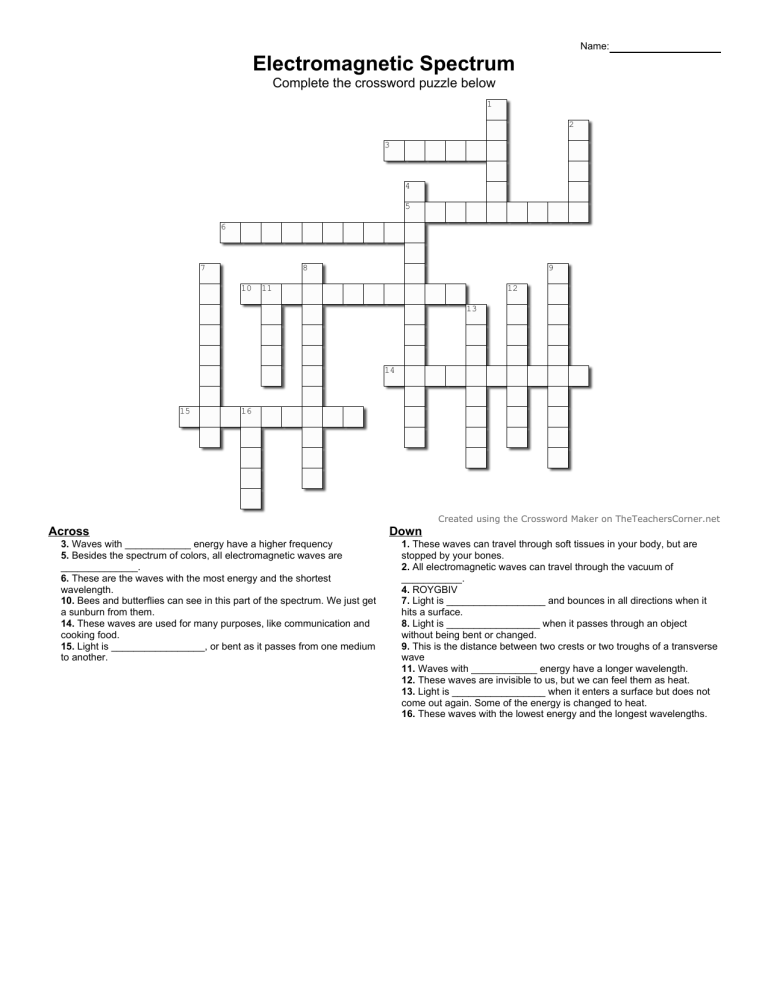 Name:
Electromagnetic Spectrum
Complete the crossword puzzle below
1
2
3
4
5
6
7
8
10
9
11
12
13
14
15
16
Created using the Crossword Maker on TheTeachersCorner.net
Across
3. Waves with ____________ energy have a higher frequency
5. Besides the spectrum of colors, all electromagnetic waves are
______________.
6. These are the waves with the most energy and the shortest
wavelength.
10. Bees and butterflies can see in this part of the spectrum. We just get
a sunburn from them.
14. These waves are used for many purposes, like communication and
cooking food.
15. Light is _________________, or bent as it passes from one medium
to another.
Down
1. These waves can travel through soft tissues in your body, but are
stopped by your bones.
2. All electromagnetic waves can travel through the vacuum of
___________.
4. ROYGBIV
7. Light is __________________ and bounces in all directions when it
hits a surface.
8. Light is _________________ when it passes through an object
without being bent or changed.
9. This is the distance between two crests or two troughs of a transverse
wave
11. Waves with ____________ energy have a longer wavelength.
12. These waves are invisible to us, but we can feel them as heat.
13. Light is _________________ when it enters a surface but does not
come out again. Some of the energy is changed to heat.
16. These waves with the lowest energy and the longest wavelengths.