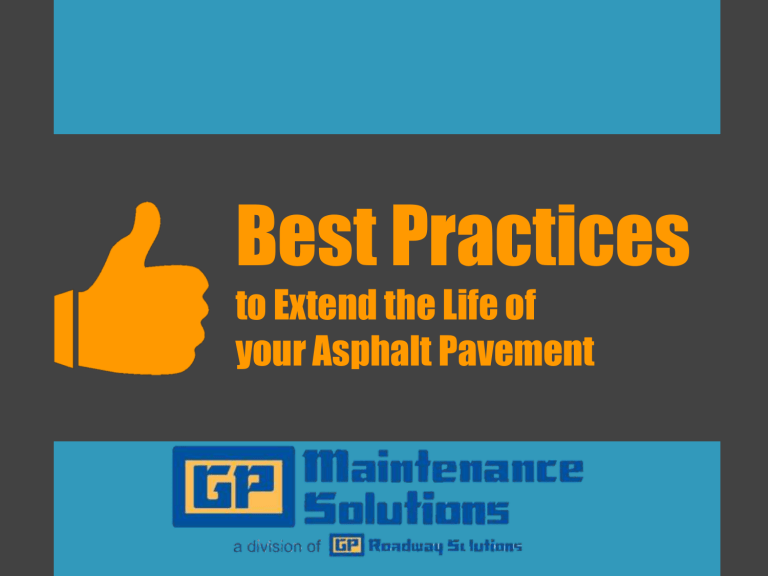 Best Practices
to Extend the Life of
your Asphalt Pavement
Asphalt pavement parking lots
add value to commercial and
residential lots.
Like any asset, it needs to be
maintained in order to keep its
value and extend its useful life.
Poorly maintained
asphalt pavement is
obvious to spot.
"
The number one fault
of agencies is that they
wait until a problem develops
before they address it."
Larry Galehouse, P.E., Director of the
National Center for Pavement Preservation (NCPP)
A typical asphalt
pavement can last
about 20 years.
Asphalt is made up of:
Rock,
Sand, &
Aggregates
Image Credit: Wikimedia Commons
+
Asphalt Cement
(the binder)
UV rays break down the binder.
Without the binder, the
aggregates, rock, and
sand loosen and rise to
the surface.
Exposure to oxygen
fades the color of your
pavement and makes it brittle.
Brittle asphalt pavements are
more likely to CRACK
under traffic load.
Cracks will allow water to
enter into the base course
and cause further damage
to carrying capacity.
Image Credit: yaybiscuits123
Alligator cracks indicate a base course
failure as the pavement continues to
crack.
Eventually, alligator cracks
turn into potholes.
Your asphalt pavement without
maintenance after 20+ years
And you might
think about
repaving.
But repaving is pricey;
$6 - $8 per square foot.
Image Credit: 401k
Not to mention the
inconvenience to your
tenants.
Pavement
Maintenance Plan
1.
This "do nothing" approach is
6 -10 times more costly
than having a maintenance plan.
Image credit: Wikipedia
An asphalt pavement
maintenance plan
will allow you to
re-allocate resources
to other initiatives.
Image Credit: Focx Photography
So let's put together a
pavement maintenance plan,
comprised of our best practices.
Best
Practices
SWEEPING &
BLOWING
Sweeping keeps your asphalt clean and
helps uncover any hidden cracks.
CONTROL
VEHICLE LOAD
If possible, have larger vehicles
access your property only if it is necessary.
Fix Drainage
Issues
Proper drainage will prevent water
from penetrating into your asphalt
pavement.
SEALCOATING
Like sunscreen, a sealcoat
prevents damage from the
elements.
Image Credit: Jeff Wilcox
A sealcoat also restores the
black color to your pavement.
You should sealcoat
your pavement
6-12 months
after it is installed.
And again every
3-5 years.
Sealcoating ranges from
40¢ - 60¢ per
square foot
Image Credit: hamad M
th
~1/10
the cost
of repaving
Image Credit: hamad M
CRACK
FILLING
Crack filling will prevent water from
entering the base course.
Crack fill ranges from $5 - $10 per
linear
foot.
filling ranges from
Crack
$5 - $10 per linear foot.
POTHOLE
PATCHING
Pothole patching prevents further
water damage to your base
course.
Pothole repair cost:
~$42/bucket
But it doesn't FIX your base course…
To repair a pothole,
the damaged area needs
to be cut out and replaced.
Image Credit: Mark Harrison
Heat is applied to the area
to soften the asphalt.
Image Credit: Mark Harrison
The heated area is then
removed and re-compacted.
Image Credit: Mark Harrison
Repair cost ranges from
$45 - $60 per pothole
based on several potholes per site.
Remove
Oil Spots
Oil spots softens asphalt,
weakening its load capacity.
Oil stain removers should be used
on relatively fresh stains.
Our product costs about
$28 per 32oz bottle.
Wait longer and you'll likely need to
cut out the damaged spot.
The longer you wait to
address a problem,
the more expensive
it is to fix.
That's why it's so important to have a
pavement maintenance plan.
Control load
Sweep & blow
Water drainage
Sealcoating
Crack filling
Pothole patching
Remove oil spots
We're here to help you
execute
the plan.
And answer any
questions you have.
Image Credit: Ethan Lofton
www.GPMaintenanceSolutions.com/blog
Visit our blog for educational information.
www.GPMaintenanceSolutions.com/blog
Subscribe
Mahalo!
Keep in touch.
Join our
email newsletter
and get updates about
new blog posts.
Mahalo!
Join us.
Click "Join us" to subscribe.