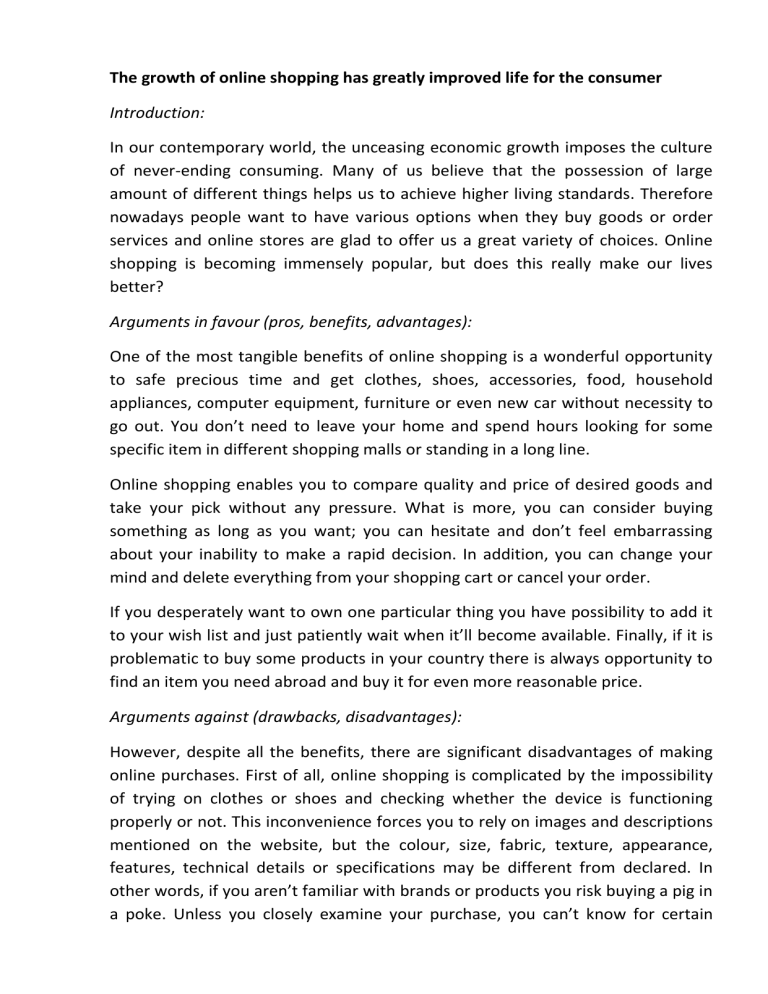 The growth of online shopping has greatly improved life for the consumer
Introduction:
In our contemporary world, the unceasing economic growth imposes the culture
of never-ending consuming. Many of us believe that the possession of large
amount of different things helps us to achieve higher living standards. Therefore
nowadays people want to have various options when they buy goods or order
services and online stores are glad to offer us a great variety of choices. Online
shopping is becoming immensely popular, but does this really make our lives
better?
Arguments in favour (pros, benefits, advantages):
One of the most tangible benefits of online shopping is a wonderful opportunity
to safe precious time and get clothes, shoes, accessories, food, household
appliances, computer equipment, furniture or even new car without necessity to
go out. You don't need to leave your home and spend hours looking for some
specific item in different shopping malls or standing in a long line.
Online shopping enables you to compare quality and price of desired goods and
take your pick without any pressure. What is more, you can consider buying
something as long as you want; you can hesitate and don't feel embarrassing
about your inability to make a rapid decision. In addition, you can change your
mind and delete everything from your shopping cart or cancel your order.
If you desperately want to own one particular thing you have possibility to add it
to your wish list and just patiently wait when it'll become available. Finally, if it is
problematic to buy some products in your country there is always opportunity to
find an item you need abroad and buy it for even more reasonable price.
Arguments against (drawbacks, disadvantages):
However, despite all the benefits, there are significant disadvantages of making
online purchases. First of all, online shopping is complicated by the impossibility
of trying on clothes or shoes and checking whether the device is functioning
properly or not. This inconvenience forces you to rely on images and descriptions
mentioned on the website, but the colour, size, fabric, texture, appearance,
features, technical details or specifications may be different from declared. In
other words, if you aren't familiar with brands or products you risk buying a pig in
a poke. Unless you closely examine your purchase, you can't know for certain
what exactly you'll get. There is always a good chance you can be completely
stunned after opening your long-awaited package. Another drawback is frequent
delivery delays especially if you buy goods from overseas. In this case you have to
deal with international shipping services and sometimes it is difficult to track your
order's current location not to mention the dubious pleasure of waiting weeks or
even months for your parcel. Supposing you wanted to buy an anniversary gift,
what would you do with a late shipment? In addition, your purchase may be
damaged, defective or just not meet your expectations. Therefore one of the
most crucial decisions is the choice of a retailer. Most commonly you'll need to
pay the shipping cost back, if you want to return a product. But what to do if you
paid the whole price of your purchase in advance? That's why it is very important
to buy goods in trustworthy online stores with a reliable customer service. It will
allow you to have a solid assurance that your money will be refunded and you
won't be a victim of scammers. Finally, if the process of looking for and buying
products makes you extremely thrilled and overjoyed, it may be the symptoms of
an addiction. And don't forget that happiness after receiving your packages can
be completely ruined after checking your account history.
Conclusion (summary):
In any event, online shopping is constantly evolving and improving which ensures
an increase of online buyers in the future. Knowing all pros and cons of online
shopping we are aware of all risks and can just enjoy this extremely easy and
convenient way of buying goods.