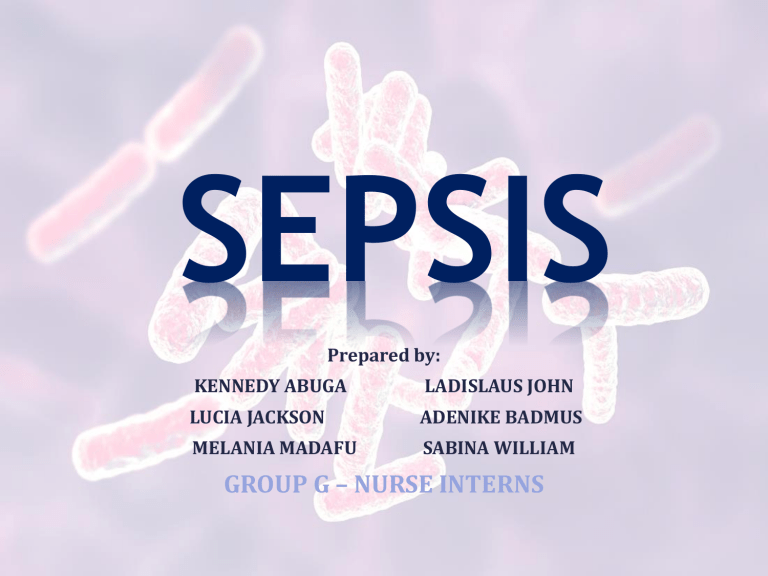 SEPSIS
Prepared by:
KENNEDY ABUGA
LADISLAUS JOHN
LUCIA JACKSON
ADENIKE BADMUS
MELANIA MADAFU
SABINA WILLIAM
GROUP G – NURSE INTERNS
*
*
*31.5 million cases
worldwide and 5.3 million
deaths are caused by
sepsis.
*
*Between 2013 and 2016
*Sepsis had 1754 – 1789
(95%, per 100,000 person)
*Severe sepsis had 295 - 310
(95% per 100,000 person)
*
*Sepsis incidence is higher in
Blantyre, Malawi, than in highincome settings, from where
the majority of sepsis incidence
data are derived.
*older adults,
*pregnant women,
*weak immune systems,
*children aged 1 and below, and
persons with chronic conditions
(i.e., such as diabetes, kidney or
lung disease, or cancer)
*
*Infections such as
pneumonia, abdominal
infection, kidney infection,
blood stream infection,
appendicitis meningitis.
*
*In hospital, infections may
be caused by intravenous
lines, surgical incision,
urinary catheter, and bed
sores.
*
*In Community: people who have
severe compromised immunity
like HIV, drugs that suppress
immune system like steroids and
those used to prevent rejection
of transplant organs.
*
Sepsis;
*Change in mental status
*Systolic pressure of less than or
equal to 100 mmHg and
*Respiratory rate higher than or
equal to 22 breaths per minute.
*
Septic shock;
*Need for medication to
maintain blood pressure greater
than or equal to 65 mmHg.
*High levels of lactic acid in
blood.
*
*w
*Urine tests
*Blood tests
*Imaging tests such as chest Xray, CT scan.
*
Community;
*Hand washing.
*Safe preparation of food
*Improving sanitation and water quality
and availability.
*Providing access to vaccines,
appropriate nutrition, including
breastfeeding for newborns.
*
Hospitals;
*Infection prevention and control
programmes and teams.
*Effective hygiene practices and
precautions, including
hand
hygiene, along with a
clean, well-functioning
environment and equipment.
*
*Appropriate antibiotic treatment of
infection, including reassessment
for optimization.
*Prompt seeking of medical care.
*Early detection of sepsis signs and
symptoms.
*
*Antibiotics (ceftriaxone,
azithromycin, ciprofloxacin,
vancomycin, and
piperacillin stops the
growth of bacteria)
*
*Antiviral or antifungal
medications.
*Intravenous fluids.
*Oxygen therapy.
*Surgery.
*
*Kidney failure
*Gangrene
*Osteomyelitis
*Permanent lung damage
*Permanent brain damage
*Weak immunity
*Endocarditis
*
*To avoid sepsis, people should be
educated and not neglect the
preventive measures of infection.
*
*Airway maintenance, early
administration of broad spectrum
antibiotics, fluid resuscitation and
blood pressure maintenance are
the components of early goaldirected therapy that should be
carried out for better survival
chance of patients.
*
*Acute interventions; Thorough
clinical investigation for infectious
source identification, fluid or tissue
sampling and microbiological workup. Additionally, removal, drainage
or debridement of the infectious
source.
*
*Post-acute interventions;
Observe regular re-assessment
of antimicrobial therapy,
administration of antimicrobials
for an adequate but not
prolonged duration.
*
*w
Thank You!