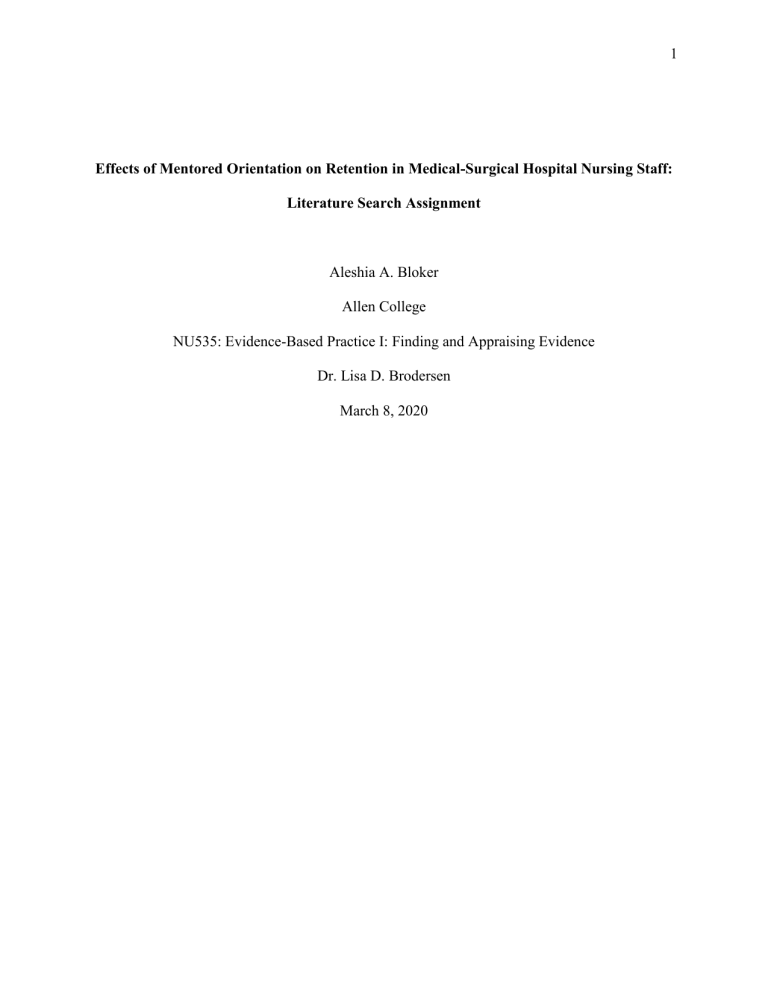 1
Effects of Mentored Orientation on Retention in Medical-Surgical Hospital Nursing Staff:
Literature Search Assignment
Aleshia A. Bloker
Allen College
NU535: Evidence-Based Practice I: Finding and Appraising Evidence
Dr. Lisa D. Brodersen
March 8, 2020
2
Determine Search Terms
PICOT Question
In medical-surgical hospital nursing staff (P), how does mentored orientation (I) compared with
usual practice (multiple preceptors) (C) affect nurse retention (O) within one year (T)?
This PICOT question is an intervention question
Search Terms Table
Search
Term
Categories
Key Words
Synonyms,
acronyms,
related
terms
CINAHL
Subject
Headin
gs
MEDLINE
MeSH Terms
P:
I
:
C
:
O
T
"medicalmentor*
precept*
Retention*
1 year
surgical*", "hospital
nursing staff"
med-surg., acute
advisor, trainer, Mentor*,
retain, keep,
12 months, 365
care, registered nurse orientator,
teacher, same as attrition
days,
RN, LPN, BSN,
instructor, precept previous column (related) turnmedical center,
over/transfer
infirmary, clinic,
(antonyms),
health care
employment,
institution,
personnel
infirmary, sanitarium
loyalty
MM "Nursing Staff, MM
MM
MM "Personnel I left off so not
Hospital", MM
"Mentorship"
"Preceptorship" Retention",
to narrow
"Medical-Surgical
MM "Personnel search too
Nursing"
Turnover", MM much
"Personnel
Loyalty"
MM "Nursing Staff, MM
MM
MM "Personnel Left off to not
Hospital", MM
"Mentorship"
"Preceptorship" Turnover", MM overly narrow
"Medical-Surgical
"Personnel
Nursing"
Loyalty"
3
Determine Databases to Search
I met with Ruth Yan EdD, the director of Library Services at Allen College twice. The first
time was on February 7th for 45 minutes and the second time was February 20th for 30
minutes. I met with her in person both times and have called and emailed her once in
between.
Through meeting with her and knowledge gained in class I determined the best databases
to search for my topic were Cinahl, Medline, and Nursing Reference Center Plus (R. Yan
(personal communication, February 20, 2020). When searching these I found Nursing
Reference Center Plus difficult to narrow down my search field appropriately. I also did not
find MeSH terms for my topics. This was later confirmed in the discussion wrap up posted
by L. D. Brodersen (personal communication, March 6, 2020) for module 2.2. She stated,
"NRC is not a first-line database for doing a comprehensive search of the literature to
identify external evidence to answer a PICOT question…" Hartzell & Fineout-Overholt
(2019) also stressed that searching Cinahl and Medline exemplified a thorough subjectspecific database search of peer-reviewed research and synthesis of that data. In
conclusion, I finalized on searching Cinahl and Medline.
In my first meeting with Dr. Yan she reviewed how to search using MeSH terms, how to use
exclusion/inclusion, how to save/email searches/sources. I did learn a few useful things
but felt it didn't meet the assignment requirements (personal communication, February 7,
2020). This meeting gave me confidence that I was applying what I had learned in class
correctly. She also suggested that the Med-surg part of my PICOT question might be too
specific. I informed her I had added that because when talking to Allen and Waverly
Hospitals they had said not having it was too broad for them to pull data on. I suggested
4
that maybe my article research could stay broad while my local data could be more specific
to where I want to apply it -she agreed. Yet, as I did my searches, I was able to find a
sufficient amount of quality articles with the medical-surgical descriptor included. Overall I
feel that
Construct, Execute, and Document Search Strategy and Results
Establish Inclusion/Exclusion Criteria
During my search I used nursing staff, medical-surgical, articles in English, articles with full
text retrievable for free (or low cost), academic journal/publication, and peer-reviewed as
my inclusion criteria. As I review the literature I will also use articles that looked at data for
at least 1 year and research that was applied to RN, LPN, BSN nurses. For my exlusions
used for the search I used articles published before 2004. When reviewing the articles I
also plan to exclude expert opinion articles, studies outside the hospital setting, ancillary
staff, and loss of staff due to transfers within the hospital (Fineout-Overholt & Stillwell,
2019). I originally planned on excluding qualitative or descriptive single studies (or
metasynthesis of these) but as I read the articles a lot of them are of this type because the
mentoring topic is a little harder to quantify. As a result I may need to use these to help
provide reference or description to the data.
5
Conduct Document Search
Medline Search with Meaningful Limiters
Cinahl Search with Meaningful Limiters
6
7
Select Appropriate Evidence to Read
Figure 1
8
Figure 2
Obtain Appropriate Literature
9
I have submitted 3 interlibrary loan requests for literature from my Cinahl and Medline
searches described above. I also plan to submit request for six more after doing the
ancestry searching. In reviewing the references of my retrieved articles I have found
fifteen ancestry articles so far.
10
References
Fineout-Overholt, E., & Stillwell, S. B. (2019). Chapter 2: Asking compelling clinical
questions. In B. M. Melnyk and E. Fineout-Overholt. Evidence-based practice in nursing
and healthcare: A guide to best practice (4th ed., pp. 46). Philadelphia, PA: Wolters
Kluwer.
Hartzell, T.A., & Fineout-Overholt, E. (2019). Finding relevant evidence to answer clinical
questions. In B. M. Melnyk & E. Fineout-Overholt (Eds.), Evidence-based practice in
nursing and healthcare: A guide to best practice (4th ed., pp. 55-92), Philadelphia, PA:
Wolters Kluwer.