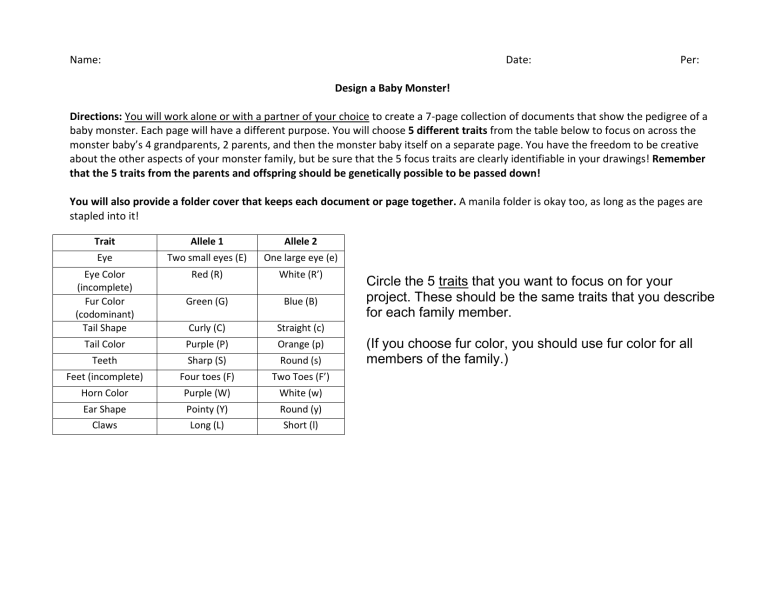 Name:
Date:
Per:
Design a Baby Monster!
Directions: You will work alone or with a partner of your choice to create a 7-page collection of documents that show the pedigree of a
baby monster. Each page will have a different purpose. You will choose 5 different traits from the table below to focus on across the
monster baby's 4 grandparents, 2 parents, and then the monster baby itself on a separate page. You have the freedom to be creative
about the other aspects of your monster family, but be sure that the 5 focus traits are clearly identifiable in your drawings! Remember
that the 5 traits from the parents and offspring should be genetically possible to be passed down!
You will also provide a folder cover that keeps each document or page together. A manila folder is okay too, as long as the pages are
stapled into it!
Trait
Allele 1
Allele 2
Eye
Two small eyes (E)
One large eye (e)
Eye Color
(incomplete)
Fur Color
(codominant)
Tail Shape
Red (R)
White (R')
Green (G)
Blue (B)
Curly (C)
Straight (c)
Tail Color
Purple (P)
Orange (p)
Teeth
Sharp (S)
Round (s)
Feet (incomplete)
Four toes (F)
Two Toes (F')
Horn Color
Purple (W)
White (w)
Ear Shape
Claws
Pointy (Y)
Long (L)
Round (y)
Short (l)
Circle the 5 traits that you want to focus on for your
project. These should be the same traits that you describe
for each family member.
(If you choose fur color, you should use fur color for all
members of the family.)
Page
Number
Requirements
Title: Monster Baby
Cover Project
Your name, date, period
Birth Certificate:
Page
Include name, birthdate,
1
gender
Family Tree: Create
Page family tree with names
2
of 2 Parents, 4
Grandparents & Baby
Physical Description:
Include physical
descriptions of six family
members, choosing 5
Page
traits from the list below.
3
(Should be the same 5
traits across all
members). Do not
include Baby
Alleles List: Make a
numbered list showing
the dominant or
recessive alleles for the
Page
six traits chosen for each
4
family member (should
be the same 5 traits
across all members). Do
not include Baby.
Planning
5 Punnett Squares:
Show the possible
combinations and
Page crosses of your chosen
5
traits for the Baby. List
the % possibilities of
genotype and phenotype
for each Punnett Square.
Baby's Genetic Traits:
List the Baby's genetic
traits, then add the
Page names of family
6
members who possess
the same trait. Provided
by Teacher (Check
1/7/20)
Summary Paragraph:
Explain Baby's physical
Page
appearance and
7
interesting details about
their life and family
You will also be graded on:
- Creativity: Display of creativity used while making the project, including extra details,
pictures, drawings
- Appearance: General appearance of final project (is it readable and neat? Is it easy to see
the 5 traits displayed?)
- Format: Included title, name, date, class, teacher's name, and page numbers
- Completion: Are all requirements met for each page?