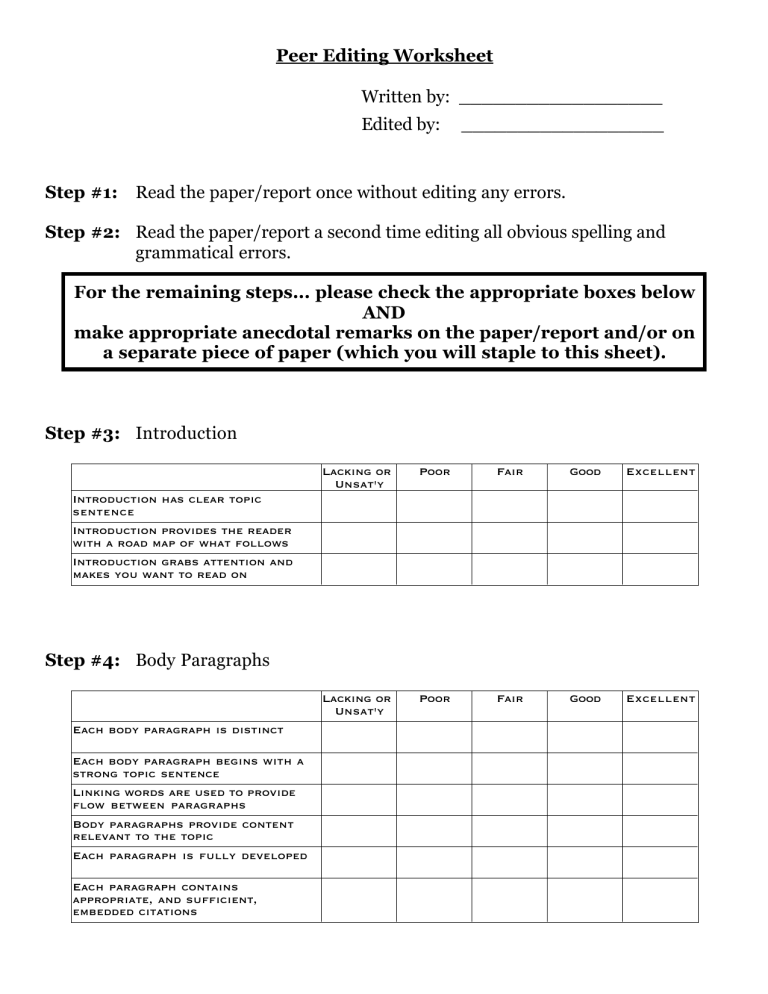 Peer Editing Worksheet
Written by: __________________
Edited by:
Step #1:
__________________
Read the paper/report once without editing any errors.
Step #2: Read the paper/report a second time editing all obvious spelling and
grammatical errors.
For the remaining steps... please check the appropriate boxes below
AND
make appropriate anecdotal remarks on the paper/report and/or on
a separate piece of paper (which you will staple to this sheet).
Step #3: Introduction
Lacking or
Unsat'y
Poor
Fair
Good
Excellent
Lacking or
Unsat'y
Poor
Fair
Good
Excellent
Introduction has clear topic
sentence
Introduction provides the reader
with a road map of what follows
Introduction grabs attention and
makes you want to read on
Step #4: Body Paragraphs
Each body paragraph is distinct
Each body paragraph begins with a
strong topic sentence
Linking words are used to provide
flow between paragraphs
Body paragraphs provide content
relevant to the topic
Each paragraph is fully developed
Each paragraph contains
appropriate, and sufficient,
embedded citations
Step #5: Conclusion
Lacking or
Unsat'y
Poor
Fair
Good
Excellent
Lacking or
Unsat'y
Poor
Fair
Good
Excellent
Conclusion restates topic sentence
Conclusion provide (very) brief
summary
Conclusion reaches forward to
suggest future prospects
Conclusion provides effective
closure
Conclusion leaves you thinking
about the issue and wanting to
learn more/do something
Step #6: Presentation and Style
Writer avoids past tense
Writer avoids passive voice
writer avoids contractions, slang,
cliches and other examples of
informal language
quotations are properly formatted
written report does not exceed 5
pages
Properly constructed works cited
attached
STEP #7: Summary Remarks
After you have completed the above questions (and annotations) please write a concise
paragraph, for the writer, outlining your overall thoughts about his/her written report.