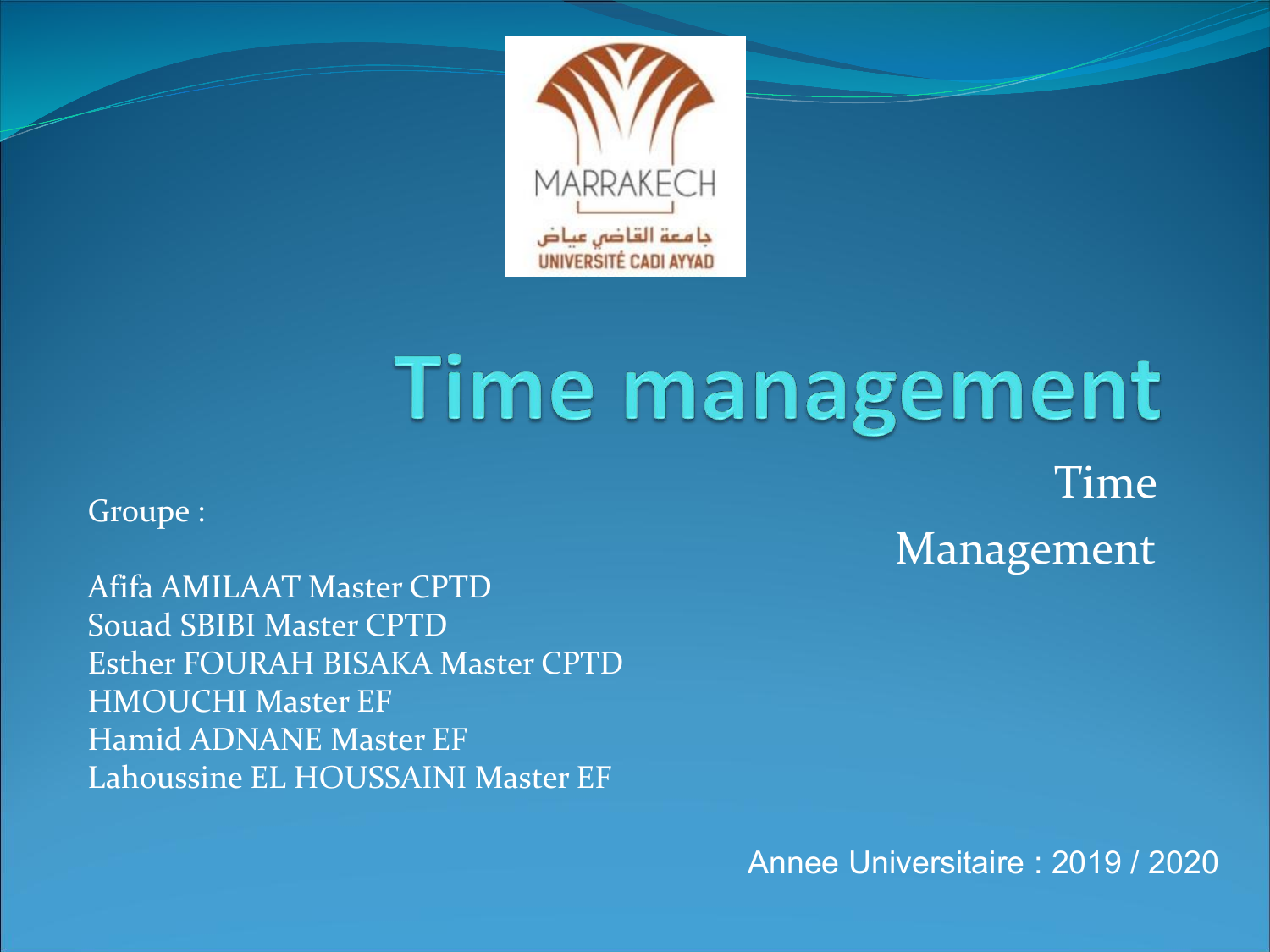 Groupe :
Afifa AMILAAT Master CPTD
Souad SBIBI Master CPTD
Esther FOURAH BISAKA Master CPTD
HMOUCHI Master EF
Hamid ADNANE Master EF
Lahoussine EL HOUSSAINI Master EF
Time
Management
Annee Universitaire : 2019 / 2020
Time
 The concept of time is self-evident. An hour consists
of a certain number of minutes, a day of hours and a
year of days.
 Various dictionaries have defined time :
 The measured or measurable period during which an
action, process or condition exists or continues
(Webster's Collegiate Dictionary).
Management
 Is the processus of getting things done through others
with the help of some basic activities like:
 Planning.
 Organiging
 Directing
 Coordinating
 Controlling
The priority Matrix
Eisenhaouer
Time management skills
 Time management skills include a variety of skills that
will help you manage your time well.
 Some of the most important time management skills
include:
Organization
 Staying organized can help you maintain a clear
picture of what you need to complete and when. Being
well-organized might mean maintaining an up-to-date
calendar, being able to locate certain documents easily,
having a tidy environment and taking detailed,
diligent notes.
Prioritization
 Assessing each of your responsibilities for priority is
key in being a good time manager. There are many
ways to prioritize what you need to accomplish. You
might decide to complete fast, simple items followed
by longer, more involved ones. Alternatively, you might
prioritize your tasks starting with the most timesensitive, or a combination of both.
Goal-setting
 The first step to becoming a good time manager. Goal-
setting allows you to clearly understand your end goal
and what exactly you need to prioritize to accomplish
it. Setting both short and long-term goals can lead to
success in your career.
Communication.
• Developing strong communication skills can
allow you to make your plans and goals clear to
people you work with. It also allows you to
delegate, which lets you focus on completing the
most important, relevant tasks that align with
your goals.
Planning.
• A fundamental part of time management is
planning. Being efficient in planning out your day,
meetings and how you will accomplish things will
help you stick to your schedule.
Delegation.
• Being
a good time manager means only completing
work that will help you and your company
accomplish goals. While this skill is most often done
by managers, you can also practice delegating tasks if
you are managing a project. While it can often be
difficult to say "no" when someone asks you to do
something at work, it is important to practice having
boundaries to manage your time well and ultimately
accomplish your goals.
Stress management.
• When
practicing good time management, you
should also be attentive to your mental
health. Handling stress in a positive way can help
you stay motivated and perform well when going
through your schedule. You might do this by
including small breaks throughout your day, or by
rewarding yourself in small ways as you accomplish
tasks.
Taking time to develop each of these skills will help you
organize your daily work, whether you are in a job,
searching for a job or trying to develop a new
competency.
How can we manage time?
1- Eat your frog!
Mark Twain once said:
"Eat a live frog first thing
in the morning and nothing
worse will happen to you
the rest of the day."
2- « Think on paper »
"Memory is the scribe of
the soul."
Aristotle
3- Eliminate the low
value activities
4- Develop the habits
of success
 Do the list
 The kind of habits
 Estimate time wasted
determine your life.
 Focus on the most
important tasks.
 Set priorities.
 Decision to change the
situation
5- Use the power of
positives affirmations
6- Visualisation
 pass the conscious mind
 See yourself as a kind of
to your subconscious
mind
 Repeat the positives
affirmations
person who manage well
his time.
 Your mental picture has
a powerful effect on your
behavior.