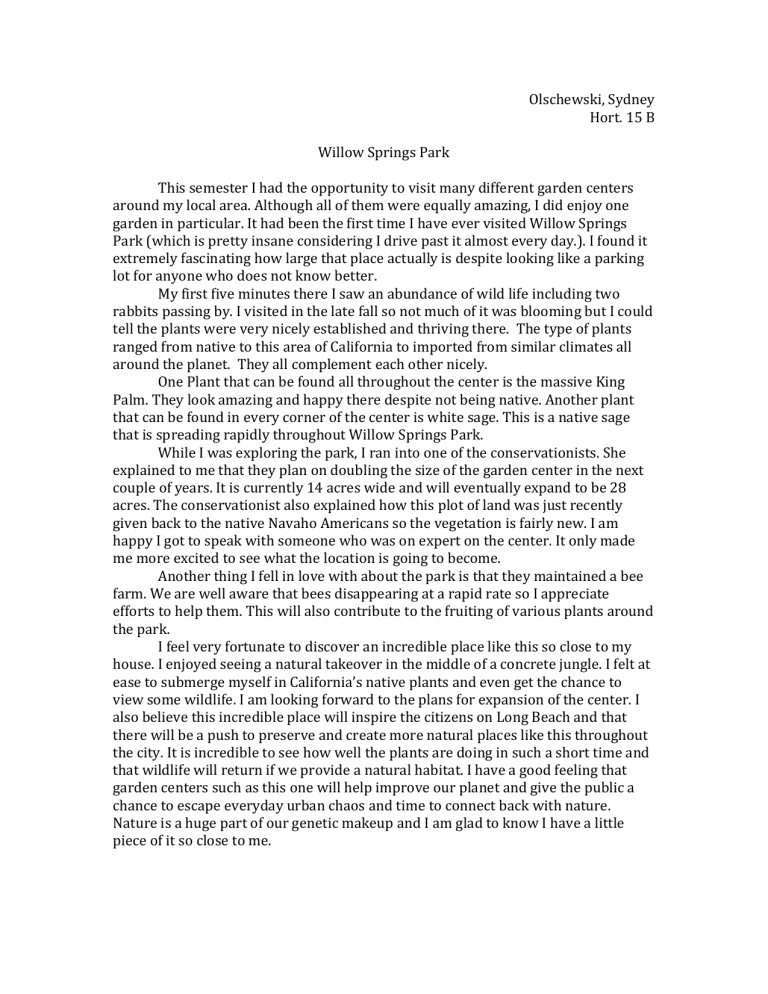 Olschewski, Sydney
Hort. 15 B
Willow Springs Park
This semester I had the opportunity to visit many different garden centers
around my local area. Although all of them were equally amazing, I did enjoy one
garden in particular. It had been the first time I have ever visited Willow Springs
Park (which is pretty insane considering I drive past it almost every day.). I found it
extremely fascinating how large that place actually is despite looking like a parking
lot for anyone who does not know better.
My first five minutes there I saw an abundance of wild life including two
rabbits passing by. I visited in the late fall so not much of it was blooming but I could
tell the plants were very nicely established and thriving there. The type of plants
ranged from native to this area of California to imported from similar climates all
around the planet. They all complement each other nicely.
One Plant that can be found all throughout the center is the massive King
Palm. They look amazing and happy there despite not being native. Another plant
that can be found in every corner of the center is white sage. This is a native sage
that is spreading rapidly throughout Willow Springs Park.
While I was exploring the park, I ran into one of the conservationists. She
explained to me that they plan on doubling the size of the garden center in the next
couple of years. It is currently 14 acres wide and will eventually expand to be 28
acres. The conservationist also explained how this plot of land was just recently
given back to the native Navaho Americans so the vegetation is fairly new. I am
happy I got to speak with someone who was on expert on the center. It only made
me more excited to see what the location is going to become.
Another thing I fell in love with about the park is that they maintained a bee
farm. We are well aware that bees disappearing at a rapid rate so I appreciate
efforts to help them. This will also contribute to the fruiting of various plants around
the park.
I feel very fortunate to discover an incredible place like this so close to my
house. I enjoyed seeing a natural takeover in the middle of a concrete jungle. I felt at
ease to submerge myself in California's native plants and even get the chance to
view some wildlife. I am looking forward to the plans for expansion of the center. I
also believe this incredible place will inspire the citizens on Long Beach and that
there will be a push to preserve and create more natural places like this throughout
the city. It is incredible to see how well the plants are doing in such a short time and
that wildlife will return if we provide a natural habitat. I have a good feeling that
garden centers such as this one will help improve our planet and give the public a
chance to escape everyday urban chaos and time to connect back with nature.
Nature is a huge part of our genetic makeup and I am glad to know I have a little
piece of it so close to me.