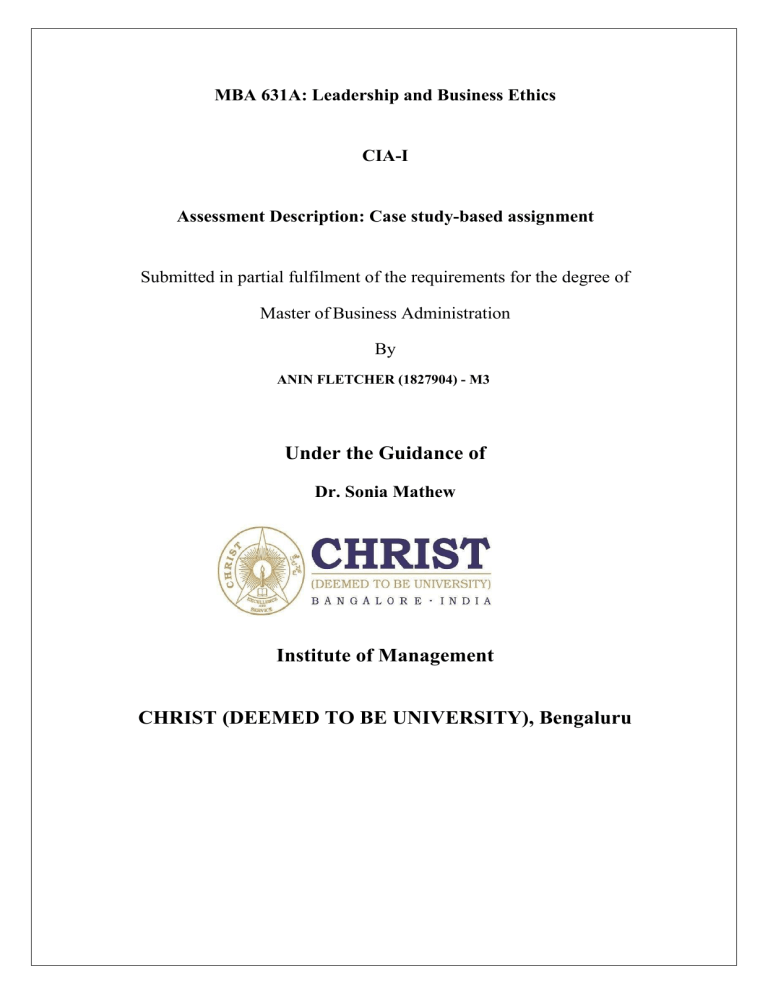 MBA 631A: Leadership and Business Ethics
CIA-I
Assessment Description: Case study-based assignment
Submitted in partial fulfilment of the requirements for the degree of
Master of Business Administration
By
ANIN FLETCHER (1827904) - M3
Under the Guidance of
Dr. Sonia Mathew
Institute of Management
CHRIST (DEEMED TO BE UNIVERSITY), Bengaluru
Summary: Narayana Hrudayalaya (NH) in India is a first cardiovascular medical clinic fasten
with numerous majors amazingly, has changed heart care in India. It has a neat market share
of nearly 15 percent in the cardiovascular division, has effectively finished 70,000 medical
procedures and has offered insurance to more than 4,000,000 farmers through its
microinsurance system. Its maxim, "minding with empathy," is its directing way of thinking
and the telemedicine arrange set up at NH has had the option to give treatment to more than
50,000 cardiovascular patients free of charge. The case features the development of NH and
the vision of its founders, and blueprints his desire and struggles in looking to build the quantity
of cardiovascular medical procedures played out every day. Today, NH gives far reaching
medicinal services to a large number of patients' by specialists at a reasonable expense. The
medical clinic has scholarly exercises also. It gives training projects to keep up greatness and
make up for the shortage in the post graduates. It's a practical method to defeat in a brief
timeframe the lack in pros that likewise lead to decreasing human services costs.
They will sustain by, flexibly estimating supplies, supported by the huge number of providers
and sellers give a decent chance to move the expenses towards minimizing cost on the way.
Development system, to connect and serve masses has end up being effective in spite of the
fact that it includes high dangers. The half breed methodology (government and hospital) for
financing finances both inside and by getting supports has end up being successful in
continuing the necessary business. The key union between the association and the
administration permitting it, to utilize high, costly innovation foundation has demonstrated its
achievement in telemedicine. The announcement of the protection program for farmers under
a government umbrella has most likely determined the venture to progress. The activity
technique of expanding proficiency and quality can profoundly support a sensible progression
of work. Bringing in highly qualified professionals is very important, while saving costs
through having fixed salaries, and increasing working hours is risky yet it can reach the masses.
The drive the leader like Dr, Shetty has is very important for the sustenance. He has the qualities
like the good will power along with a passion for helping masses in which the following powers
are working against: Human ego and selfishness, which a leader should not have and he
removed that and staff satisfaction was a primary goal for him. Everyone in his life played their
part to mould him to be a successful leader in managing the hospital.
Starting with those who initially inspired him and contributed to shaping the outline of his
vision:
•
The professionals at the hospital in London, who have nourished his professional
experience and made him powerful enough to manage the hospital and also other
doctors who came under him.
•
Having a common good vision with a peer, and then being able to realize it, must have
armed Dr. Shetty with the experience and courage to dream bigger.
•
Mother Theresa, who had more to do with the spiritual aspect of his entrepreneurship.
It isn't to be disregarded that a few people around Dr. Shetty, who shared the nobleness
of his vision could be pioneers in their littler circles since it would have been inconceivable for
him to accomplish such alone; - The top administration of the NH, which demonstrated high
coordination levels. - The 90 heart specialists and cardiologists, who work extended periods,
yet get essential pay rates. - The work force in the administration who cheerfully gave NH the
required foundation and possibly political inclusion. This is conceivable because of the
leadership nature of Dr. Shetty.
Dr. Shetty could get a high appraising as a pioneer. His characteristics and expert foundation
are his crude tools that hugely helped him to detail the methodologies that best served his vision
and his administration. The development procedure which was quick made the environment
(providers and wellbeing workforce) searches forward for managing NH. This encouraged the
door for the administration to show signs of improvement deals and smoothed their work
process. The marketing procedure, focusing on the poor which forms the larger part of the
populace as well as pulling in the rich individuals the two local people and outsiders as. That
is the way they could subsidize their tasks that basically planned for serving poor people.
The business decent variety at the NH is to be exceptionally valued, not just since it
establishes a reciprocal substance for the administration arrangement, yet in addition since it
concedes enough space for other various pioneers to appear up.
His leadership style reflected in his training was in the acceptable of the considerable number
of partners:
- All patients; local people and outsiders.
- Competitors, who were taken as partnerships.
- Suppliers
- Employees; regulatory, restorative and steady staff.
- Government, which couldn't start such an endeavour.
Along these lines of doing things helped him acquire regard and trust of the encompassing
which expanded his capacity significantly more. Most impressively, we see how one person's
dream can change the world. We prefer to think of Dr. Shetty's achievements as a smile that
has become an attitude, not the laughter that would vanish soon afterward.
Dr. Shetty is a genuine leader for pioneers; he is a visionary, yet a sensible one. With a
completely clear vision for the future, excitement to change, and trust in the achievement
dependent on a strong foundation of wide range information and forcefully characterized
achievement plan. He has a solid charm, and his character was formed by an overall
presentation to various pioneers and societies. This case gave us the amount he was eager to
pass his experience and accomplishment to other people; he was attempting to prepare nearby
people who could turn into the future heads of his NH venture.
Viable, proficient, and incredible activities the executives: His vision was to furnish better
nature of wellbeing administrations with moderate costs. Numerous variables were added to
settle this vision on ground. NH plays out a high number of methodology (around multiple
times more than other Indian medical clinics) to diminish the expense. According to porter's
model, they can haggle better manages providers since they make an incredible haggling
purchaser because of their notoriety, obtaining huge measures of merchant's items and twining
with another emergency clinic.
NH was pioneer in taking social and moral duty toward their network, much more they
trigger others, for example, government, organizations what's more, relationship to take their
first advance toward helping their locale, this was plainly shown by creating protection
program to support poor individuals, examining request wherever even provincial territory
through telemedicine, at times farer through versatile facility, giving better consideration
through preparing specialists and attendants, having beneficent association with office inside
medical clinic to help organizing assets to those patients who are in need.
This case study helps us to know how Dr. Shetty and other seniors' manager like him act like
leaders and them playing as transformational leadership and that concept of leadership can be
greatly seen. This enables them to distinguish between transformational and transactional
leadership. This case study helps to identify elements like empathy and sensitivity in the
hospital industry. This case study gave insights on the reasons for a person to become a
transformational leader. Drive to learn along with drive to bond with the needy is been
discussed. Concepts like Maslow's need hierarchy, Herzberg's motivation-hygiene theory and
the four-drive theory of Lawrence and Nohria has been touched upon in the case study.