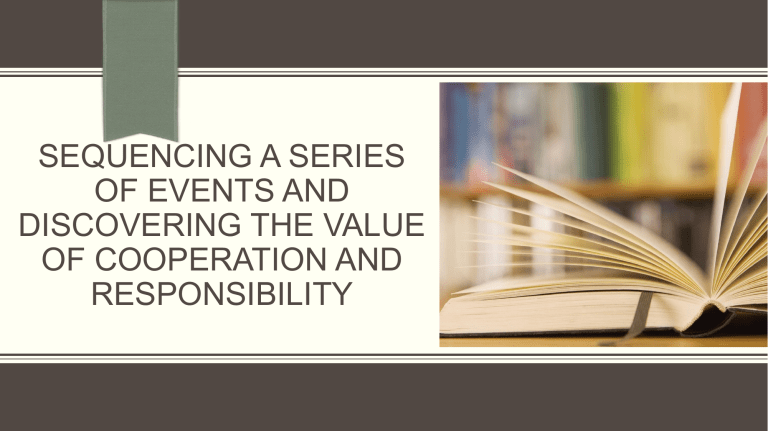 SEQUENCING A SERIES
OF EVENTS AND
DISCOVERING THE VALUE
OF COOPERATION AND
RESPONSIBILITY
LEARNING COMPETENCY
1. Sequence a series of events mentioned
in the text listened to (EN7LC-IV-d-2.7)
2. Discover through Philippine literature the
need to work cooperatively and responsibly
in today's global village. (EN7LT-IV-d-6)
CLAP AND STOMP IF YOU CAN RELATE
1. I answer back and shout to my mother if I am
scolded.
2. I help household chores at home.
3. I feel angry and irritated if my mother can't give
the things I want.
4. I love my parents.
5. I fight with my siblings.
WORDS TO KNOW
SHAWL
a square or oblong
usually fabric garment
or wrapper used
especially as a
covering for the head
or shoulders.
WORDS TO KNOW
KNIT
To form by interlacing
yarn or thread in a
series of connected
loops with needles
WORDS TO KNOW
FRAIL
Physically weak
WORDS TO KNOW
DEFT
Characterized by
facility and skill
WORDS TO KNOW
EKE
To get with great
difficulty
WORDS TO KNOW
WHIMPER
To make a low whining or
broken sound
WORDS TO KNOW
IRK
To make weary,
irritated or bored
WORDS TO KNOW
CALLOUS
Being hardened or
thickened; feeling or
showing no sympathy
WORDS TO KNOW
HERCULEAN
Extra-ordinary;
requiring great
strength or effort.
A SHAWL FOR ANITA
COMPREHENDING THE TEXT
1. Who narrated the story?
2. Who were the characters in the story?
3. Among the characters, who was so frail but never stopped working?
4. In what way did the mother stay the same?
5. Why did Anita keep on requesting something from the mother despite her mother's
condition?
6. If you were Anita, would you do the same by requesting something from your mother
despite of your mother's condition?
7. How is responsibility shown in the text?
8. How important is cooperation in the family?
9. What specific changed happened to the narrator?
10. What is the theme of the text?
ACTIVITY: GROUP TASK
GROUP I- Writing a letter to a mother
GROUP II- Role Play: Siblings showing love to
their parents
GROUP III- Offering a song to mother
GROUP IV- Role Play: Showing mother's sacrifices
for her family
GROUP V- Pantomime: Acting out the text
following it sequence or events.
RUBRICS: WRITING A LETTER TO A MOTHER
5
4
3
Mechanics
No errors in
mechanics
Have one or two
errors in mechanics
The mechanics in
writing are not
observed
Purpose/Organization
Purpose and
organization of the
letter are clearly
shown
Readers can't
determine its
organization and
purpose
There seems to be no
organization and
purpose
RUBRICS: ROLE PLAYING/ACTING/PANTOMIME
5
4
3
Gestures/Movements
Dramatic;
Gestures/movement
s help the story and
didn't distract from
the story
Some gestures were
too small. Movements
were distracting rather
than helpful
Little to no movement
Story
Definite beginning,
middle and ending
Story has one or more
missing details
No story was
developed.
RUBRICS: OFFERING A SONG TO A MOTHER
5
4
3
Lyrics
The song lyrics are
outstanding; the
lyrics hit its purpose;
the message is
conveyed
The song lyrics are
good
The song lyrics do not
connect to its purpose
Tempo and Melody
Melody and rhythm
were perfectly
performed
Tempo and rhythm are The song is choppy
sometimes unclear or with a mix of tempo;
slow
melody of the song is
unclear
EVALUATION: ½ CROSSWISE
1. Draw a shawl. On the cloth,
list down events that happened
in the story. Make sure that the
sequence of events is properly
arranged.