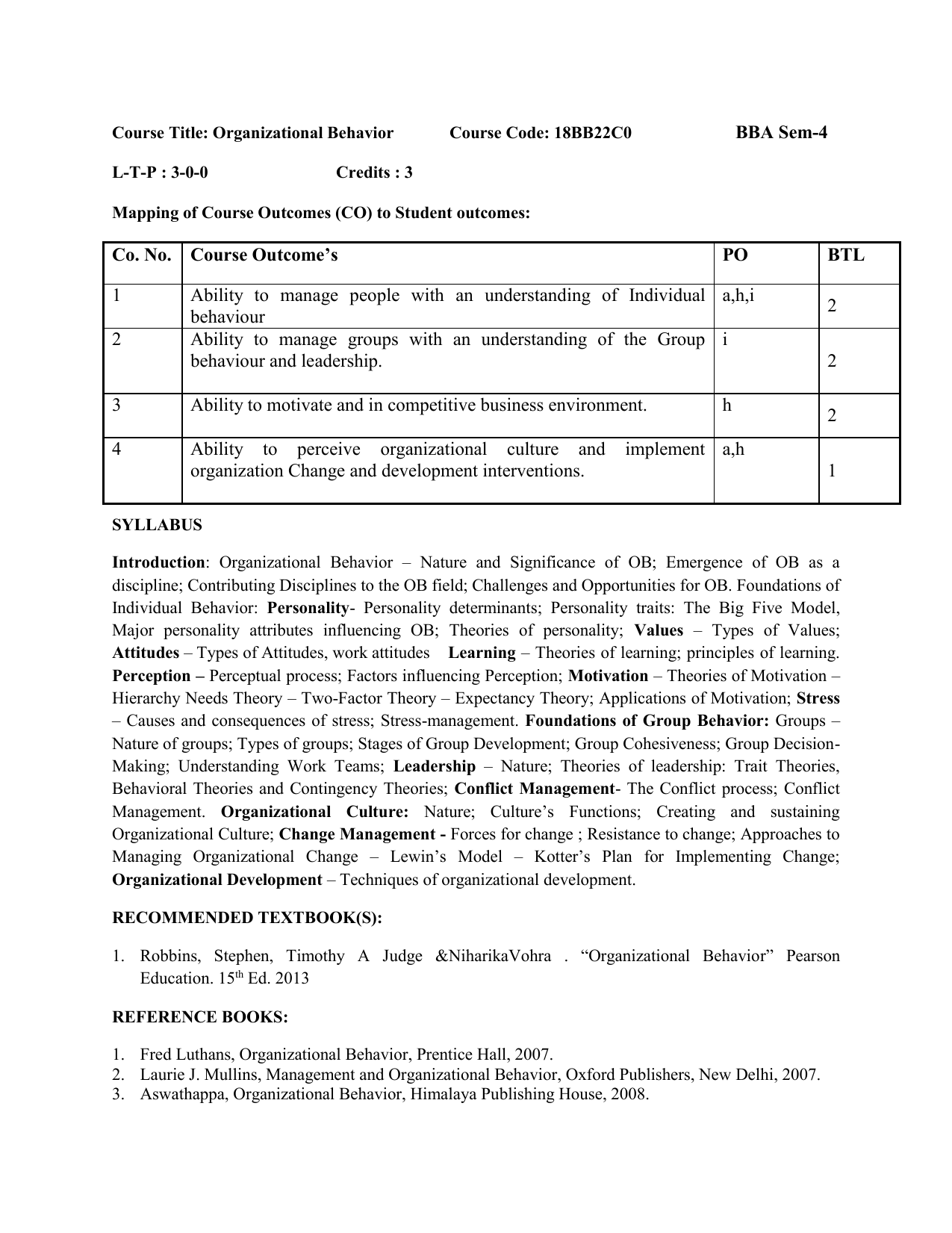 Course Title: Organizational Behavior
L-T-P : 3-0-0
BBA Sem-4
Course Code: 18BB22C0
Credits : 3
Mapping of Course Outcomes (CO) to Student outcomes:
Co. No.
Course Outcome's
1
Ability to manage people with an understanding of Individual a,h,i
behaviour
Ability to manage groups with an understanding of the Group i
behaviour and leadership.
2
PO
3
Ability to motivate and in competitive business environment.
4
Ability to perceive organizational culture and
organization Change and development interventions.
h
BTL
2
2
2
implement a,h
1
SYLLABUS
Introduction: Organizational Behavior – Nature and Significance of OB; Emergence of OB as a
discipline; Contributing Disciplines to the OB field; Challenges and Opportunities for OB. Foundations of
Individual Behavior: Personality- Personality determinants; Personality traits: The Big Five Model,
Major personality attributes influencing OB; Theories of personality; Values – Types of Values;
Attitudes – Types of Attitudes, work attitudes Learning – Theories of learning; principles of learning.
Perception – Perceptual process; Factors influencing Perception; Motivation – Theories of Motivation –
Hierarchy Needs Theory – Two-Factor Theory – Expectancy Theory; Applications of Motivation; Stress
– Causes and consequences of stress; Stress-management. Foundations of Group Behavior: Groups –
Nature of groups; Types of groups; Stages of Group Development; Group Cohesiveness; Group DecisionMaking; Understanding Work Teams; Leadership – Nature; Theories of leadership: Trait Theories,
Behavioral Theories and Contingency Theories; Conflict Management- The Conflict process; Conflict
Management. Organizational Culture: Nature; Culture's Functions; Creating and sustaining
Organizational Culture; Change Management - Forces for change ; Resistance to change; Approaches to
Managing Organizational Change – Lewin's Model – Kotter's Plan for Implementing Change;
Organizational Development – Techniques of organizational development.
RECOMMENDED TEXTBOOK(S):
1. Robbins, Stephen, Timothy A Judge &NiharikaVohra . "Organizational Behavior" Pearson
Education. 15th Ed. 2013
REFERENCE BOOKS:
1. Fred Luthans, Organizational Behavior, Prentice Hall, 2007.
2. Laurie J. Mullins, Management and Organizational Behavior, Oxford Publishers, New Delhi, 2007.
3. Aswathappa, Organizational Behavior, Himalaya Publishing House, 2008.