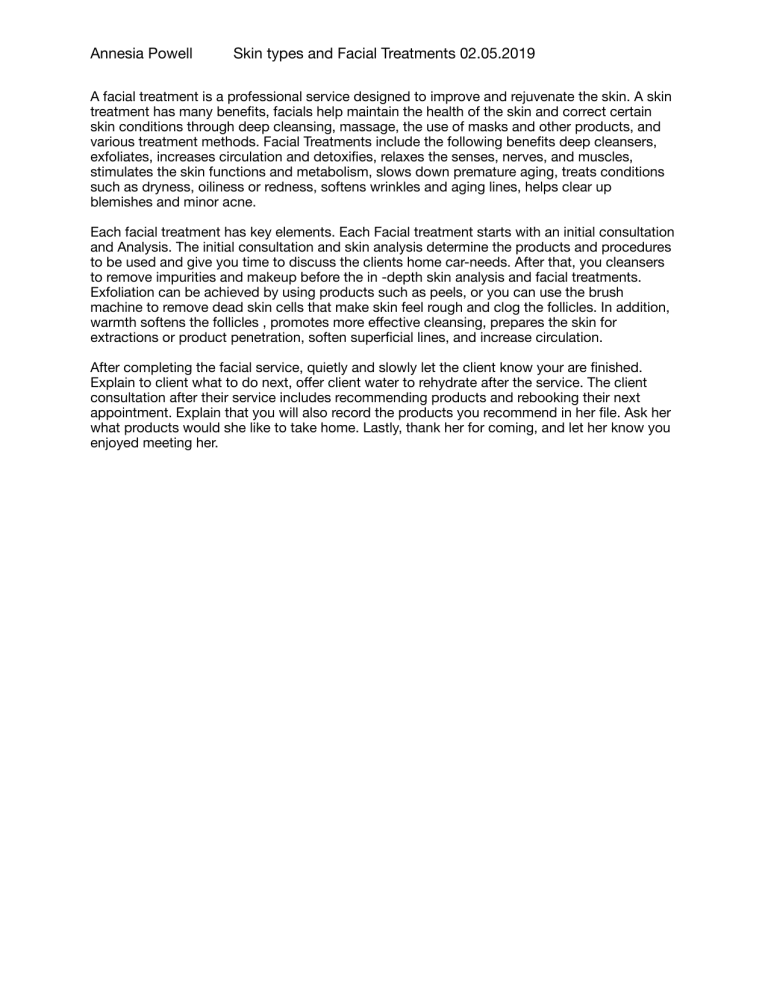 Annesia Powell
Skin types and Facial Treatments 02.05.2019
A facial treatment is a professional service designed to improve and rejuvenate the skin. A skin
treatment has many benefits, facials help maintain the health of the skin and correct certain
skin conditions through deep cleansing, massage, the use of masks and other products, and
various treatment methods. Facial Treatments include the following benefits deep cleansers,
exfoliates, increases circulation and detoxifies, relaxes the senses, nerves, and muscles,
stimulates the skin functions and metabolism, slows down premature aging, treats conditions
such as dryness, oiliness or redness, softens wrinkles and aging lines, helps clear up
blemishes and minor acne.
Each facial treatment has key elements. Each Facial treatment starts with an initial consultation
and Analysis. The initial consultation and skin analysis determine the products and procedures
to be used and give you time to discuss the clients home car-needs. After that, you cleansers
to remove impurities and makeup before the in -depth skin analysis and facial treatments.
Exfoliation can be achieved by using products such as peels, or you can use the brush
machine to remove dead skin cells that make skin feel rough and clog the follicles. In addition,
warmth softens the follicles , promotes more effective cleansing, prepares the skin for
extractions or product penetration, soften superficial lines, and increase circulation.
After completing the facial service, quietly and slowly let the client know your are finished.
Explain to client what to do next, offer client water to rehydrate after the service. The client
consultation after their service includes recommending products and rebooking their next
appointment. Explain that you will also record the products you recommend in her file. Ask her
what products would she like to take home. Lastly, thank her for coming, and let her know you
enjoyed meeting her.