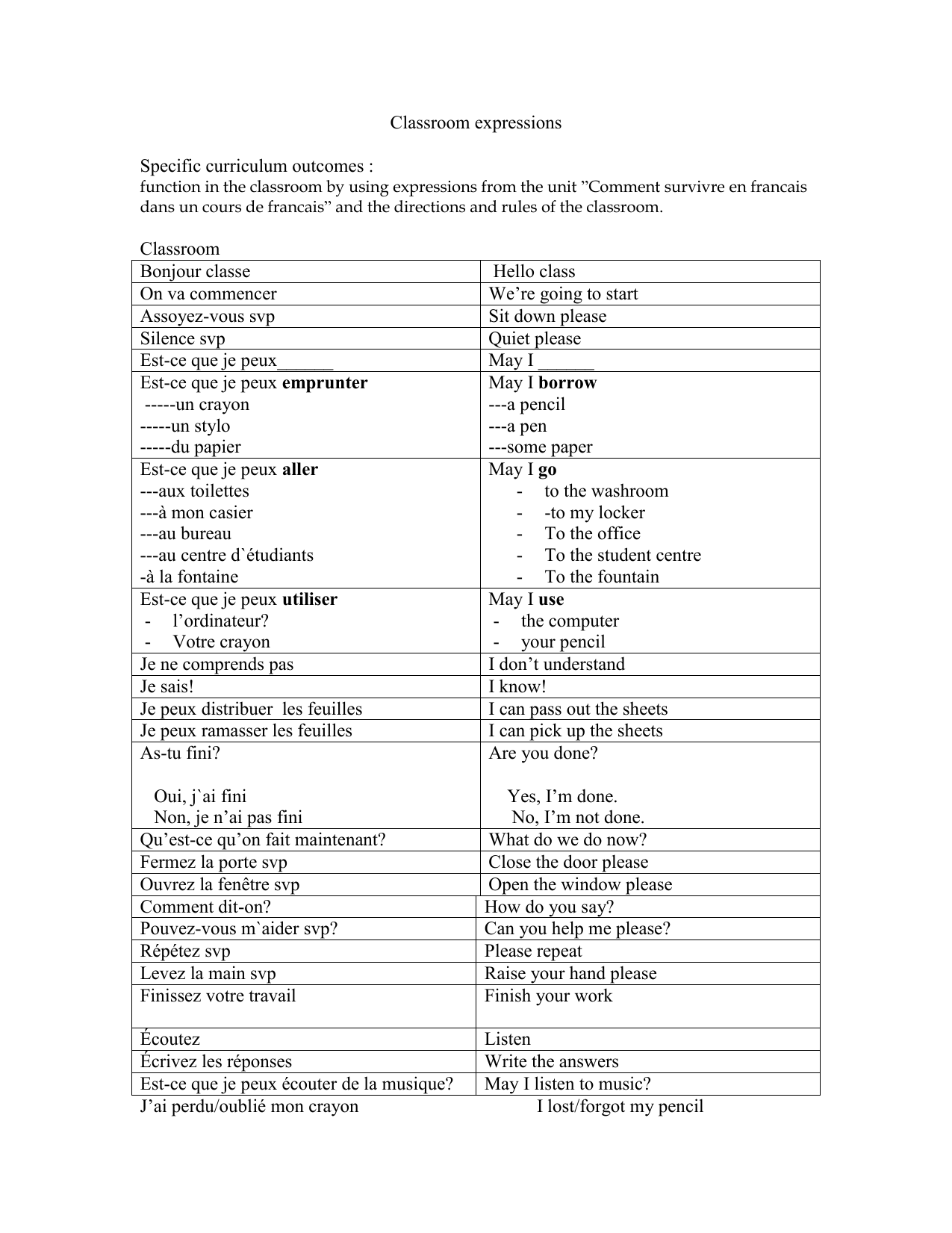 Classroom expressions
Specific curriculum outcomes :
function in the classroom by using expressions from the unit "Comment survivre en francais
dans un cours de francais" and the directions and rules of the classroom.
Classroom
Bonjour classe
On va commencer
Assoyez-vous svp
Silence svp
Est-ce que je peux______
Est-ce que je peux emprunter
-----un crayon
-----un stylo
-----du papier
Est-ce que je peux aller
---aux toilettes
---à mon casier
---au bureau
---au centre d`étudiants
-à la fontaine
Est-ce que je peux utiliser
- l'ordinateur?
- Votre crayon
Je ne comprends pas
Je sais!
Je peux distribuer les feuilles
Je peux ramasser les feuilles
As-tu fini?
Hello class
We're going to start
Sit down please
Quiet please
May I ______
May I borrow
---a pencil
---a pen
---some paper
May I go
- to the washroom
- -to my locker
- To the office
- To the student centre
- To the fountain
May I use
- the computer
- your pencil
I don't understand
I know!
I can pass out the sheets
I can pick up the sheets
Are you done?
Oui, j`ai fini
Non, je n'ai pas fini
Qu'est-ce qu'on fait maintenant?
Fermez la porte svp
Ouvrez la fenêtre svp
Comment dit-on?
Pouvez-vous m`aider svp?
Répétez svp
Levez la main svp
Finissez votre travail
Yes, I'm done.
No, I'm not done.
What do we do now?
Close the door please
Open the window please
How do you say?
Can you help me please?
Please repeat
Raise your hand please
Finish your work
Écoutez
Écrivez les réponses
Est-ce que je peux écouter de la musique?
J'ai perdu/oublié mon crayon
Listen
Write the answers
May I listen to music?
I lost/forgot my pencil
Core French
Little dialogues and class discussions
Traduisez et par la suite pratiquez le dialogue avec un(e) partenaire.
#1
M Desormeau : Bonjour Classe!
Classe : Bonjour M Desormeau
M Desormeau : Ok classe, on va commencer.
Assoyez-vous svp!
Nina et Kalli : tee-hee, blah blah
M Desormeau : Benson et Marta! Silence SVP!
Nina et Kalli : Désolé M Desormeau.
#2
Doanya : M Desormeau, as-tu vu Twin guy?
M Desormeau : Twin guy, il est en classe.
Noah & Matt : Non, l'autre Twin guy!
M Desormeau : Ohhh, il est à la fontaine.
Il a mangé de la colle et il est malade.
#3
Quelle heure est-il?
-Regarde l'horloge!
Quelle est la date?
-Regarde au tableau.
Quel temps fait-il?
-Regards par la fenêtre.
Grrrr
-haha
A faire :
-un diagramme de la classe démontrant au moins dix(10) objets qu'on trouve dans la
class.
-2 affiches montrant une expression de classe chaque.
Description/adjectifs
J`ai 14 ans.
Quel âge as-tu?/Quel âge avez-vous?
J`ai les cheveux bruns et les yeux noirs
Il /elle est
-intelligent(e)
-gentille-sportif(sportive)
-fort(e)
Beau(belle)
J`habite à Halifax
Où habites-tu?/ Où habitez-vous?
Mon sport préféré est___________
Mon émission de télévision préférée est
________
Mon chanteur/chanteuse préféré(é)
est________
Verbes/phrases with classroom vocabulary
Crayon/stylo
Ecrire(to write) J'ecris avec mon crayon (I write with my pencil)
Emprunter(to borrow) Est-ce que je peux emprunter un crayon?
Tailler(to sharpen)-Est-ce que je peux tailler mon crayon?
Oublier(to forget) J' ai oublié mon crayon
.