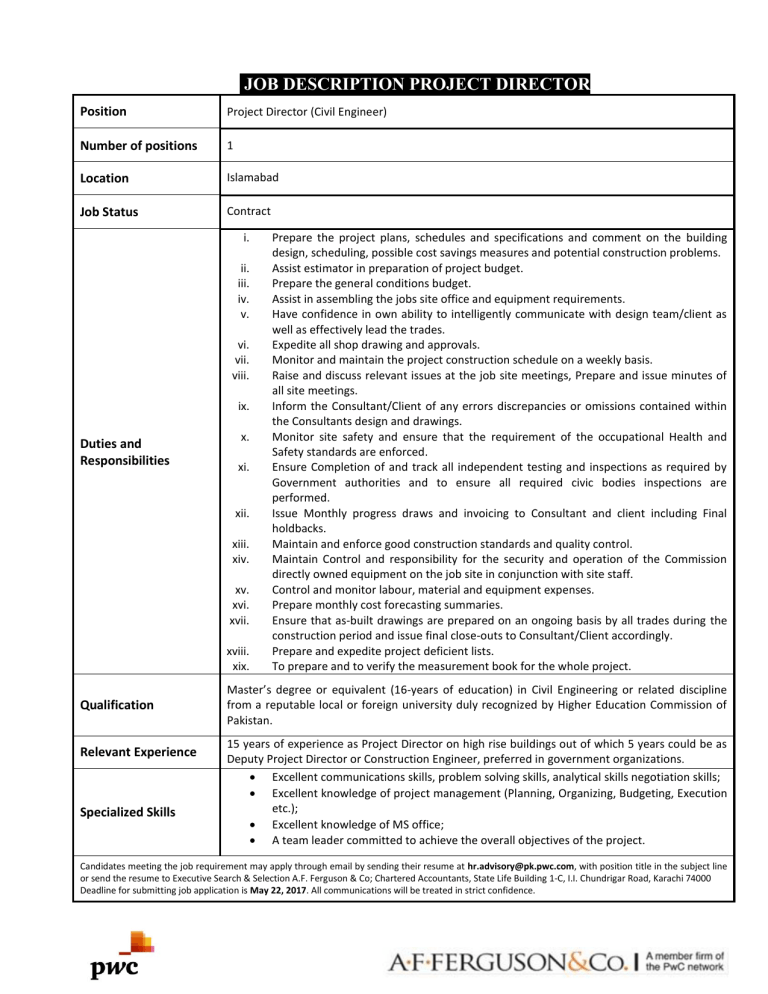 JOB DESCRIPTION PROJECT DIRECTOR
Position
Project Director (Civil Engineer)
Number of positions
1
Location
Islamabad
Job Status
Contract
i.
ii.
iii.
iv.
v.
vi.
vii.
viii.
ix.
Duties and
Responsibilities
x.
xi.
xii.
xiii.
xiv.
xv.
xvi.
xvii.
xviii.
xix.
Qualification
Relevant Experience
Specialized Skills
Prepare the project plans, schedules and specifications and comment on the building
design, scheduling, possible cost savings measures and potential construction problems.
Assist estimator in preparation of project budget.
Prepare the general conditions budget.
Assist in assembling the jobs site office and equipment requirements.
Have confidence in own ability to intelligently communicate with design team/client as
well as effectively lead the trades.
Expedite all shop drawing and approvals.
Monitor and maintain the project construction schedule on a weekly basis.
Raise and discuss relevant issues at the job site meetings, Prepare and issue minutes of
all site meetings.
Inform the Consultant/Client of any errors discrepancies or omissions contained within
the Consultants design and drawings.
Monitor site safety and ensure that the requirement of the occupational Health and
Safety standards are enforced.
Ensure Completion of and track all independent testing and inspections as required by
Government authorities and to ensure all required civic bodies inspections are
performed.
Issue Monthly progress draws and invoicing to Consultant and client including Final
holdbacks.
Maintain and enforce good construction standards and quality control.
Maintain Control and responsibility for the security and operation of the Commission
directly owned equipment on the job site in conjunction with site staff.
Control and monitor labour, material and equipment expenses.
Prepare monthly cost forecasting summaries.
Ensure that as-built drawings are prepared on an ongoing basis by all trades during the
construction period and issue final close-outs to Consultant/Client accordingly.
Prepare and expedite project deficient lists.
To prepare and to verify the measurement book for the whole project.
Master's degree or equivalent (16-years of education) in Civil Engineering or related discipline
from a reputable local or foreign university duly recognized by Higher Education Commission of
Pakistan.
15 years of experience as Project Director on high rise buildings out of which 5 years could be as
Deputy Project Director or Construction Engineer, preferred in government organizations.
 Excellent communications skills, problem solving skills, analytical skills negotiation skills;
 Excellent knowledge of project management (Planning, Organizing, Budgeting, Execution
etc.);
 Excellent knowledge of MS office;
 A team leader committed to achieve the overall objectives of the project.
Candidates meeting the job requirement may apply through email by sending their resume at hr.advisory@pk.pwc.com, with position title in the subject line
or send the resume to Executive Search & Selection A.F. Ferguson & Co; Chartered Accountants, State Life Building 1-C, I.I. Chundrigar Road, Karachi 74000
Deadline for submitting job application is May 22, 2017. All communications will be treated in strict confidence.